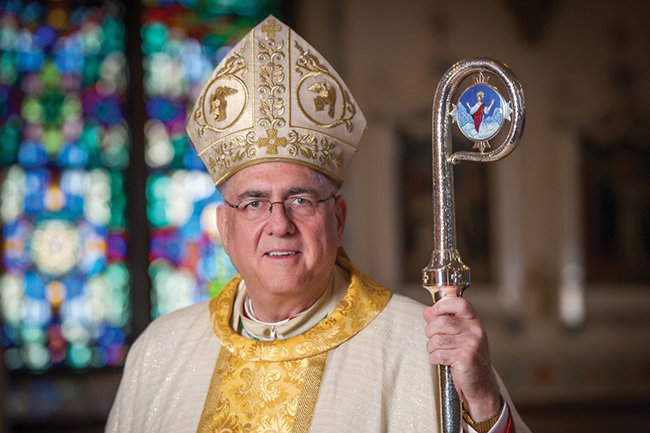 by Archbishop Joseph F. Naumann
This past weekend, I had the privilege of seeing "Underground" at the Kauffman Center for the Performing Arts in Kansas City, Missouri. 
"Underground" is a production of the Störling Dance Theater that tells the story of three black slaves who flee the harsh oppression of a pre-Civil War Southern plantation. On their journey to freedom, they are aided, among others, by Quaker abolitionists.
"Underground" beautifully and powerfully portrays an ugly and dark part of our American history. It also depicts the heroism of white and black Americans assisting not just individuals gain their freedom, but also helping to liberate our nation from the grave injustice of slavery.
Last summer, on a Monday night, I celebrated Mass at the Little Monastery with the Little Sisters and Little Brothers of the Lamb. On Monday evenings, many young adults come to the Little Monastery for Mass and dinner.
Father Benjamin Shazad, a priest from Pakistan who each summer spends some weeks at Curé of Ars Parish in Leawood, concelebrated Mass with me and joined the Community of the Lamb and the young adults for supper.
The Little Sisters invited Father Benjamin to describe what it is like to live as a Catholic in Pakistan. His parents had moved to what is today Pakistan when it was still part of India.
Father Benjamin is a third-generation Catholic. Pakistan was partitioned from predominantly Hindu India to provide Muslims a country where they were no longer a persecuted minority.
Father Benjamin's family lived in an area with very few Christians. His family was shunned by their Muslim neighbors. Muslims refused to drink from a cup or eat from a plate used by Christians. Christians had to use separate bathrooms.
Muslim extremists successfully passed blasphemy laws, making it a crime to say anything that could be interpreted as disparaging to Mohammed or Islam.
Christians accused of blasphemy oftentimes are denied any sort of due process to defend themselves. Innocent Christians have been executed because they were accused of violating these statutes and others have been assassinated for protesting these unjust laws.
Father Benjamin made clear that the vast majority of Muslims are not responsible for these injustices. However, Muslims who protest the injustice of the blasphemy laws also experience harsh consequences.
The young adults were quite shocked and disturbed to learn what their brothers and sisters in Christ experienced in Pakistan. They asked what they could do.
Father Benjamin encouraged them to pray for Catholics in Pakistan and not to forget them because they are so far away.
Father Benjamin's description of the plight of Christians in Pakistan reminded me of a book I read last summer, "The Warmth of Other Suns," by Isabel Wilkerson.
While chronicling the great migration of African-Americans from the South to the North and West through much of the 20th century, Wilkerson gives a detailed profile of the experience of three individuals: Ida Mae Brandon Gladney, George Swanson Starling and Robert Joseph Pershing Foster.
Why were African- Americans leaving the South in such huge numbers? Sadly, it was because these Americans were experiencing something quite similar to what Christians in Pakistan encounter today.
The so-called Jim Crow laws of the South and their impact on African-Americans parallel in many ways the blasphemy laws and the resulting injustice and discrimination experienced by Christians in Pakistan.
Like Christians falsely accused in Pakistan, African-Americans through much of the 20th century were presumed guilty if accused of a crime by their white neighbors, no matter how flimsy the evidence. The lynching of innocent black men is a tragic chapter of American history.
During the first half of the 20th century, most African-Americans in the South were tenant farmers who had no recourse to protest if they were being compensated unjustly.
To question the landowners' calculations was to risk horrible consequences by a society that considered a black man questioning the ethics of a white person as a serious threat to the established cultural norms.
While there were greater employment opportunities in the North and the West, African-Americans continued to experience severe racial discrimination determining where they were permitted to live and what schools their children were able to attend.
In the summer of 1968, a few months after the assassination of Dr. Martin Luther King Jr., I was working a summer job in a factory in East St. Louis, Illinois. African-American employees were prohibited from using the same bathrooms or drinking fountains as white employees.
In 1968 America, African-Americans were experiencing the same type of discrimination suffered by Christians in Pakistan today.
I have witnessed much progress in my lifetime in overcoming racial bigotry in America. However, the wounds of slavery, segregation and discrimination are deep and not easily healed.
This past November, the U.S. Conference of Catholic Bishops issued a pastoral letter entitled "Open Wide Our Hearts: The Enduring Call to Love, A Pastoral Letter Against Racism." Catholics in America are called to be in the forefront of the efforts to eradicate racism and heal past and present wounds.
Theater productions like "Underground" and books like "The Warmth of Other Suns" can help us understand better the past and motivate us to be agents of change in the present.Please pray especially during this month of February — Black History Month — asking the Holy Spirit to enlighten you on how you, in the unique circumstances of your life, can help rid our society of racial bigotry and be an instrument of healing.