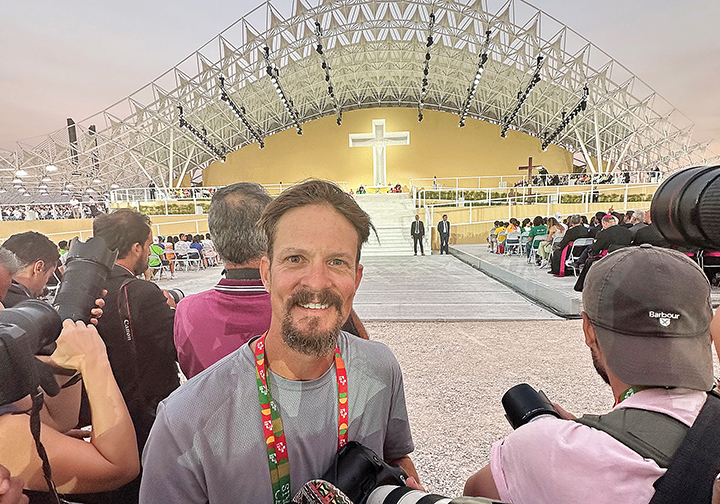 by Jay Soldner
Special to The Leaven
Traveling overseas as a working photographer is challenging from the get-go.
I packed all of my clothes, two camera bodies, one extra camera battery, the charger for camera batteries, three lenses, a laptop, laptop charger, European power adapters, toiletries, two books and my inflatable pillow — all into one carry-on-size bag.
In another small bag, I had my sleeping bag and tent. (I never used the tent.) I was a little worried that I'd have to check the bag at some point because my carry-on bag was well over the weight limit. But I never had to check it, and it fit easily in the overhead bin on all aircraft.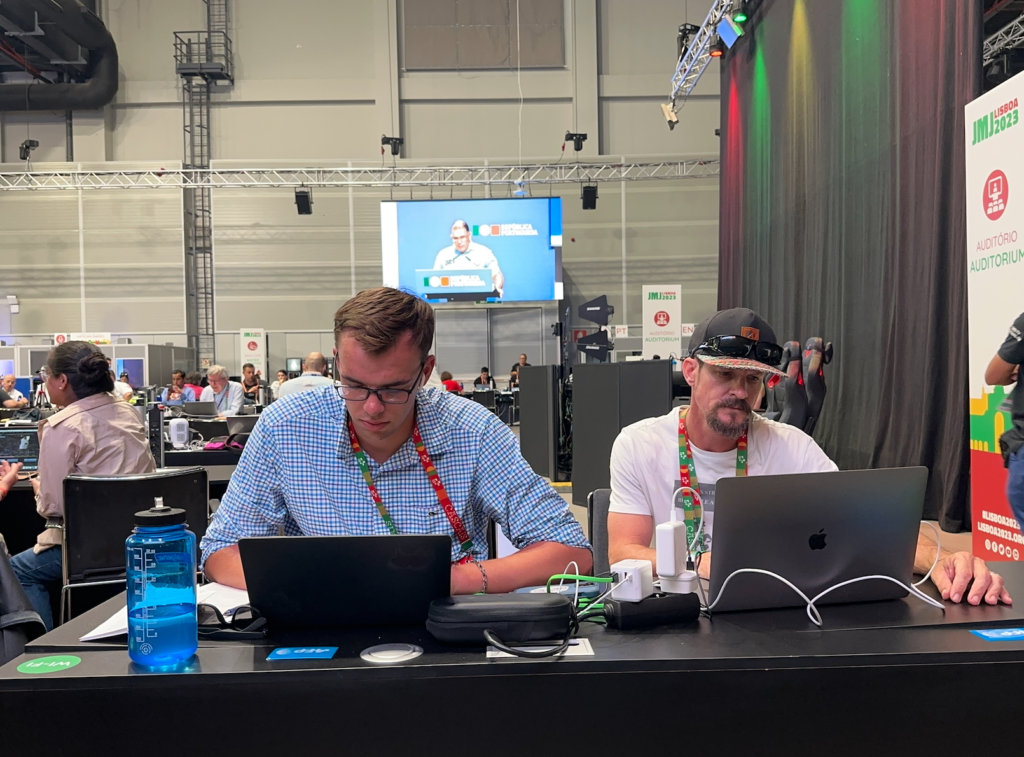 We stayed in a hotel room in Fátima, Portugal, the first two nights, which allowed me to leave a lot of the weight behind and just focus on making pictures.
In Seixal, we stayed in a school gymnasium, and I was able to leave all of my clothes, sleeping bag, etc., there as I worked each day.
Every day in the streets of Lisbon, I carried my backpack with the laptop and power adapters. I carried my cameras on my shoulders around the city as we took ferries, trains and buses and walked for miles.
After we picked up our press credentials, the real work began, but having the press credentials was hugely helpful, giving me access to the media room and the ability to quickly get through crowds and into areas most people could not go.
Even with the photo press pass, it was still really challenging to be in the right place at the right time. But for the most part, it worked out well. The pope and his security drove directly by me on two separate occasions — once in Parque Eduardo VII and once in Fátima — which allowed me to make photos that I really wanted to get.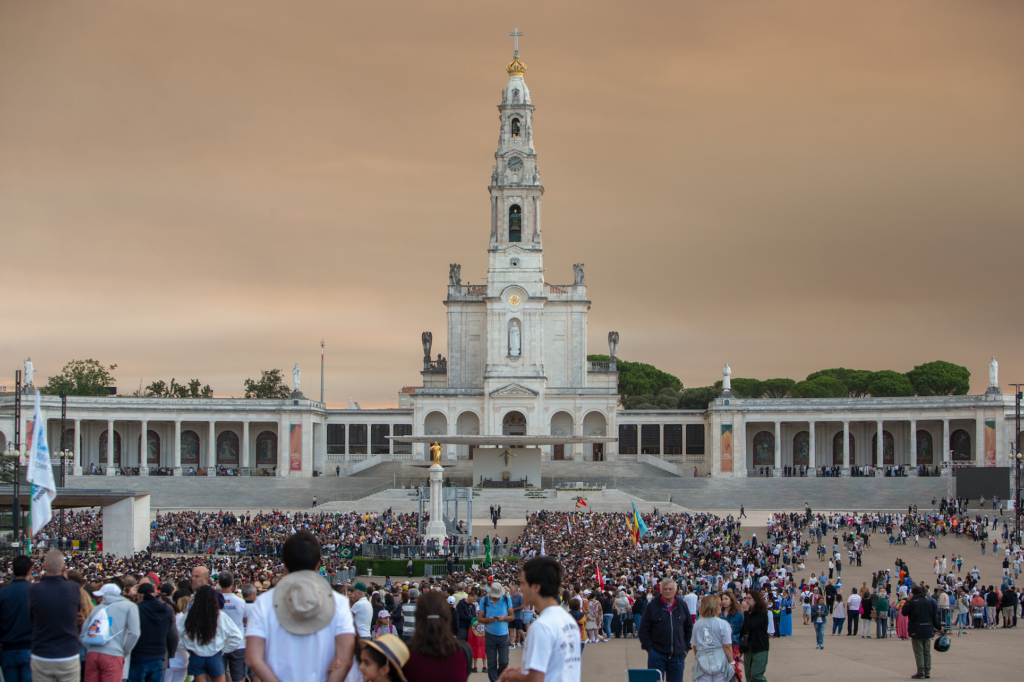 Fátima was incredible. The entire town is built around the Miracle of Fátima (the Miracle of the Sun) that occurred in 1917. Being able to photograph the sites and events there is something I'll never forget. I was also able to spend a lot of time in prayer in Fátima.
Lisbon was much busier — just going all over to different events and sites.
The country is beautiful. The people are amazing. Not knowing the language was not much of an issue, as almost everybody there speaks English pretty well, and as long as you try a little bit of Portuguese, things go smoothly. I was amazed at how easy it was to get around the city by train and bus.
It was really comforting doing everything in groups. We all went to daily Mass together, we all attended catechesis events together and we broke into smaller groups to explore the city. I even went by bus back up to Fátima on my own for the Saturday morning prayer session there.
That same Saturday evening was the vigil at Parque Tejo. The streets from the Oriente train stop in Lisbon to the park were full of pilgrims representing nations from around the world.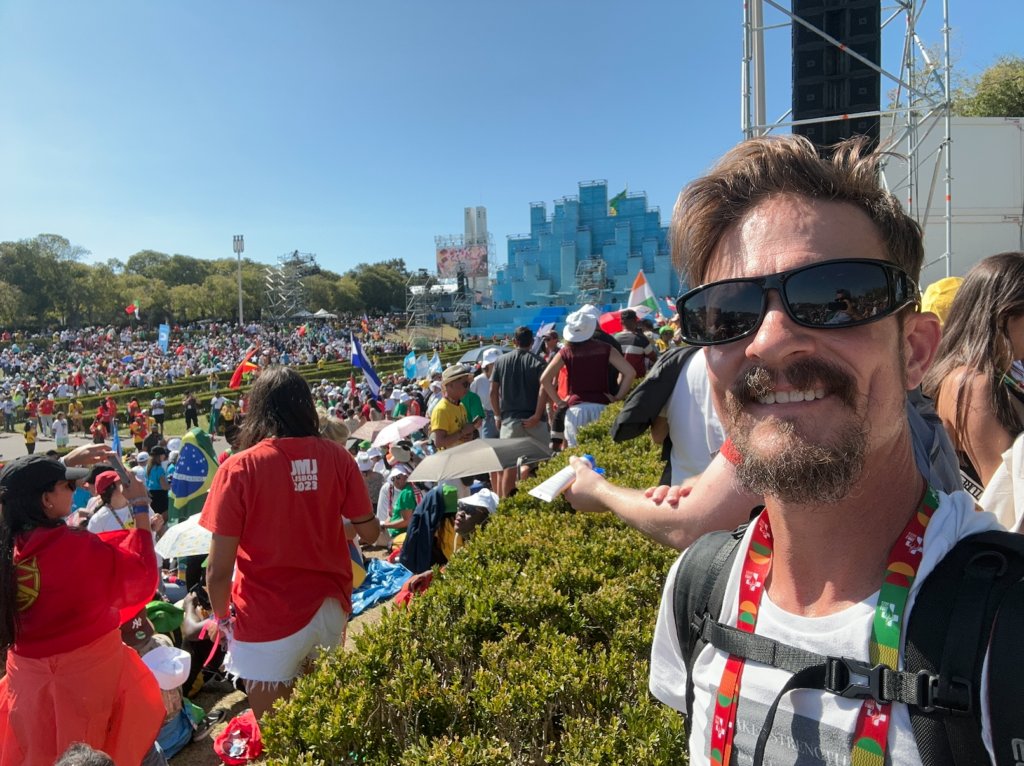 The 1.5 million people at the vigil and final Mass was a sight to behold. Unfortunately, the park is laid out in such a way that I just could not get a wide, encompassing shot showing the huge crowd. In retrospect, I wish I would've tried to gain access to a building top just outside the park.
It was really an honor to be on the trip with the archbishop, priests, seminarians and the pilgrims from northeast Kansas.
World Youth Day 2023 will stay with me for the rest of my life.
I've covered a lot of interesting and cool things in my career as a photographer, but this is right at the top of the list.
I just want to say thank you to the archbishop, priests, seminarians and pilgrims for letting me join them on this pilgrimage. I also want to thank the many, many gracious volunteers in Lisbon that made everyone feel welcome and gave us an opportunity for a great pilgrimage.
To view the full album of photos from World Youth Day, click here.