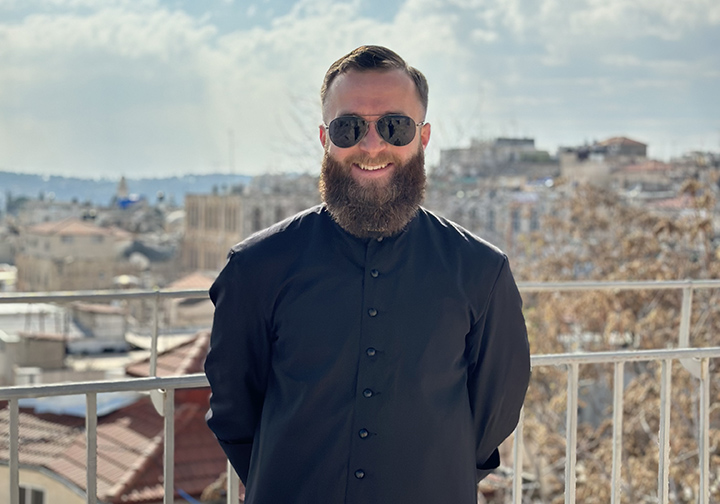 by Joe Bollig
joe.bollig@theleaven.org
KANSAS CITY, Kan. — Long before he thought that he might have a vocation to the priesthood, Deacon George Lee Rhodes knew the church was an important part of his life.
"Father Frank Burger, our priest at Prince of Peace (Olathe) when we were young, would visit with our family after Mass and I got to know him," said Deacon Rhodes. "No 9- or 10-year-old knows what being a priest means, but I knew it was a good thing. It kept me open to actual discernment when I got older."
The path of discernment has been traveled. Now, he will make that important step into a new life as a Catholic priest.
Deacon Rhodes, 26, was ordained a deacon on May 21, 2022, at Christ the King Parish in Topeka. He and two other men will be ordained to the priesthood by Archbishop Joseph F. Naumann at 10:30 a.m. on May 27 at Prince of Peace Church in Olathe.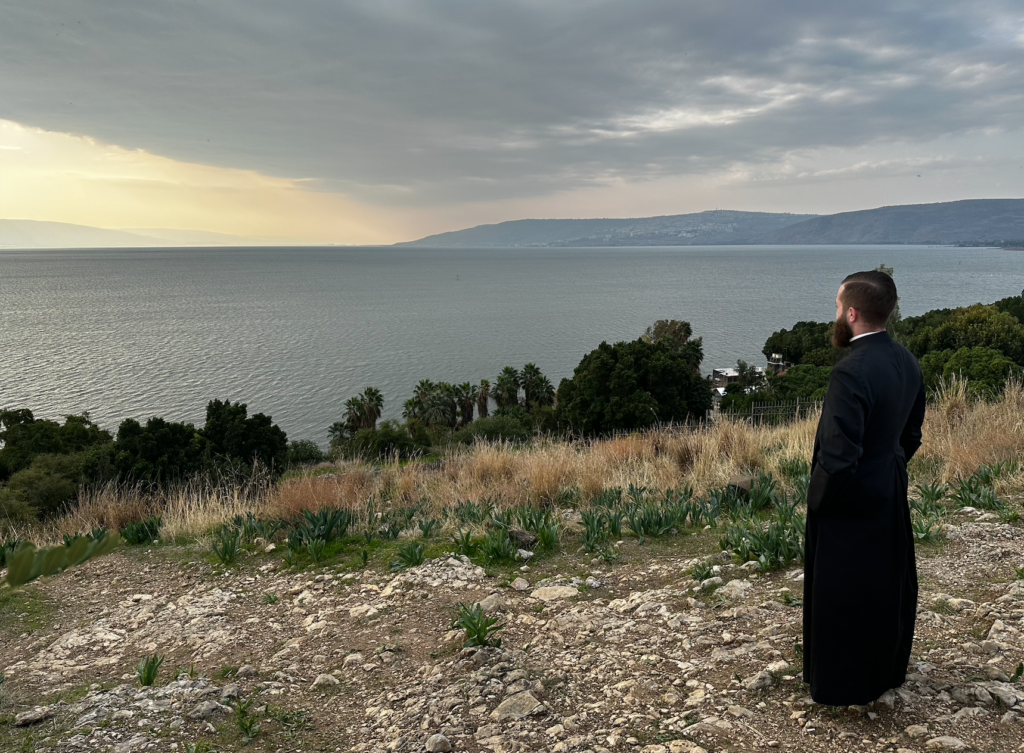 He was born and raised in Olathe, the second of four children of Jason and Kathy Rhodes. Jason is a media manager with the Olathe Fire Department, and Kathy is principal of Sacred Heart School in Shawnee. The family now belongs to St. John Paul II Parish in Olathe.
His mother is a cradle Catholic and his father was raised Lutheran before converting to Catholicism.
"My parents were always very encouraging in the faith," he said. "We went to Sunday Mass every week as a family — the 7:30 a.m. Mass because sometimes my dad had to work, and this was the only Mass we could go to as a family."
The Rhodes kids often didn't stay in their pew.
"I did a lot of altar serving, me and my siblings," said Deacon Rhodes. "As soon as we could serve, we were up there a lot, because — especially at 7:30 a.m. Mass — there weren't a lot of available servers."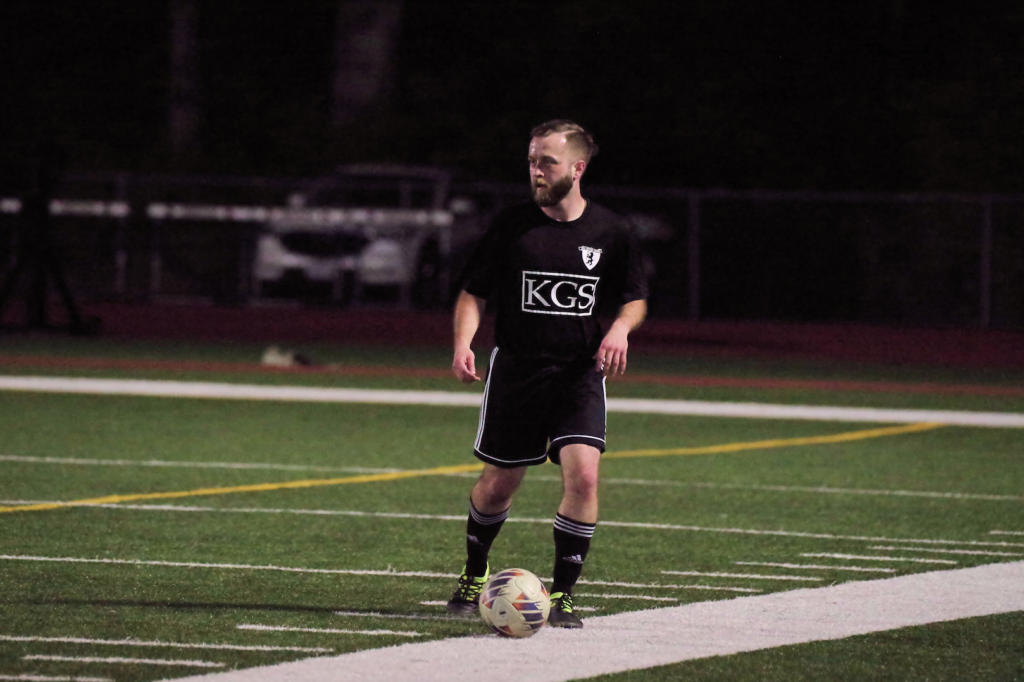 Other than the frequency of serving at Mass, Deacon Rhodes' upbringing wasn't too different from a lot of other Catholic boys. In his case, however, the idea of the priesthood came to the surface and stayed with him.
"Even in grade school and junior high, I was involved in as much of the discernment activities as I could be, like the Fifth Grade Vocations Day," he said.
"There were one or two [archdiocesan] vocations office-related events like the Runnin' Revs [where] I was as involved as I could be at that age. And as I got older, in high school other opportunities opened up — such as 'Quo Vadis' and 'Come and See' retreats. It always seemed what God might be calling me to, so I always intended to continue to pursue it.
"Obviously, I was still open to other things; it wasn't like I felt it was decided or I knew for sure what would happen."
While at St. James Academy in Lenexa, he was also part of the Magnificat Society, a vocations discernment group founded by Msgr. Ray Burger.
Deacon Rhodes completed the application process for the seminary through his senior year. At times, he wasn't sure about going through with it, but he had no reason to believe God stopped calling him. That brought him a lot of assurance. He decided to go ahead and see what happened.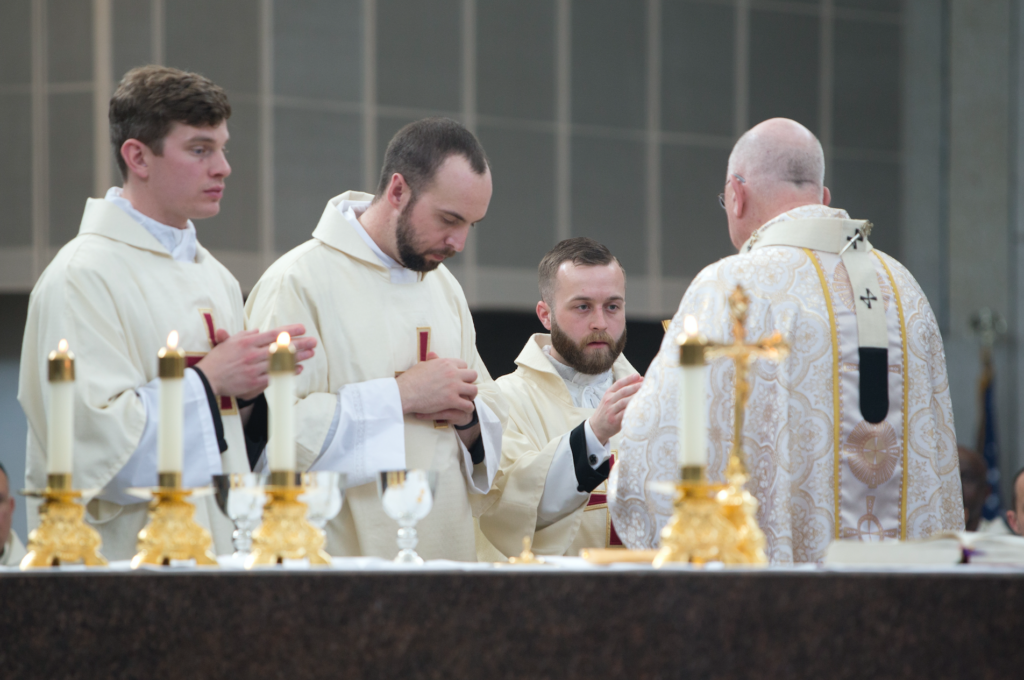 "Seminary is where I did most of my discernment," he said. "I learned much more about what it means to follow God, but getting that initial start was huge.
"I think probably a lot of people see applying to [the] seminary as giving up everything and pursing priesthood or not, black and white, no in-between.
"Thankfully, I'd been around enough to know it was more nuanced than that. You go to [the] seminary not only for formation but discernment."
The time of formation and discernment took a long time. He was always free to stay and free to go. He responded to that freedom and continued in his studies, trusting God. He learned what it means to follow God.
Some people say this is a difficult time in the church to become a priest.
"For me, the predominant focus has never been on the times, but that God has called me to be a priest," said Deacon Rhodes. "It happens to be this time. It's worth spending some attention and understanding. In every age, the church's job is to get people to heaven and help form the culture. . . . It can be intimidating.
"We live in a time where the challenges, unpleasant as they are, really force us to decide and to own up to who we are, what we believe, and what we want to be and see in the world. There is a lot of purification in that. Being a priest in this time is as much a privilege as it has been at any time in history."
George Rhodes
Age: 26
City/town/location born: Olathe
Parents: Jason and Kathy Rhodes
Siblings: Paul (older), Helen and Katherine (younger)
Hometown: Olathe
Current parish: St. John Paul II Parish in Olathe
Education:
• Grade School – Prince of Peace School
• Middle/Jr. High – Prince of Peace
• High School: St. James Academy, Lenexa, 2014
• Seminary: Kenrick-Glennon in St. Louis, graduated with a bachelor of arts in philosophy in 2018, and a master's of divinity in 2023
Favorite movie: "The Dark Knight Rises"
My encounter with the famous/infamous: When I was young, I got to meet Len Dawson.
My favorite classes in seminary were: Christology and Soteriology
Favorite saint, and why: St. John the Baptist, he lived his entire life pointing to Christ
Favorite devotion, and why: Stations of the Cross. Christ won all sanctifying grace in his passion, so it's important to meditate on it regularly.
Book I'd recommend: "Abandonment to Divine Providence" by Father Jean de Caussade
Favorite food: Sushi
Least favorite food: Anything with mayonnaise
Favorite childhood toy: Legos
Best job I've ever had: Worked at a movie theater
Favorite leisure activities: Running
Best advice I received while seeking my vocation: God invites us to vocations. He doesn't force anyone into it. True freedom in vocational discernment is realizing you are free to respond with "yes" or "no," and God won't love you any less either way.
My advice to someone seeking their vocation or how to get the most out of the seminary experience: God can do a lot more than you think when you simply stay faithful to the ordinary things he asks of you.
Qualities I admire in other priests: Great pastoral zeal and generosity
What I'm most looking forward to in my priestly ministry is: witnessing God's grace at work in peoples' lives.
I want to be a priest because: God has called me to it, and it is a great privilege and joy to minister to his people!