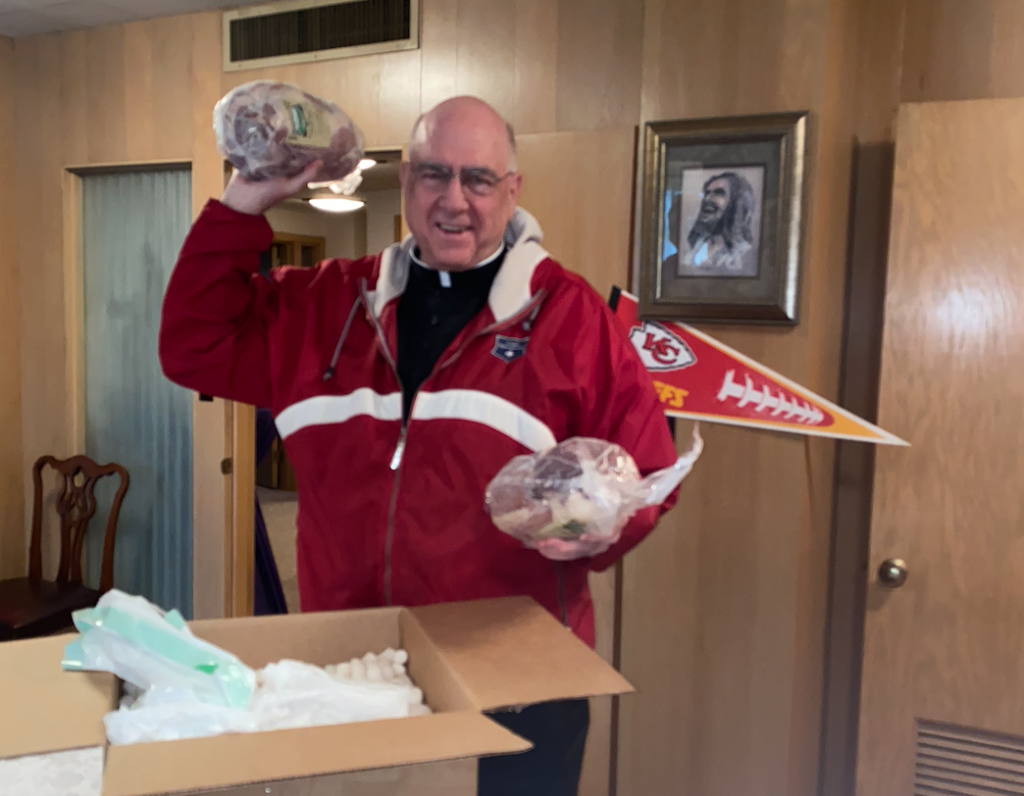 by Todd Habiger
todd.habiger@theleaven.org
KANSAS CITY, Kan. — While an estimated $16 billion was bet on Super Bowl LVII pitting the Kansas City Chiefs against the Philadelphia Eagles, there was much tastier action to be had in the Archdiocese of Kansas City in Kansas.
Archbishop Joseph F. Naumann put up some of Kansas City's best barbecue against some of Virginia's finest cured ham, courtesy of Bishop Michael F. Burbidge, bishop of the Diocese of Arlington, Virginia — and a former auxiliary bishop of Philadelphia.
"Bishop Burbidge reached out to me," Archbishop Naumann said. "For Catholic Schools Week, he was going out to many of the schools and encouraging them to pray for the Eagles. And said if the Eagles won, they would get the day off of school. Then, he asked me if I would like to have a wager on the game."
It was a bet the archbishop couldn't resist.
"I told him that here in Kansas our students were already motivated to pray for 'God's team,' so we didn't have to put that kind of pressure on our kids," the archbishop said with a smile.
Archbishop Naumann and Bishop Burbidge have known each other since the latter was rector of St. Charles Borromeo Seminary in Philadelphia. They both had a common mentor in Cardinal Justin Rigali, who served in both St. Louis, where Archbishop Naumann is from, and Philadelphia, where Bishop Burbidge was an auxiliary.
"He's been a good friend," said Archbishop Naumann. "We've served on a number of committees together. Right now, he's the chair of the pro-life committee. So that brings us into conversation quite a bit. He's a bishop I admire. He's really a good man and fun to be around."
That friendship didn't prevent some good-natured trash talking between the two as the Super Bowl drew closer, however.
"I told him my only concern about the game was that the Eagles seemed to specialize in injuring quarterbacks," the archbishop said, alluding to the fact that the Eagles knocked out 49ers' quarterbacks Brock Purdy and Josh Johnson in the NFC Championship game.
Bishop Burbidge responded back that that was just a form of "brotherly love" that Philadelphia is famous for.
Archbishop Naumann watched the game with family in Lee's Summit, Missouri. He was impressed by the strong play of the Chiefs offensive line.
"Going in much was made of the defensive line of the Eagles but I think our offensive line acquitted themselves extremely well. The Eagles really didn't get to [Patrick] Mahomes," the archbishop said.
The archbishop also mentioned the stellar play of Mahomes and his ability to play through a high ankle sprain.
"Mahomes is an example of a good leader," he said. "Even though he was hurting, he overcame that and played a terrific game."
The archbishop was also happy to see Harrison Butker kick the game-winning field goal. He mentioned that Butker, a Catholic, appeared to be wearing a brown scapular during the game. Scapulars are objects designed to show the wearer's pledge to a confraternity, a saint or a way of life.
"I really have a lot of respect for Harrison Butker," the archbishop said. "He's really sincere in his faith."
The day after the Chiefs 38-35 victory over the Eagles, Archbishop Naumann received a congratulatory message from Bishop Burbidge.
"I told him I thought the Eagles played very well," the archbishop said, "but, fortunately, God's team won."
As for that ham, the archbishop said he has not received it yet. But when he does, he wants to share it with some Chiefs fans to celebrate the win.
"I'm looking forward to tasting it," he said. "This ham will be particularly sweet."