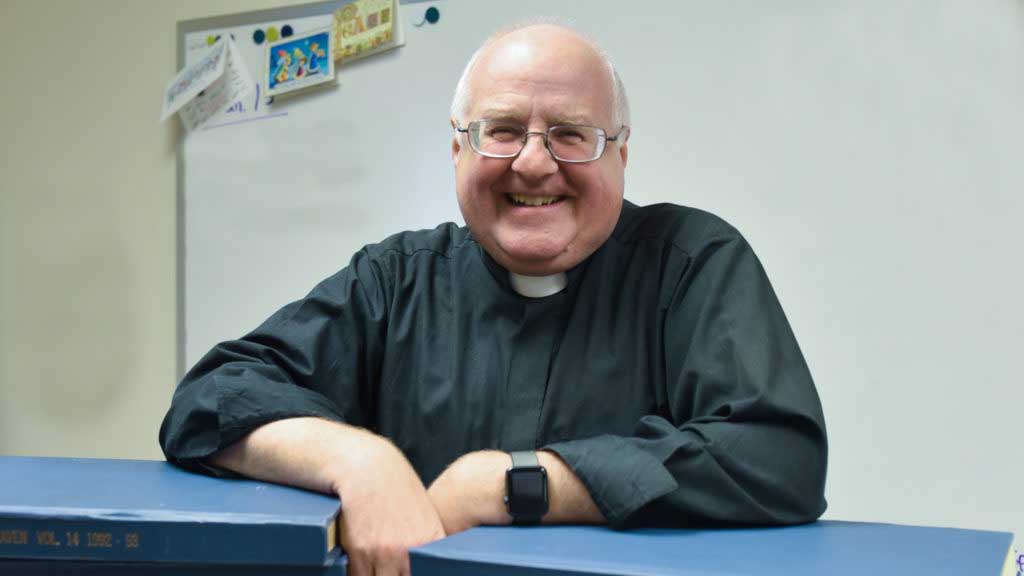 by Father Mark Goldasich
This year, maybe more than ever, we need to celebrate Easter — not just Easter Sunday but the whole Easter season, right up to Pentecost on May 23.
As we struggle with the continuing effects of the pandemic, people are looking for some hope, some joy and some light. We Christians have the answer — not just a fleeting solution, but an eternal one.
This story can illustrate the dilemma:
On June 18, 1815, the Battle of Waterloo was being fought. The French under the command of Napoleon were fighting the Allies (British, Dutch and Germans) under the command of the Duke of Wellington. The people of England depended on a system of flag semaphore signals to find out how the battle was going. One of these signal stations was on the tower of Winchester Cathedral.
Late in the day, it flashed a signal: "W-E-L-L-I-N-G-T-O-N- – – D-E-F-E-A-T-E-D -"
Just at that moment, a sudden fog made it impossible to read the message. News of the defeat quickly spread. The whole countryside was sad and gloomy when they heard the news that their country had lost the war. Just as suddenly, though, the fog lifted, and the remainder of the message could be read. It had four words, not two. The complete message was: "W-E-L-L-I-N-G-T-O-N – – D-E-F-E-A-T-E-D – – T-H-E – – E-N-E-M-Y." It took only a few minutes for that good news to spread. Sorrow was turned into joy; defeat was turned into victory! (Story found in "Illustrations Unlimited," edited by James S. Hewett.)
Many people in our world today seem to be walking in a fog. There's an attitude of "Jesus defeated." He's defeated by death, by irrelevance, by indifference. And even we Christians may feel that way, given the growing number of unchurched people and the declining numbers of people attending church.
While I can't do much in converting society as a whole, I can examine my own faith. Am I a person who truly believes the whole message, that Jesus defeated the enemy — death, despair, darkness? Am I someone who is excited about my faith and who lives it joyfully? Am I willing to share that message fearlessly?
The Easter season is the perfect time to keep the new life of Jesus on the minds of others by doing some simple deeds of kindness:
• Buy some plastic eggs and fill them with a small treat. Leave one each day for a different person: on a neighbor's porch, a co-worker's desk, for the person who takes your order at a fast-food drive-thru, for your pastor, for your barber or hairdresser, for a teacher, for the trash collectors.
• Visit a cemetery and place flowers on the graves of your loved ones as a sign of Resurrection hope.
• Make others laugh . . . several times a day.
• Mail out Easter cards — all through the season — to remind recipients to keep up the joy of Easter.
• Take care of your health by doing something each day that makes you smile.
On the Easter before he died, D. William Sangster, a Methodist preacher who spearheaded a renewal movement in the British Isles after World War II, painfully printed a short note to his daughter. His ministry, except for prayer, was ended by a disease which progressively paralyzed his body, even his vocal cords. But on that last Easter Sunday, still able to move his fingers, he wrote: "How terrible to wake up on Easter and have no voice to shout, 'He is risen!' Far worse, though, to have a voice and not want to shout." (Found in "Illustrations Unlimited.")
May we not be silent this Easter season, but proclaim by our joyful words and actions that the living Christ continues to defeat death, darkness and despair. And let's inspire many others to shout along with us: "Christ is risen! He is risen indeed!"