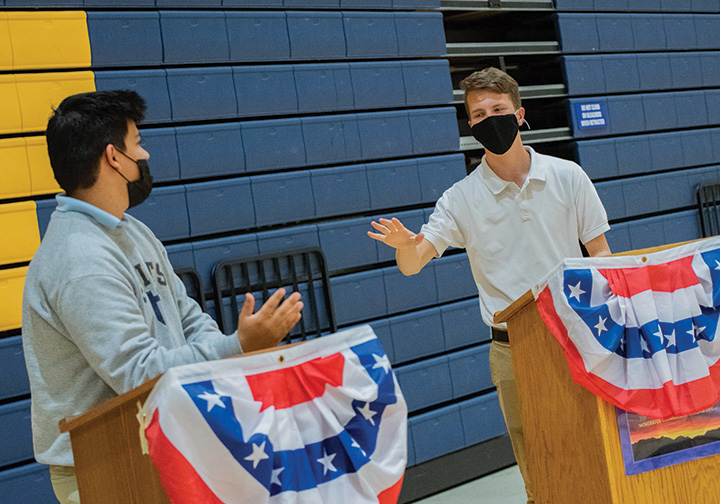 by Moira Cullings
moira.cullings@theleaven.org
OVERLAND PARK — Political division has become a mainstay of U.S. society in recent years.
The rise of social media has only heightened the divisiveness among families, friends and communities across the country.
But students at St. Thomas Aquinas High School in Overland Park are tired of it.
"Everybody's so divided on social media," said senior Andrew Abadir.
"But when you actually get to talk to your peers . . . about the issues that everybody is so heated and divided about on social media," he continued, "you find that you have a lot of common ground.
"You can actually work things out."
Abadir is the president of the school's "One Nation Under God" civics and history club, which he and social studies department head Stephanie Cloues launched at the start of the 2020-21 school year.
The nonpartisan club has brought together students of all backgrounds and political beliefs to celebrate their country, find common ground and share their passion for civics.
A civically engaged generation
Abadir and Cloues first spoke about starting a civics club last spring.
COVID-19 put their plans on hold, but over the summer, they exchanged emails and were able to get the club started in the fall.
For Cloues, asking Abadir to be president was a no-brainer.
She knew him from her time at Ascension School in Overland Park, where she taught for seven years.
"I knew that he was passionate about American history and civic engagement," she said. "I wanted to start a club, and I knew he'd be the perfect person to [help]."
Abadir was eager to have a civics presence at his school, and he wasn't alone.
One hundred and sixteen students joined in its first year.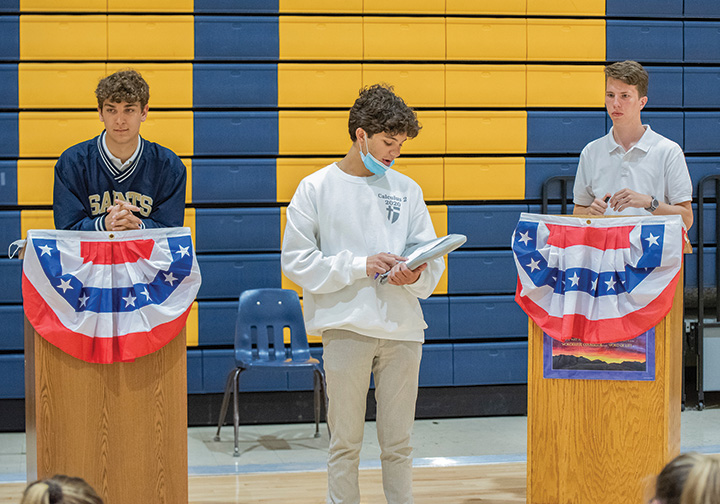 Cloues isn't surprised by the interest.
"One of my students said how it's almost popular to be civically engaged these days as opposed to 10 years ago," she said.
"Students have heard about how young people don't care and don't vote," she added. "Because so many issues have been so divisive in the last couple of years, I think it's motivating students to understand what the truth is and defend it with evidence."
Finding shared values
When Cloues advertised "One Nation Under God" in her American History class, junior Thomas Kluck was intrigued.
"I love celebrating my country, my God and my opinions," he said. "I figured, why not do that in a club setting?"
Kluck believes the club's newness and the leadership of Abadir and Cloues make it an appealing opportunity.
"Plus," he said, "I think people want to get their opinions out there after a political frenzy during quarantine and the election.
"Every election year, politics become mainstream again, especially with the seniors who are voting for the first time."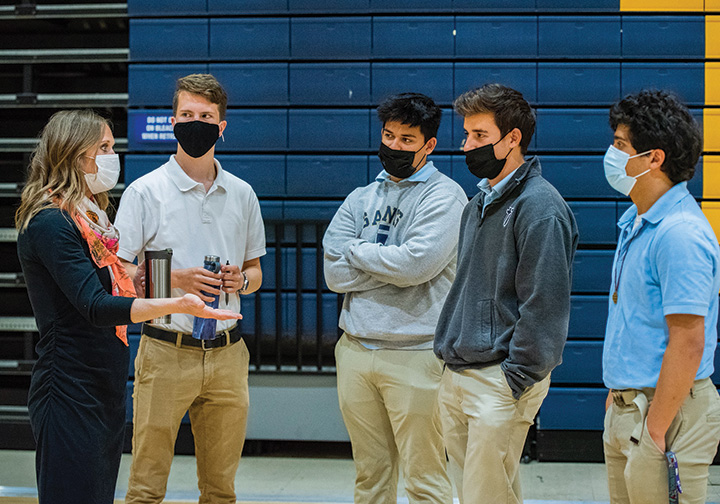 Through his short time in the club, Kluck has already "learned how to see things from another perspective," he said, which is something he believes is lacking in the online world.
"I think social media shows you what you want to see," he explained, "[and] how you would like the world to be.
"It's also easier to put off other opinions behind a screen. But when you have those conversations face to face, you are forced to realize that differing views are still valid [and] that they're more than just online adversaries.
"You also realize that we all share more values than we think. We all want what is best for ourselves and each other — we just have different solutions as to how to get there."
Causes to celebrate
After transitioning from teaching in grade school to high school, Cloues found something lacking.
"I always felt there was something in high schools missing about that sense of patriotism and celebration," she said.
"I think this club provides students that opportunity to celebrate not just their patriotism," she continued, "but also their duty for civic engagement."
One of the most popular celebrations the club held was for Veterans Day, held on Nov. 11 each year.
Members reached out to alumni who served or are currently serving in the military.
"We had gotten 150 responses from our Aquinas community of family and friends that had served going all the way back to the Revolutionary War, and current alums that are serving," said Cloues.
Fifty students spent a study hall period putting together images with information about the alums who responded. The images were displayed for everyone in the school to see during the week of Veterans Day.
Cloues said the experience taught the students about sacrifice.
"The idea of sacrificing for your country — for ideals and ideas greater than yourself — oftentimes that's not something that young people today have truly had an opportunity to experience," she said.
"I think it's important for them to see that sense of sacrifice of those that have gone before us [to serve]," she added.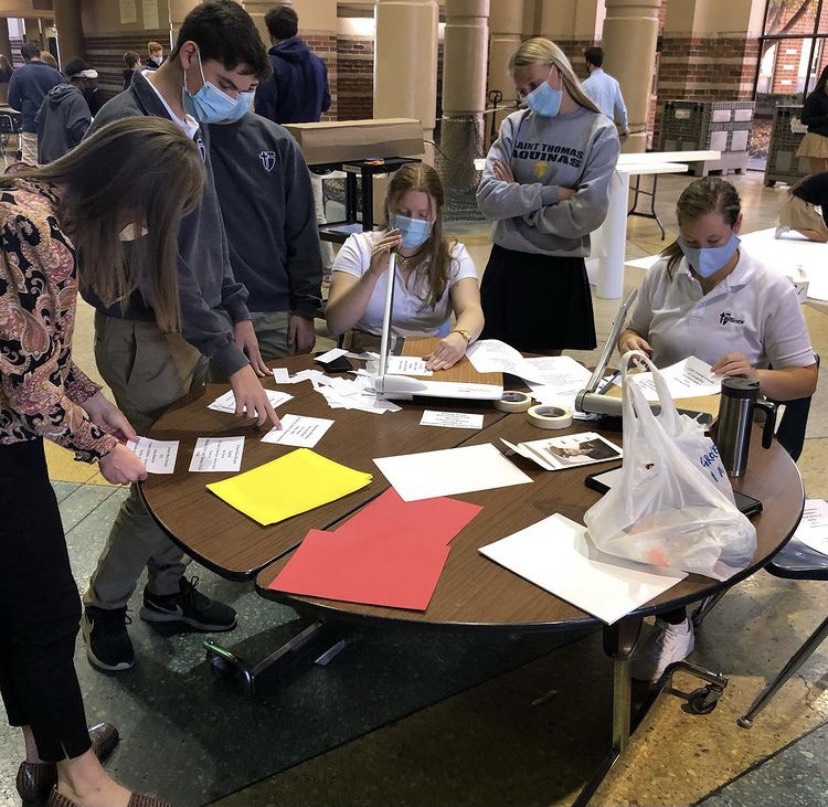 "One Nation Under God" has also held letter-writing campaigns for elected officials and encourages students to practice their civic duties.
"We passed out stickers that say 'Be a voter' to every student on election day to encourage them to be active participants in our democracy when they are of voting age," said Cloues.
"And we emphasize that we are a nonpartisan Catholic club," she added.
The club has also had its lighthearted moments.
On Presidents Day, members placed a cutout of Mount Rushmore in the school for students to stick their heads in and take pictures. They also had posters of newly elected officials.
"It was a humorous take," said Cloues, "but also [we want to show that] here are the faces of our elected officials — be aware of them and realize that anyone can become president of the United States."
Learning and listening
Of all the well-attended events the club has held, the most popular by far were its debates — held in December and April.
During the first, students discussed the dropping of the atomic bomb during World War II and the Electoral College. Cloues estimates around 70 students attended that day.
"From that first debate we had, I think students understand how important it is to know what you believe and to have that truth to defend it and help others understand your viewpoint," said Cloues.
The second debate, held on April 7, gave students the chance to discuss increasing the minimum wage.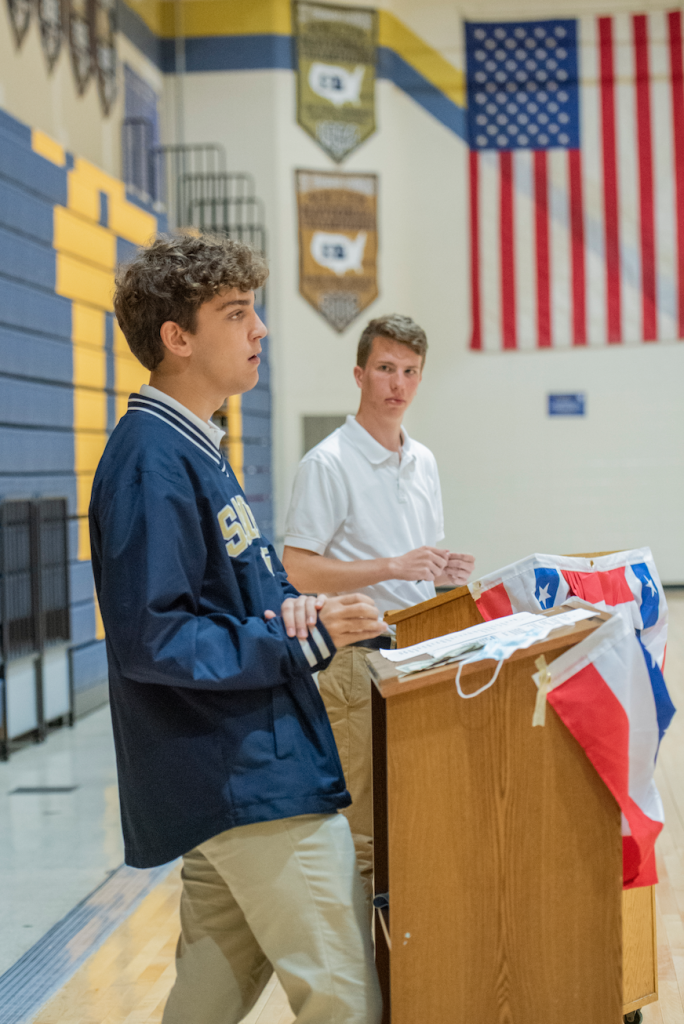 Abadir said the opportunity to debate political topics in a respectful way among his peers has been exciting and eye-opening.
It's also taught him how to be a strong leader.
"I've learned if you want to lead a large group of people like a whole school, you can't let your views get in the way of leading other people and making something that lots of people want to be a part of, rather than just people you agree with," he said.
He believes a club like "One Nation Under God" thrives in a Catholic high school because of the foundation of faith that is present.
"We all have a base of what we think is right and wrong based on what we've learned through our four years at Aquinas and beyond that in Catholic education," said Abadir.
He and his peers always find an issue to agree on, he said, especially the pro-life movement.
Cloues is encouraged by the unity her students have found and hopes they'll continue to think for themselves while also respecting each other's viewpoints.
"For students to be active, to be involved, [they have] to realize that you've got to do your research and you have to be able to see both sides of the issues," she said.
Young leaders
Looking back at this year, Cloues is impressed by the passion students like Abadir and Kluck have for history and civics.
"I always say you have to be wise beyond your years to appreciate history at a young age," she said.
"So that's also what Andrew Abadir and Thomas Kluck and I are trying to channel — that curiosity, love of country and what unites us as Catholics and Americans," she added.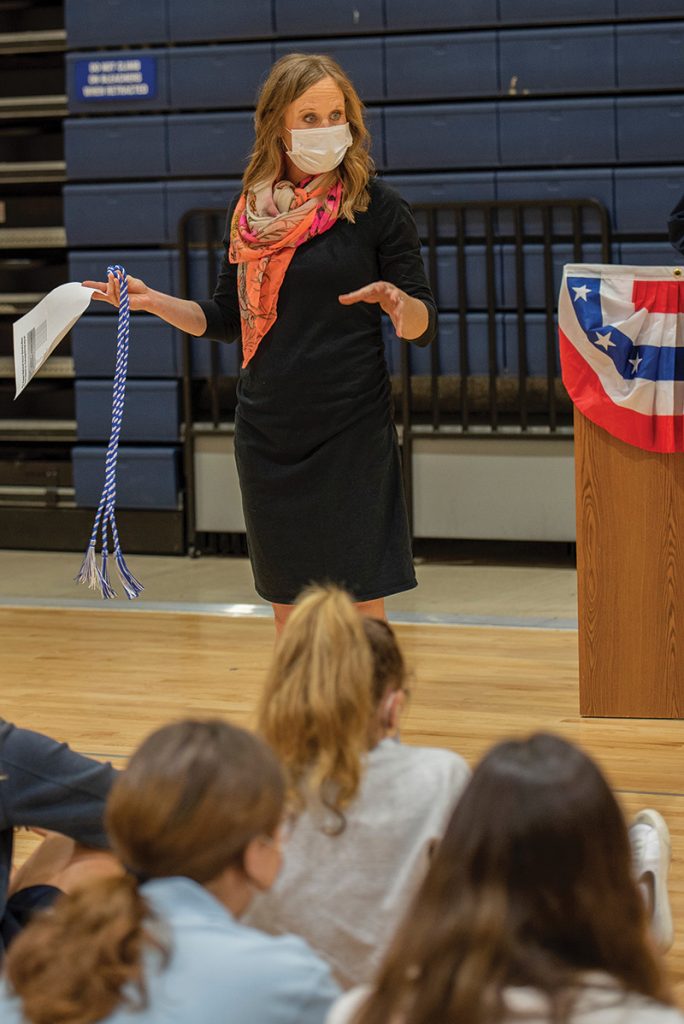 For Kluck, the club has been a refreshing outlet.
"The current political polarization has led to more misinformation and bias than ever," he said.
"Plus, our generation is really the first to reach the age of reason with a phone in our hands," he continued. "So, our social interactions and outside education have been dictated by the internet and social media."
Kluck said that might seem normal to people his age because that's all they've ever known, but it's not.
"We need to have conversations and arguments in person instead of on our phones," he said. "That's how we have healthy disagreements and not hateful ones.
"Our generation needs to make that the norm, and I think environments where we know it's safe to do so help make that happen."
Abadir is grateful for the role he's played in the club's success during his final year at Aquinas.
He hopes it will continue to flourish.
"This club is something that I hope lasts a long time after I'm gone," he said. "Future classes can have the same spirit of civility that we have going."