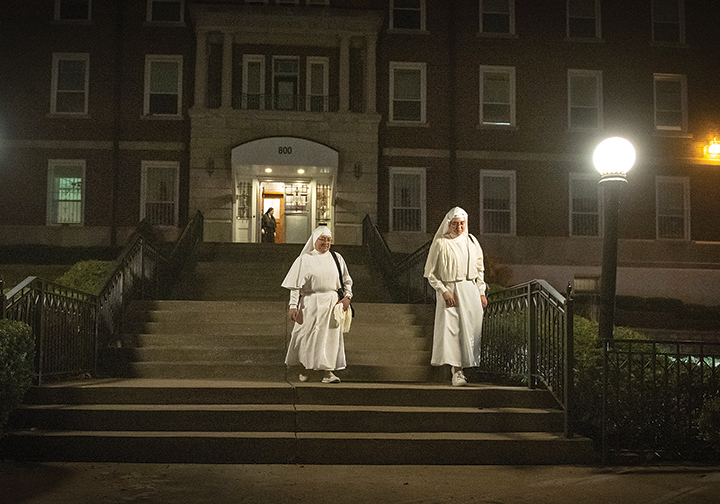 by Joe Bollig
joe.bollig@theleaven.org
KANSAS CITY, Kan. — There's an old saying that parishioners of the Archdiocese of Kansas City in Kansas know well: Family takes care of its own.
The same is true of the family that is the church.
Catholics have a long tradition of taking care of others, but especially the retired religious and clergy of various orders who faithfully served them.
On the weekend of Dec. 10-11, the archdiocese will hold its annual national Retirement Fund for Religious collection in parishes. Last year, parishioners gave $100,712.
Two orders in the archdiocese benefited from the collection. In 2022, the Sisters, Servants of Mary Ministers to the Sick and the Benedictine monks of St. Benedict's Abbey in Atchison received a combined total of $272,803 in financial support from the national collection.
The Sisters, Servants have 86.52% of their retirement needs not funded. The Benedictine monks are at 60.81% not funded.
"From the beginning of our institute and under the inspiration of our foundress Saint Maria Soledad Torres, we have been dedicated to care for the sick in their own homes free of charge, with love and dedication," said Sister Ema Munoz, local superior.
"Today, our elderly Sisters are happy and satisfied because of the care they receive," she said. "This is due, in part, by the kind donations received year after year from the Retirement Fund for Religious. We continue trusting in God's providence that is manifested through [parishioners'] generosity."
The Retirement Fund for Religious and the National Religious Retirement Office were established in 1988 to address a crisis: Most U.S. religious orders had a serious lack of retirement savings and could not care for their elderly.
How did it happen? There were a couple of factors.
For many years, religious orders served for low wages that did not include retirement benefits. Additionally, retired religious now outnumber the wage-earning members in their communities. Thus, many religious communities are being squeezed between declining income and rising costs for caring for their elderly members.
"The care of our aging religious presents an enormous financial responsibility," said Sister Stephanie Still, NRRO executive director and a member of the Sisters of the Presentation of San Francisco. "It is our privilege to care for those who gave a lifetime of tireless service, and I feel we are deeply blessed by all the U.S. Catholic donors who have steadfastly contributed to this fund."
Fortunately, Catholics have responded generously each year. In 2021, the appeal raised almost $28.5 million, and funds were distributed to 271 U.S. religious communities.
What would happen to the elderly Sisters, Servants if they did not receive help from the collection?
"Probably the quality of their care would not be as we would so desire," said Sister Ema. "Since our service in caring for the sick in their homes is free of charge, we would not be able to afford a quality of care desired by us for our sick and elderly."
The religious who benefit from the collection — especially the elderly needing care — are profoundly grateful for the love expressed for them by generous Catholics who donate annually to this cause. Sister Ema hopes this love will be expressed again.
"These sick and elderly Sisters have given their lives for others — in many ways —according to our charism: 'I was sick and you visited me,'" said Sister Ema. "Would you like to help them as they have helped others by financial help and a generous donation?"