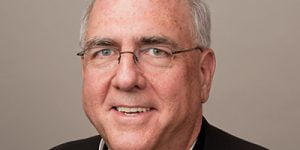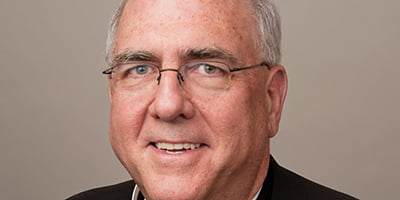 by Archbishop Joseph F. Naumann
After hearing my recent Archbishop's Call to Share (ACTS) homily in her parish, one member of the Archdiocese sent me the following testimony about her and her husband's experience of living the spirituality of stewardship. While wishing to remain anonymous, she gave me permission to share her story with you.
"Many years ago, my husband and I, young parents of two young daughters, were struggling financially. He had a job he liked but had recently been promoted and not offered any increase in pay. We had discussed whether he should look for another position elsewhere. We hadn't decided what to do when we read an article in Our Sunday Visitor about tithing. It was full of stories of Catholics who had decided to give 10 percent of their income to the church. In each case, they had been blessed way out of proportion by the Lord.
"Well, we were giving monthly to the church, but certainly not tithing. The article said: Just try it and see. So we decided to try it and promised ourselves we would begin that day, Jan. 1. Two weeks later, my husband was called into his boss's office and given a raise. It was for more than the 10 percent we had given to the church and was retroactive to the day we had made the decision to tithe.
"Well, we were convinced and have continued to give the Lord his 10 percent ever since. We had seven more children and still Our Lord provided what we needed. Our children were all healthy and raises came as our family increased and the cost of living went up. We always had enough, but never so much that we were tempted to spoil the kids with luxuries.
"The Lord said, 'Where your treasure is, there your heart is also.' I think tithing has brought us all closer to him. When you trust him, he always comes through. God is so good!"
The most common way Catholics tithe is by giving five percent to support their parishes and giving the other five percent to their diocesan campaign, the national collections, capital campaigns, Catholic Charities, Catholic Education Foundation, religious communities, etc. If a substantial number of parishioners tithed in this fashion, our schools would not have to charge tuition.
While a priest in St. Louis, I was privileged to serve as a parochial vicar (associate pastor) in a wonderful parish that was located in a financially distressed area. Similar to most parishes, we had an annual Stewardship Sunday, when parishioners were encouraged to volunteer to help in a ministry or ministries, as well as to make a financial commitment indicating their intended weekly or monthly contribution for the coming year.
We have all heard the saying, "Give till it hurts" — meaning, just do not give from our surplus, but truly make a gift that will involve a personal sacrifice. The parishioner who gave a lay witness talk at the end of Masses for Stewardship Weekend had a different approach. He encouraged his fellow parishioners "to give till it feels good." He was also exhorting people to make a sacrifice by sharing with his fellow parishioners the joy he experienced when he gave back generously to the Lord (by supporting the church and its ministries) a portion of what God had entrusted to him.
Many in the Archdiocese must be feeling very good. I am always amazed by the generosity of the people of the archdiocese. I am edified by the support given to our parishes. I was flabbergasted by the success again this year of Catholic Charities' annual Snow Ball. (Catholic Charities directors from Denver and Wichita were in attendance at this year's Snow Ball, attempting to figure out how they could try to get a similar Snow Ball rolling in their dioceses.) Just last week, we had a large crowd participate in the annual Support our Seminarians dinner. Last year's ACTS surpassed its goal. From all reports, this year's ACTS is off to a very good start.
Last year, we conducted a feasibility study regarding a possible archdiocesan capital campaign. While the results of the feasibility study were encouraging, the recommendation was the Archdiocese would be well served by spending a year communicating about the needs that the proposed campaign is intended to address, as well as listening to the priests and people as to how the campaign case could be refined and improved.
During the feasibility study, a few members of the Archdiocese wrote asking: "In these difficult economic times, how could the Archdiocese (translate: Archbishop) even think about initiating a capital campaign? Didn't I understand that many people were hurting financially?"
Certainly, this is an understandable question. The answer to the question is: Precisely because many people are struggling financially is part of the reason for conducting a campaign. Obviously, I am not expecting those individuals who are unemployed and not able to meet their own normal expenses to contribute to the proposed campaign. However, the vast majority within the Archdiocese remain blessed. If we are going to keep our Catholic high schools financially accessible to the families who are struggling, then we need more scholarship money available. We also need to keep tuition as low as possible by eliminating or decreasing the debt under which some of our schools labor. We need to strengthen our youth and young adult ministries, especially in areas where Catholic high schools are not geographically accessible.
Thank you for so generously supporting the work of the church in northeast Kansas through your prayers, your gifts of time and talent, as well as your financial donations. Thanks for giving until it feels good!