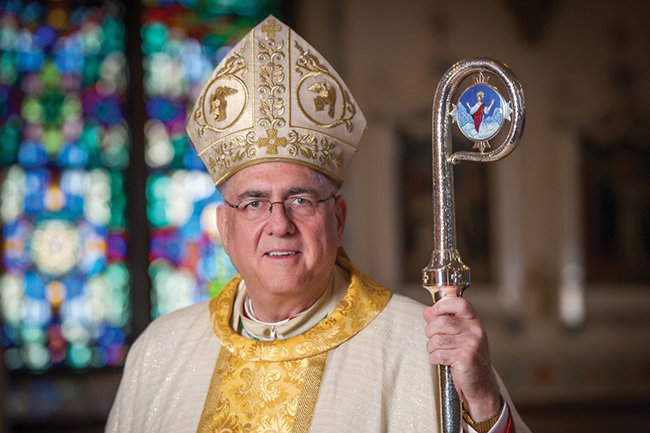 by Archbishop Joseph F. Naumann 
For the jubilee Year of Mercy, Pope Francis requested that every diocese in the world have at least one Holy Door. The Holy Father wants these symbols of God's mercy accessible to everyone, not just to those who are able to make a pilgrimage to Rome.
Inspired by the pope's desire and in order to make this special means for encountering God's mercy even more accessible to the people of the Archdiocese, I have designated six Holy Doors: 1) Cathedral of St. Peter in Kansas City, Kansas; 2) St. Benedict's Abbey church in Atchison; 3) Assumption Church in Topeka; 4) Divine Mercy Church in Gardner; 5) St. Mary Church in Nemaha County (one of the eight architectural wonders of Kansas); and 6) Sacred Heart Church in Mound City, where there is a shrine honoring St. Rose Philippine Duchesne.
The idea of the Holy Door is not something magical. It is not about just walking through the Holy Door, no matter how poorly we are disposed, and expecting to have some extraordinary spiritual experience. The Holy Doors are physical, sensual symbols of Jesus, who referred to himself as the sheepgate or doorway. Walking through the Holy Door is meant to be a prayer expressing through a physical action our desire to enter more deeply into friendship with Jesus.
It is essential that we prepare ourselves prayerfully before passing through the Holy Door. Part of that prayerful preparation should be an examination of conscience in which we ask: What are the obstacles that we have placed between ourselves and the Lord?  What prevents us from experiencing the depth of his love and mercy?
A few days before or shortly after passing through the Holy Door, we should go to confession and surrender our sins to Jesus. The sincere reception of the sacrament of penance or reconciliation is the most powerful way in which we can open the doors of our hearts to encounter Our Lord's merciful love.
One of the conditions for receiving the indulgence granted by the Holy Father for those passing through a Holy Door is to make a sacramental confession. At his first encounter with his apostles after they had abandoned and betrayed him on Good Friday, the risen Jesus empowers them to be the human instruments for communicating his mercy to others. At the precise moment they most needed mercy, Our Lord commissions them to bring his mercy to others.
Jesus says to the apostles: "Peace be with you. . . . As the Father has sent me, so I send you. And when he had said this, he breathed on them and said to them: Receive the Holy Spirit. Whose sins you forgive are forgiven them, and whose sins you retain are retained" (Jn 20: 21-23).
Each time we receive the sacrament of penance/reconciliation, Jesus has personally assured us that our sins are forgiven. Indulgences are special additional graces granted through the church, based on the authority given by Jesus himself, to heal the effects or the consequences of our sins upon our lives. Indulgences help to purify us from the damage done to our spirits and hearts by our sins.
By crossing the threshold of a Holy Door with a heart properly prepared through prayer, we open ourselves to experience God's mercy in a new and powerful way. Even for those who may be impeded at this time from receiving the sacrament of reconciliation, the prayerful and sincere crossing through a Holy Door can be a special moment of grace.
One of the essential fruits of encountering God's mercy is to become more merciful. Experiencing God's mercy by prayerfully crossing the threshold of a Holy Door should motivate and empower us to be bearers of his mercy in the world. We are called to do this first of all for those with whom we most closely share life: family and friends.
Pope Francis is challenging us to accept Our Lord's call to be human instruments of Our Lord's mercy to others by living intentionally the corporal and spiritual works of mercy — namely, to feed the hungry, clothe the naked, shelter the homeless, care for the sick, visit the imprisoned, counsel the doubtful, teach others about Jesus, pray for the living and the dead, etc. Having experienced the power of God's mercy, we are called to become portals, doorways, for his mercy for others.
Just a month ago, at the beginning of the jubilee Year of Mercy, every member of the archdiocese was asked to make a personal commitment to live in a very concrete way during this jubilee year one or more of the corporal or spiritual works of mercy. If each of us follows through on those commitments, what a difference it will make in our families, parishes and communities.
During 2016, I encourage every member of the Archdiocese to make a pilgrimage at least to one of the Holy Doors. Making a pilgrimage to a Holy Door is a beautiful activity to do as a family. Spacing out visits to all six of the Holy Doors during the jubilee could also be the motivation for us to participate more frequently in the sacrament of reconciliation.
The jubilee Year of Mercy invites us to ponder: Is there someone in my life whom I need to forgive? Is there someone from whom I need to ask forgiveness?  I am convinced that Our Lord wants to do something special in all of our hearts during this jubilee year.
The door of Our Lord's merciful heart is open to us. Jesus desires to draw us more deeply into friendship with him by the experience of his mercy. The only question is: Are we willing to open the gates of our hearts to become transformed by his mercy and love?