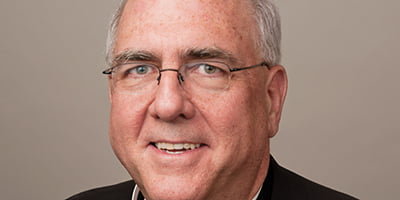 I have been very gratified by the response of so many to our Year of Faith Initiative: "Faith — Love it, learn it, live it." 
---
by Archbishop Joseph F. Naumann
As we enter into the final weeks of the Year of Faith, I pray many will choose to renew their commitment to work intentionally at growing in their knowledge of their Catholic faith and their friendship with Jesus.
I was thrilled by more than 3,500 participants in the School of Faith catechism course. I am hoping this year that even more will take advantage of the School of Faith classes. This course is designed to walk one through the Catechism of the Catholic Church, providing participants with a comprehensive and integrated understanding of what we believe as Catholics and why we believe it.
Similarly, I was also pleased by the number of people who took advan- tage of the parish/regional missions conducted by the Apostles of the Interior Life. These missions were designed to help individuals develop and deepen their prayer life, which is essential if we want our friend- ship with Jesus to grow.
Of all the programs and activities that the archdiocese provided this past year, the one about which I received the most positive feedback was the Living in Love retreats for married couples. Many couples wrote to tell me how much these weekends help to strengthen and renew their marriages.
I was particularly gratified that last year more than 30,000 individuals made personal commitments to specific ways to pray more frequently and live their faith more fervently. I am very interested in hearing how the Year of Faith touched and perhaps, in some cases, changed lives. I invite you to write a brief testimonial of how the Year of Faith has made a difference in your life. You can mail your testimonies to Year of Faith, Chancery Offices, 12615 Parallel Pkwy., Kansas City, KS 66109 or send an email to: rhammes@archkck.org.
I would like to publish some of these testimonies in The Leaven. I would
also like to gather the best of these testimonies into a little booklet to send Pope Emeritus Benedict XVI as an expression of gratitude for his leadership in calling for this Year of Faith. I am certain that it will be a great source of encouragement to Pope Benedict to hear how his challenge to the entire church to observe the Year of Faith touched the lives of people in faraway northeast Kansas.
The Year of Faith officially concludes with the celebration of Christ the King of Sunday, Nov. 24. However, I hope that in some way the Year of Faith never concludes for us. Hopefully, we will continue to strive to grow in our efforts to learn more about our Catholic faith and, through persevering prayer, continue to deepen our friendship with Jesus. In the end, knowing our faith better and strengthening our relationship with Jesus will inevitably lead us to live the faith we profess with our lips with greater passion and integrity.
The archdiocese and our parishes will continue to of- fer opportunities to become more knowledgeable about your Catholic faith and to enrich your prayer life. In fact, on Saturday, Nov. 2, Dr. Coleen Kelly Mast — a popular Catholic Radio personality — will be leading a day of enrichment for engaged and married couples. She will offer some practical suggestions on how couples can keep growing in their love for each other throughout the years of marriage. She will also offer some helpful advice to parents on how to teach your children about their sexuality in a way that respects their innocence and yet will not leave them ignorant.
The title for the program is "God's Plan for Life and Love." I have known and admired Colleen Kelly Mast's ministry for many years.
I can guarantee that you will not be bored, and I am confident that you will come away  from the day with many practical strategies and tactics on strengthening your marriage and improving your parental skills If you made a Living in Love weekend this past year, this enrichment day will be the perfect follow-up to that experience.
Your marriage and your family are the most important relationships in your life. There is nothing that would be a better investment of your time than to spend a few hours learning how to strengthen and renew your marriage. You can register online.
Next weekend, Jeff Cavins will also be in the archdiocese at St. James Academy, giving a workshop on the Bible. He is a nationally recognized expert on the Bible and on applying biblical lessons to everyday life.
These are just two examples of excellent opportuni- ties to grow in your knowl- edge and practice of your Catholic faith. Though this special Year of Faith may conclude in a month, our ongoing quest — to learn more about our faith, to love more deeply Jesus and his bride, the church, and to live our faith with integrity and passion — needs to continue for the rest of our lives. We must never grow complacent in our life of faith, but instead must constantly strive to learn, to love and to live our Catholic faith with greater fidelity and intensity.