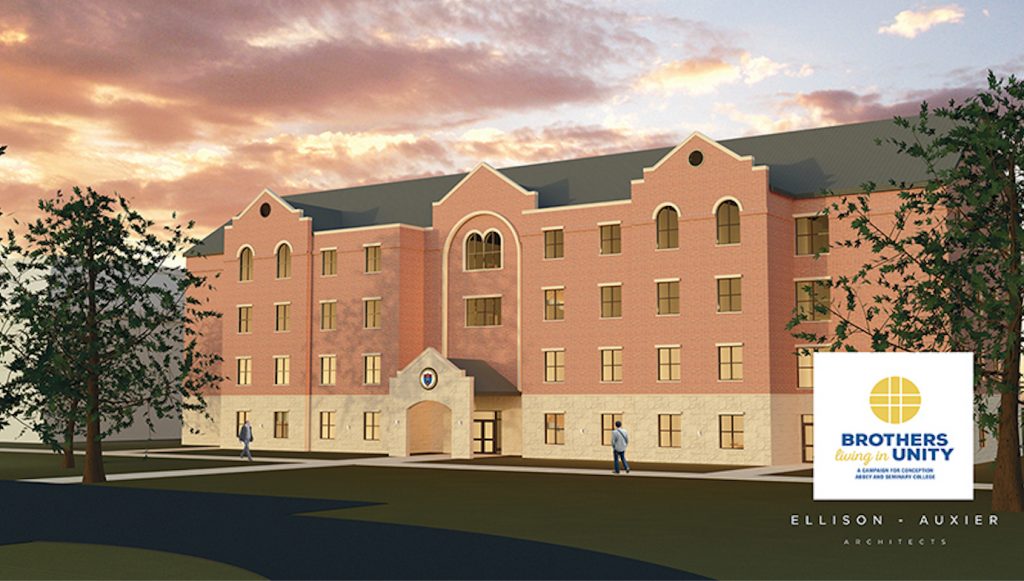 by The Leaven staff
CONCEPTION, Mo. — Conception Abbey and Seminary College here announce the launch of a major fundraising effort to build a new residence hall and grow the endowment for retired monks. The goal of the Brothers Living in Unity capital campaign is to secure $10 million for a new seminary residence hall and $4.5 million to grow the Monastic Retirement Endowment. 
"This Lent, as we prepare to commemorate the death and resurrection of Our Lord, we at Conception are also preparing for the future in our lives of witness and ministry," said Abbot Benedict Neenan, OSB, of Conception Abbey. "After years of careful planning, we are pleased to embark on this important endeavor to address the urgent needs of housing for our seminarians and the care of our retired monks.
"The theme of Brothers Living in Unity is fitting for our community and this campaign. This effort will significantly enhance our ability to help monks and seminarians live in greater unity with one another and with Our Lord Jesus Christ."
For more than 140 years, Conception Abbey and Seminary College have been a house of prayer supporting the work of the church and providing a place for future priests to pray, learn and discern.
"Our seminarians are responding, 'Yes, Lord!' to God's call to the priesthood and we must do everything to fuel the fire of their faith," said Father Brendan Moss, OSB, president-rector at Conception Seminary College. "This effort will strengthen the bonds of fraternity amongst our seminarians, a true hallmark of priestly formation at Conception Seminary College." 
"The current residence halls have served us well but have grown tired," said Father Brendan. "With antiquated systems in St. Michael Hall more than twice the age of its seminarian residents, the facilities cannot keep pace."
The new residence hall will allow seminarians to live under one roof and will include 68 rooms large enough to each accommodate two seminarians. Other features include common space for recreation, socialization and community-building; residential space for seminary chaplains and the president- rector; and a chapel for personal prayer.
The campaign will also provide funds to grow the Monastic Retirement Endowment dedicated to the care for Conception's retired monks, who have devoted their lives in service to the Lord.
As monks age and can no longer work in the seminary and other ministries, they reside in the infirmary, where their expenses are covered by the endowment.
"To continue providing the benefits that our beloved monks deserve after a lifetime of service, we must continue to expand our endowment," Abbot Neenan said.