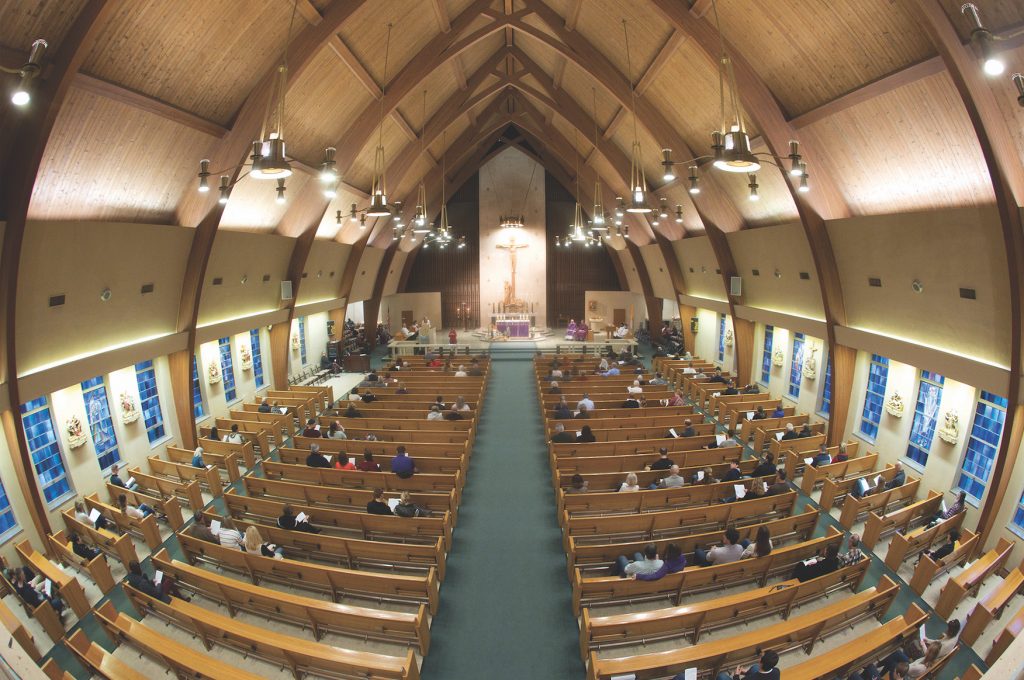 by Joe Bollig
joe.bollig@theleaven.org
KANSAS CITY, Kan. — Policy changes in response to the coronavirus pandemic have brought daily and even hourly changes that people are struggling to adapt to, and the church is no exception.
Father Jeremy Heppler, OSB, was presiding over a funeral when he learned about the latest development at the cemetery.
He learned of the new directive, said Father Jeremy, pastor of St. Benedict Parish in Atchison, from Father Richard McDonald, "also at the funeral this morning [March 17]."
"He told me when we got out to the cemetery."
On the morning of March 17, Archbishop Joseph F. Naumann and the bishops of Kansas announced the cancellation of all public Masses in Kansas.
Baptisms and funerals are still possible, but with the limit of no more than 50 people. Only those who are not showing symptoms of illness may attend. Penance services are canceled, too, but the sacrament of reconciliation for individuals is still permitted.
Earlier, the Archdiocese of Kansas City in Kansas issued voluntary guidelines and a dispensation from attending Mass for certain persons. A week ago, those became mandatory directives, which were modified yet again as the situation across the United States worsened.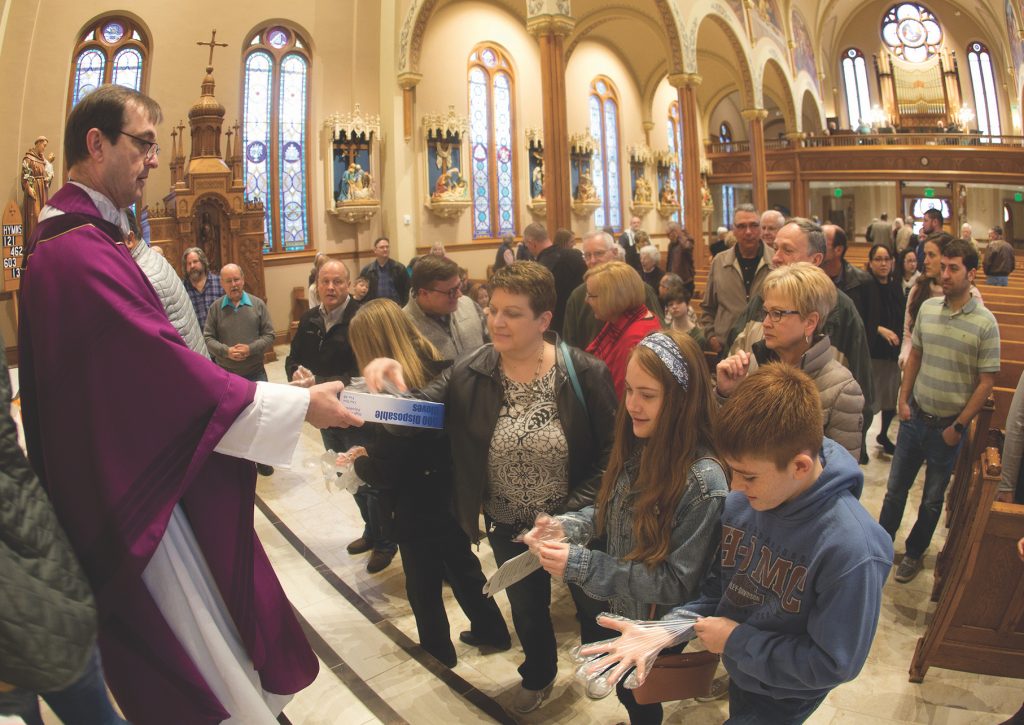 Like all archdiocesan pastors, Father Jeremy had to adapt.
"Obviously, it's a work in progress," said Father Jeremy. "We are still planning on having confessions available, and I even have some creative ideas on how to increase the times of confessions, especially as we get closer to Holy Week.
"I also hope to talk at lunch today with [St. Benedict's] Abbey to see if there is some way we can work together on a [Mass] livestream."
He also wants to place information on the parish Facebook page about how to make a Spiritual Communion and other prayers so people can pray at home when they can't come to Mass.
"I have a lot of ideas, but we have nothing in practice at this point," he said.
Streaming opportunities
There were fewer parishioners at Masses on the weekend of March 14-15, but an increase of people who went to the parish website to view live-streamed Masses, said Msgr. Thomas Tank, pastor of the Church of the Ascension in Overland Park.
"We'll be streaming a couple of the Masses for every weekend," he said. "We'll have one weekday Mass streamed every day for people who want to join in. We will allow the church to be open for perpetual adoration and personal prayer time."
His own mindset is serene.
"My mantra is: 'This, too, will pass,'" said Msgr. Tank. "This is not a time for panic or hysteria. But rather, it's taking the necessary precautions and working our way through this. . . . Things will go back to normal sometime in the future."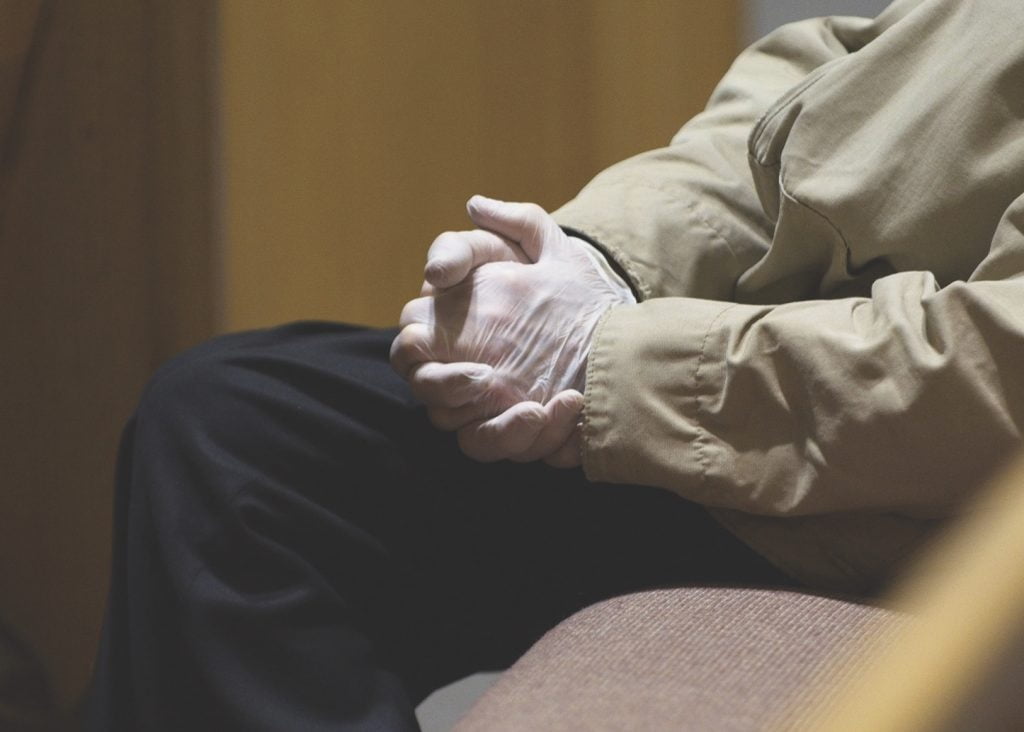 He hopes that the pain of being deprived of the Eucharist will lead to a greater appreciation of what a wonderful gift it is.
During the weekend of the last public Masses March 14-15, Father Ric Halvorson, pastor of Holy Spirit Parish in Overland Park, made it clear that the parish would respond to those who contacted the parish by phone or email.
He had mixed experiences when trying to enter nursing homes to administer the sacrament of the anointing of the sick, however.
"When I got to [St. Luke's South], there were men at the front door and they asked questions," said Father Halvorson. "They took my temperature and they let me in."
But when he went to another facility, the screeners at the front door wouldn't let him in to anoint a parishioner who was feeling ill.
"They asked if it was a life-threatening situation and I said, 'No, I don't think so,'" said Father Halvorson. "They said unless it was a life-threatening situation, [I needed] to turn around and go home."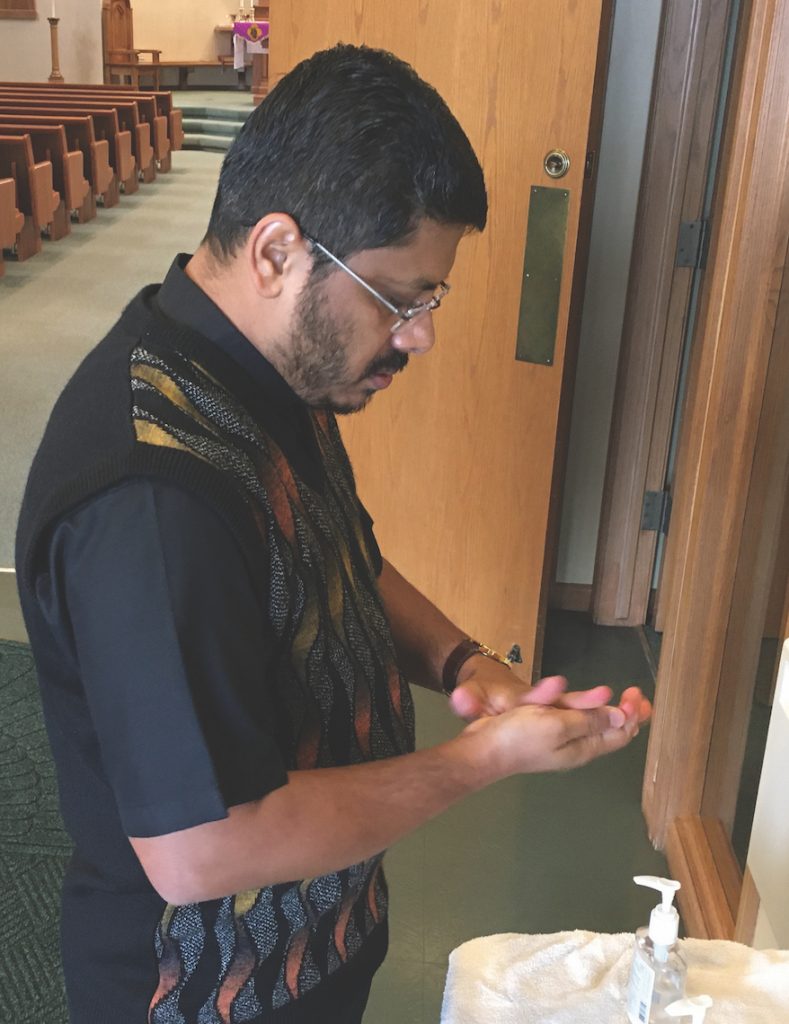 The coronavirus crisis hit very close to home to Christ the King Parish in Kansas City, Kansas. An elderly man died in a care facility only blocks away. Nearby pastor Father Nick Blaha advised those who can't go to Mass to simply pray. Pray as much as you can.
"Pray Psalm 91, make a Spiritual Communion, reach out to the isolated — especially the homebound and elderly," said Father Blaha, who is also pastor of Blessed Sacrament and Our Lady & St. Rose Parish.
Students from the parish school are on spring break, but they've been asked to make cards and letters that will be distributed with bulletins to the parish's homebound to let them know they are not forgotten and feel connected.
"We're all feeling isolated right now, so let us reach out," said Father Blaha.
This is a time for parishioners to be reasonably cautious, but also to be more prayerful, more charitable and thoughtful of their neighbors.
"The idea of a Jubilee Year resonates with me," he said. "It says go home to your family and forgive debts. Let's be renewed in the knowledge of our loving Creator who is close to us and has given us all that we have, to see our abundance rather than our shortage."
The power of prayer unleashed
Christ the King Parish in Topeka is relying heavily on social media to communicate with its parishioners.
"We're working through our means of communication to get the word out so people know [the Mass cancellation] has taken place," said pastor Father Matt Schiffelbein. "We use things like our parish website, Facebook page, Flocknote, and . . . word of mouth.
"We're also exploring the possibility of livestreaming at least one Mass on Sunday and daily Mass, and Stations of the Cross on Fridays — things to stay connected as a parish. . . . We're not quite sure what all we'll be streaming, but these are possibilities."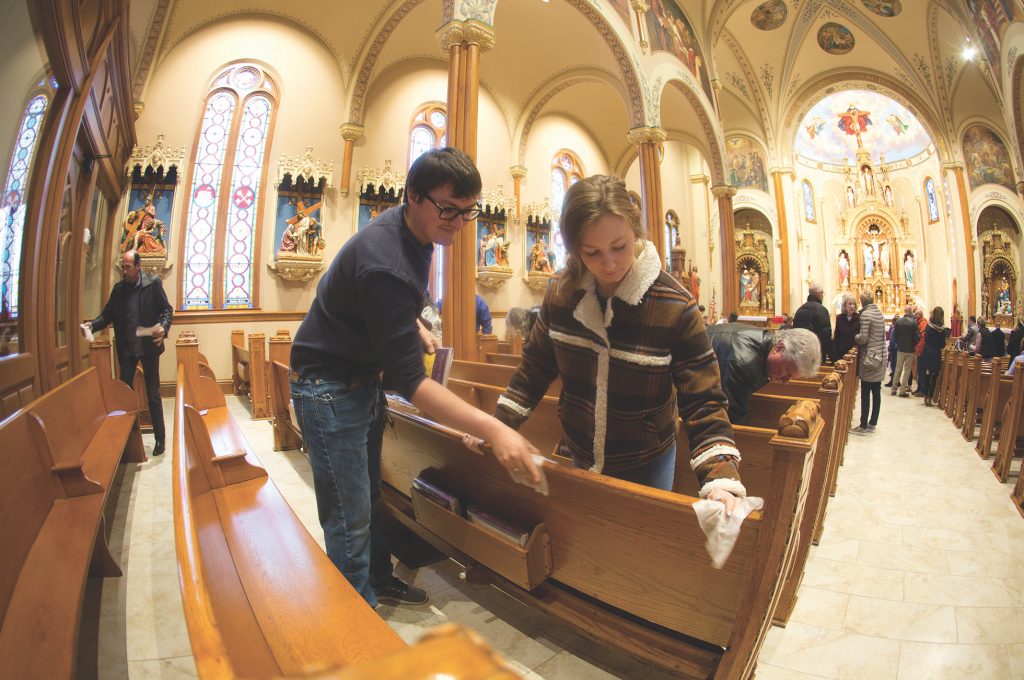 If people can't view a live-streamed Mass, he suggested parishioners take time to pray and read the Scriptures as a family, make a Spiritual Communion, and invoke Our Lady Help of the Sick and St. Joseph to bring a speedy end to the crisis.
Some parish staff members are calling vulnerable, isolated people to make them feel less alone and see if they need help getting prescriptions or groceries picked up and delivered.
Across town, Father Tim Haberkorn, pastor of Sacred Heart-St. Joseph Parish, is also urging parishioners to turn to Marian devotions: Our Lady Help of the Sick and Our Lady of Perpetual Help. He's advising parishioners to view television Masses on EWTN and he's offering parishioners' intentions at private Masses.
In terms of outreach, parish volunteers are stepping up to meet increased demand at two sandwich ministries at Let's Help and Corita's Corner Sandwich Ministry.
All pastors are concerned to different degrees by the financial impact the crisis will have on parishes. About one-third of Father Haberkorn's parishioners use Faith Direct, a direct deposit program.
"My people have always been generous and will continue to be so," said Father Haberkorn. "I just encourage them to remember that bills and salaries still need to be paid, and to encourage them to give — whether that means mailing it in or by Faith Direct — but to be aware of that.
"What is helpful is knowing we're not alone. . . . So many individuals, families and businesses are all going through it together."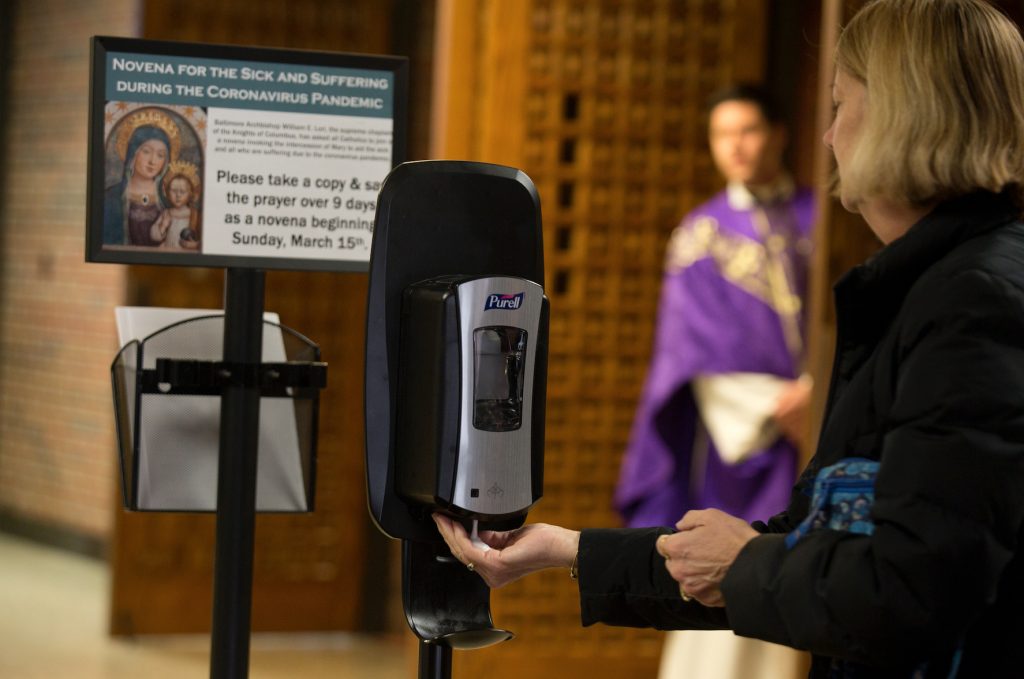 Father Jomon Palatty, MSFS, pastor of Annunciation Parish in Baldwin and St. Francis Parish in Lapeer, is keeping in touch with parishioners via email and phone calls. He's staying in the rectory for the most part, but encourages people to call him directly.
"I am celebrating [private] Masses at the residence and pray for the good health and faith of all my parishioners," he said. "I am reciting the rosary and asking them to do the same, and make a Spiritual Communion in their daily prayers."
People need to respond with prayer in this crisis.
"During this time, we have to join together and pray," said Father Jomon. "Miracles can happen through our prayers. Human power is not able to overcome this virus. The ultimate power from almighty God is here. When God hears the cries of our people, he will do miracles for us.
"So, let us pray together. Let us revive our spirits and pray to the Holy Spirit to clean our hearts so we can become aware of the presence of the all-powerful and almighty God."
Additional reporting by Moira Cullings.