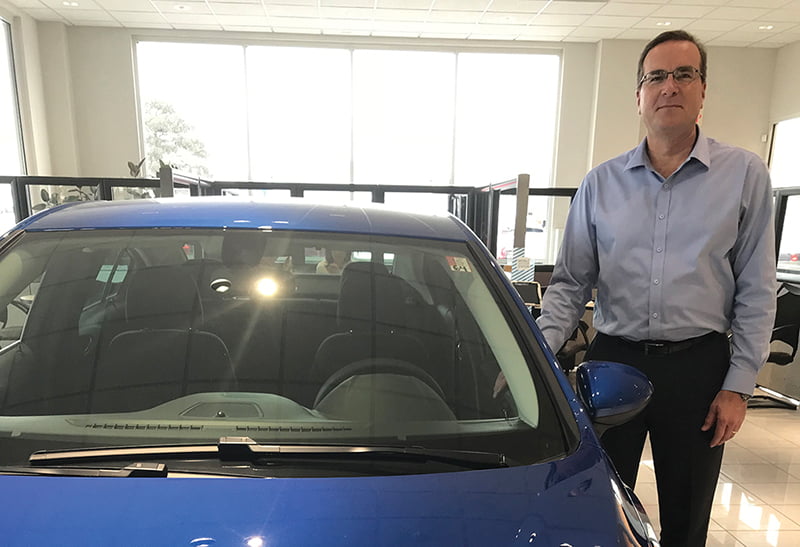 by Steve Buckner
Special to The Leaven
LAWRENCE — Corpus Christi School here wants to put you behind the wheel of a 2018 Chevrolet Cruze LS.
As part of its annual school auction, a $10 raffle ticket to the April 14 event will give donors a chance to win the new car.
But wait, there's more!
Corpus Christi parishioner Greg Maurer, dealer at Dale Willey Automotive, plans to donate cars to the 2019 and 2020 school auctions as well.
"[Pastor] Father Mick [Mulvany] and I were both incredibly grateful to Greg for his generosity," said Mary Mattern, principal of Corpus Christi School. "He has gone above and beyond to help Corpus Christi."
This car donation is not a first for Maurer. He has previously donated two cars to the auction. His son Garrett graduated from Corpus Christi last year.
"My son got a great education there," Maurer said. "I thought it was a professional-type environment for the kids.
"I was really, really happy with how the kids were brought along. The kids have a lot of manners. Everyone seemed well-behaved."
Mattern said the raffle's funds would give the school much-needed development dollars that would go straight into the school budget to meet the budget costs for the end of the year.
"Greg and his wife Kristin are incredible people who believe in Catholic education," Mattern said. "They would do anything they can to make sure that students receive a wonderful experience in education and that we have the resources that we need at Corpus Christi."
For their part, Maurer said he and his wife were impressed with Father Mulvany, Mattern, the teachers and support staff at Corpus Christi School.
"I can't emphasize how nice and caring these people are with anything you need," Maurer said. "They really have the attention of the kids.
"Corpus Christi is a very friendly, family-type environment. Everyone seems to get along."
"The kids — I'm surprised at how well they got along," added Maurer. "At different times in the school, they would have two or three or four grades working together — young and old kids.
"It's special to see that happen in this day and age, and for them to be caring for each other."
"That caring," said Mattern, "comes from making a difference and being a light for all those we meet.
"The reason we have worked so hard to enhance our annual giving and our development efforts is because — every day — we have been tasked with helping each of our students touch the face of Jesus."
"To be the best school academically and in faith, development means creating and sustaining relationships with all of our stakeholders, parish families, school families and the business sector in Lawrence," Mattern added.
"Our school then shares its blessings not only with the students and parish family," she continued, "but also with the wider community of which we are a part."
The car raffle is open to the public. Go online to purchase tickets.
The winner will have his or her choice of taking the Cruze LS or taking a two-year, 20,000-mile lease for a qualifying candidate on a Chevrolet Traverse, a GMC Acadia or a Chevrolet Silverado. You do not need to be present to win.