by Marc and Julie Anderson
mjanderson@theleaven.org
SHAWNEE — Checking something off his to-do list.
That's how Kevin Kirr, a parishioner of Sacred Heart Parish in Shawnee, viewed marriage prep initially.
Seventeen years later, he and his wife Tanya serve as marriage prep leaders within Johnson County.
In February 2015, Kevin and Tanya, who had three young children, were looking for a weekend getaway. Some friends recommended "Living in Love," a retreat designed to "energize the romance and renew the joy of being in love through a practical application of St. John Paul II's theology of the body."
"As we were going through these sessions, we were both thinking that if we had known some of this stuff before we got married or early in our marriage, it would have made us understand each other and where disagreements were coming from," Tanya said.
Learning of their enthusiasm, leaders Dutch and Kathy tenBroek suggested the Kirrs become a mentor couple for those preparing for marriage within the church.
While the Kirrs loved the idea, a temporary move to California delayed their first opportunity for mentoring until March 2016.
But then, they began ministry in earnest — tackling topics like communication styles within families of origin and how they can impact a marriage.
"There are so many things ingrained in you that don't even realize," Tanya said.
Take the holidays, for example. If couples don't understand each other's family traditions and holiday expectations early on, it can lead to sustained conflict. Within her family of origin, she became the first one not to return home for the holidays every year.
It was a decision she and Kevin made together and one they felt strongly about, especially as they started having children and wanted to establish their own family traditions.
Still, how they would spend the holidays was not something they had considered previously.
"I feel like if we would have had those conversations early on, it would have made the holidays less stressful," Tanya said.
These days, they encourage other couples to think about holiday expectations, especially as they lead them through the seven-week course now known as "Evermore in Love." Preparing for marriage, they said, involves a paradigm shift from pleasing one's family of origin to focusing on your spouse.
"It's harder for some than others to make that transition," Kevin said.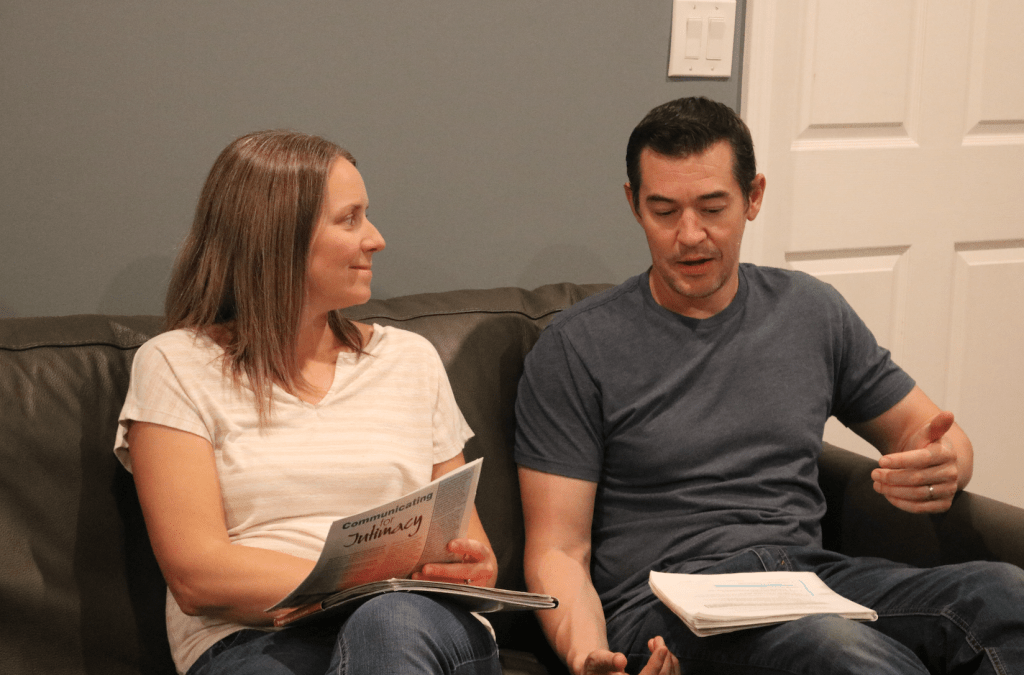 While holidays can point to one potential area for conflicts, Tanya said so can the wedding.
Both families have expectations of how the big day should look and feel. Unless couples are open and honest with each other and their families, seemingly minor things can escalate into bigger issues down the line as couples try to navigate the journey from engagement to wedding day to living as husband and wife.
Throughout the past five years, the Kirrs have mentored dozens of couples, sometimes two or three at a time, but they prefer a one-on-one approach in which a couple meets with them in their home. The approach allows them to follow the curriculum, but also personalize it for each couple.
"Now that we've seen a variety of couples and where the hot spots are in their lives, we try to make sure to focus and tailor each session to the couple versus reading through the checklists and curriculum. So, it's becoming really cognizant of where the couple is at in the relationship and where the challenges might be," Kevin said.
Their tailored approach allows them to get to know each couple better and affords the more introverted ones the opportunity to ask questions and/or share in a smaller setting.
"We encourage them to focus on the openness. You have to be completely open with each other," Kevin said. "I think there's a lot of hot-button issues that maybe couples don't want to address, but this kind of forces those conversations."
Both Kevin and Tanya pointed out that no couple is ever forced to share with them, but only with each other. In fact, at times they will leave the room and allow the couple to talk privately.
Throughout the course, the Kirrs meet once weekly with the engaged couple. Each 90-minute session is packed with conversation topics, writing exercises and homework assignments.
For example, during a session on love languages, the Kirrs visit with the engaged couples about the five different languages couples use and the importance of understanding your spouse's love language. Couples are then sent home with a particular assignment.
"We tell them, 'Your job for the next week is to affirm your fiancée every day using the other person's love language every day,'" Tanya said.
Kevin agreed.
"The course builds upon itself," he said, "and they work this stuff into their daily habits and routine.
"There's going to be challenging times ahead. It's just making sure they have the tools to get through them."