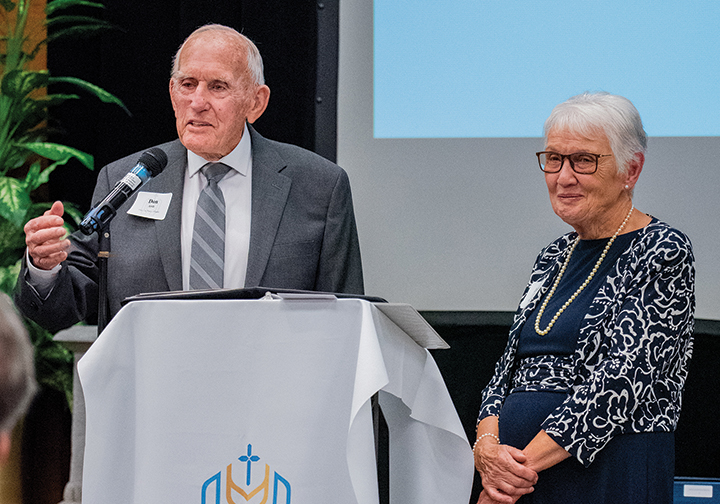 by Joe Bollig
joe.bollig@theleaven.org
KANSAS CITY, Kan. — Don Arth never forgot that the only way he could enroll at Conception Seminary's prep school in Conception, Missouri, in 1946 was through a scholarship from an anonymous donor.
That's why, for most of his life, he has supported Catholic education and vocations to the priesthood and religious life.
It was for their generosity that Don and Janice Arth, members of Prince of Peace Parish in Olathe, were presented the Deo Gratias Award on Nov. 10 by Archbishop Joseph F. Naumann at the Keleher Conference Center at Savior Pastoral Center in Kansas City, Kansas.
The Catholic Foundation of Northeast Kansas annually presents two Deo Gratias Awards — one to individuals and another to a Catholic Institution.
CFNEK, a 501(c)(3) nonprofit organization, provides distributions and grants to parishes, schools and institutions through the formation of endowments, donor advised funds, charitable gift annuities and membership in Catholic legacy societies.
The Deo Gratias (Latin for "thanks be to God") Award is given in recognition of outstanding achievement, service and support of Catholic institutions that are CFNEK fund holders, as well as Catholic Legacy Society members.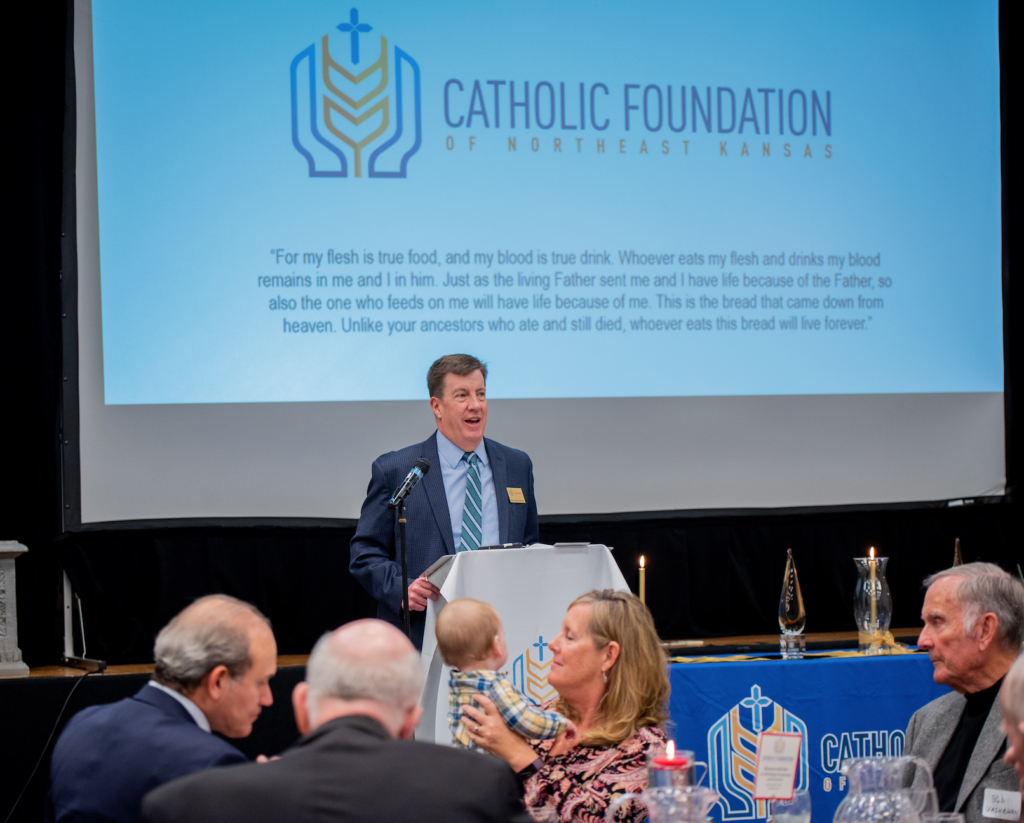 Don's father died in an accident when he was one year old and his mother moved them to be closer to her family in Pilot Grove, Missouri. This was during the Great Depression, so they had little money.
His prospects brightened when he received a scholarship from an anonymous benefactor to attend the prep school in Conception, Missouri.
Although Don spent only a year there, it had a profound impact on him. As he and his first wife Liz raised their family, they supported Catholic education in ways big and small.
"I remember when my kids were starting in school, I was in the commons at St. Thomas Aquinas High School (in Overland Park) and there was a brick with [his parents'] names on it," said Chris Arth, Don's son and general counsel for the Archdiocese of Kansas City in Kansas. "It was from the old, classic 'name on a brick' fundraising campaign.
"Then we were playing basketball at Bishop Miege High School (in Roeland Park) and there was another brick with their names on it. I told my mom about it, and she said, 'Oh, I hadn't thought about that for years.' Here, they supported schools where none of my siblings went at the time, but Catholic education was that important to them. And what do you know? A couple of their grandchildren went [to these schools]."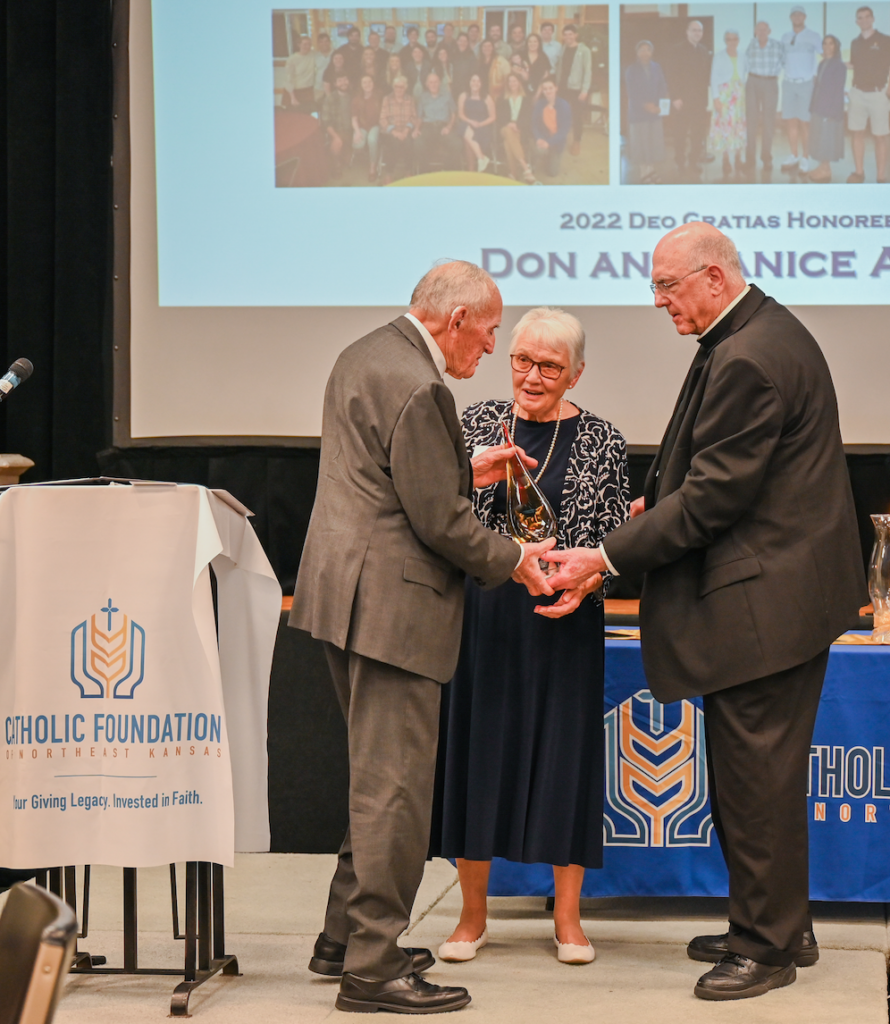 Don's wife Liz died in 2011, and Janice Arth's husband Dan Lawless died in 2009. Both couples met at the parish and through their activities in the Serra Club. Although Janice was not a Catholic and couldn't be a full member, she still volunteered. Janice entered the Catholic Church in 2010. Don and Janice married in 2012.
As active members in the Serra Club, they wanted to help those pursuing a vocation to the priesthood or religious life. The couple and CFNEK established the Heart to Heart Scholarship Fund in 2021 to pay for some of the expenses of these individuals.
This fund is supported by the Master's Cup golf tournament fundraiser held annually.
Accepting a Deo Gratias Award for the Catholic Education Foundation (CEF) were Jeff Jaworski, board chairman of CEF and member of Curé of Ars Parish in Leawood, and Vince Anch, executive director of CEF.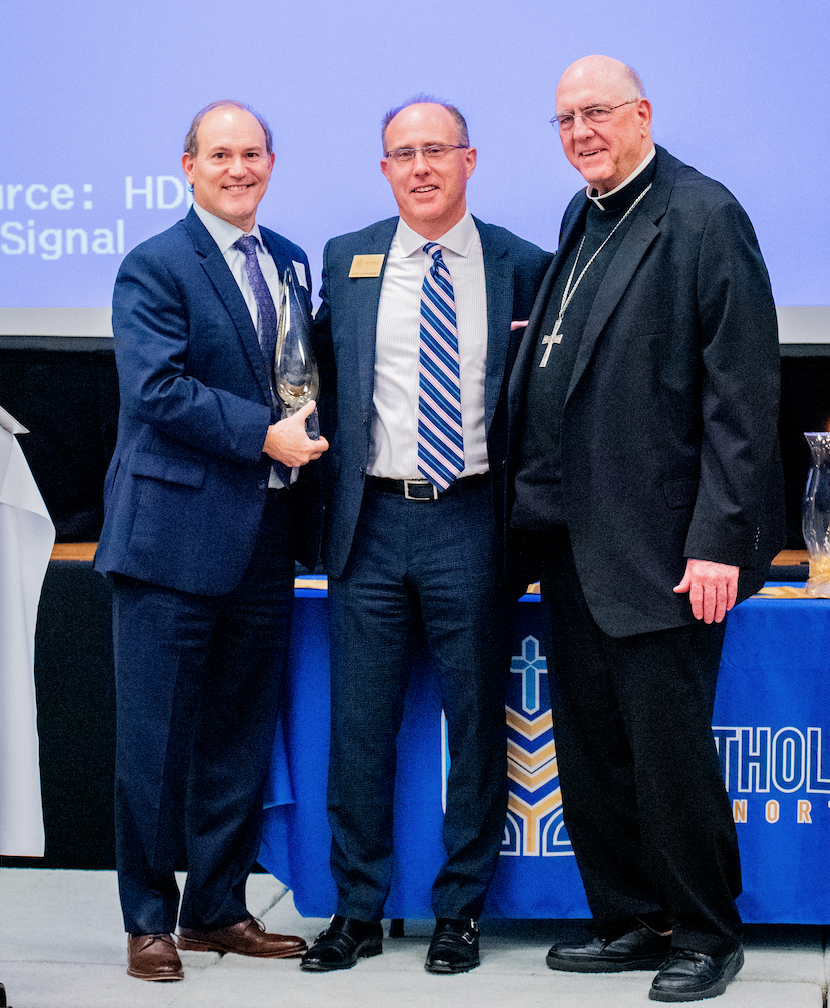 While giving the award, Archbishop Naumann noted that in the past 25 years, CEF has provided $28 million in tuition assistance to students in need who otherwise could not afford a Catholic education.
CEF annually supports 1,800 students in 27 archdiocesan schools with $4 million in scholarships.
In his report on the state of CFNEK, Bill Maloney, the foundation's executive director, said that the foundation grew to 238 funds and ended the fiscal year with $110 million in assets, despite the challenging investment markets.
This year, CFNEK gave more than $6 million in grants, scholarships and distributions to schools, parishes and other Catholic charities in the archdiocese.