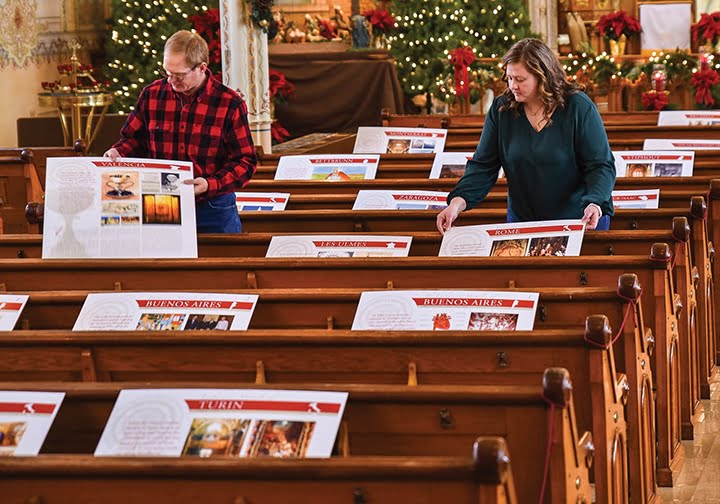 by Joe Bollig
joe.bollig@theleaven.org
KANSAS CITY, Kan. — The August 2019 Pew Research Center report about a survey of Catholic belief in the Eucharist hit the Catholic Church like a bombshell.
Although the church has always taught that Jesus is present in the Eucharist, the source and summit of the Christian life, nearly seven-in-ten Catholics surveyed said that the consecrated bread and wine at Mass are only symbols of the body and blood of Jesus — that the Savior is not really present.
The echo of that bombshell is still reverberating through our churches, emptier now because of social distancing requirements and fear of the COVID-19 virus.
Rather than join the hand-wringers, however, Dan and Kristin Tangeman, a farm couple and members of St. Mary Parish in St. Benedict, launched a family project at their own expense to cultivate what Pope John Paul II called "eucharistic amazement."
The Tangemans have created posters featuring eucharistic miracles and have placed them in the pews of their church that have been roped off due to pandemic spacing requirements.
They didn't have to do much research. The Tangemans found everything they needed on a website created by Italian teenager Carlo Acutis, who died from leukemia in 2006. He was beatified on Oct. 10, 2020, a step toward sainthood.
The Tangemans hope that worshipers will read the posters surrounding them and learn, probably for the first time, about eucharistic miracles that have occurred for centuries all over the world.
"We felt that a lot of [Catholic] kids don't grasp the importance, and a lot of adults don't grasp the importance, of the Eucharist," said Kristin.
It's precisely the kind of evangelization effort talked about at the Enflame convocation Dan and Kristin attended in October 2019 as parish delegates.
There wasn't any one thing that led the Tangemans to produce the eucharistic miracles posters. Rather, many things came together until critical mass was achieved and the idea exploded forth.
One element was an article Dan read about eucharistic miracles about five years ago in the National Catholic Register, as one of their four children was preparing to make her first Communion.
"I saw an article about Carlo Acutis," he said, "and I thought, 'eucharistic miracles' — I never even heard about such things. Why in the world don't we ever hear about such things?' So, I made sure my kids read about several eucharistic miracles. They need to know about these things."
This past Halloween the Tangemans put homemade holy cards featuring Carlos Acutis in the bags of candy they passed out as treats.
A second newspaper article also played a big part: It was about a parish on the East Coast putting posters in the empty pews during the lockdown period when there were no public Masses.
"We thought, 'Oh, gosh, we can do this,'" said Kristin.
And so, using Blessed Carlo Acutis' website, they downloaded articles about eucharistic miracles and mounted them on cardboard. They were helped by Roxie Schmitz, a member of Sacred Heart Parish in Baileyville. She's the mother of Father Quentin Schmitz, pastor of St. Gregory Parish in Marysville.
Since Father Reginald Saldanha is pastor of both St. Mary and Sacred Heart, it was natural that the Tangemans and Schmitz approach him and ask that the posters be placed at both locations. He enthusiastically agreed and promoted the project from the pulpit.
"They came to me and told me that they would like to print these posters and put them in the church for everyone to read," said Father Saldanha. "I thought it was a brilliant idea.
"Nowadays, people cannot sing or say their prayers with the masks on, but they can read the posters and come to learn more about the Eucharist. They have some wonderful stories I have not read before."
The three-by-two-foot posters were placed in the pews during Advent, removed for Christmas and then returned after the solemnity of Epiphany.
"My intention was — because of the COVID, people are not coming to the church and are missing the Eucharist — this could help to re-evangelize and bring people back to the church for the Eucharist once things become normal," said Father Saldanha.
Parishioners have responded well to the posters, he said. After Mass, they linger so they can read the posters. Schmitz noticed some religious education teachers take their classes to the posters.
Dan and Kirstin don't know how long the posters will stay up at their parish, but they hope other parishes and Catholic schools can use them.
"My hope is, once we people return, we won't have so many posters in the pews," said Dan Tangeman. "We'd like to spread them out to as many parishes as we can reach."
Want to learn more?
Would you like to visit Blessed Carlo Acutis' eucharistic miracle website? Go to the website at: miracolieucaristici.org. A movie is being made about him and is scheduled for release in June.