by Joe Bollig
joe.bollig@theleaven.org
KANSAS CITY, Kan. — What is the secret to a long and happy marriage? Roger and Theresa Bollinger claim to not know — but maybe they do. After all, they've had one for 50 years.
"I don't know the secret," said Theresa. "It's just being there for each other and loving your family."
"Don't be afraid to forgive and don't be afraid to forget," said Roger. "Forget the bad times and focus on the good times — and the future."
Roger and Theresa were among more than 65 couples who gathered for the annual archdiocesan 50th wedding anniversary Mass, celebrated at 2 p.m. on Aug. 23 at the Church of the Nativity in Leawood.
Archbishop Joseph F. Naumann was the main celebrant and homilist. Pastor Father Michael Hawken and senior associate pastor Father Al Rockers were concelebrants. The master of ceremonies was Father Bruce Ansems.
The Mass was sponsored by the archdiocesan office of marriage and family life and was hosted by the Church of the Nativity.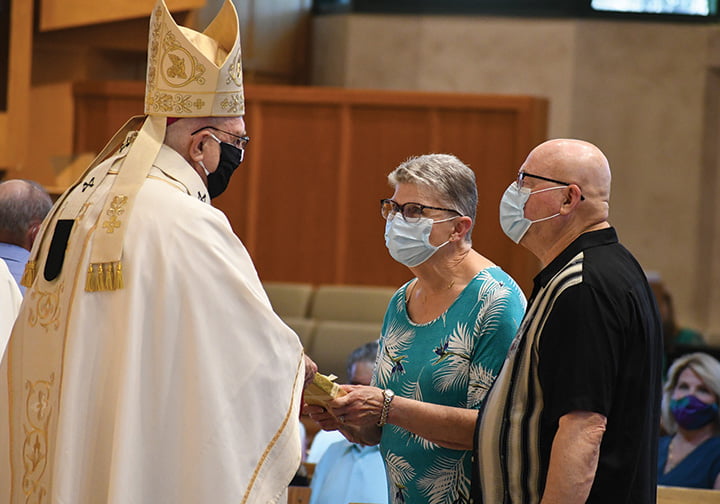 Adjustments had to be made for the annual Mass because of the ongoing COVID-19 pandemic, said Deacon Tony Zimmerman, lead consultant of the marriage and family life office.
The number of participating couples was limited and by invitation only, with no family members present. Everyone had to wear masks, use hand sanitizer and maintain social distance.
Moreover, there was no reception or opportunities for the jubilarian couples to have photographs with the archbishop. The church was cleaned before and after.
"This is a tough time," said Deacon Zimmerman.
But the precautions were necessary — especially since the honored guests were of an age to be more vulnerable to the virus.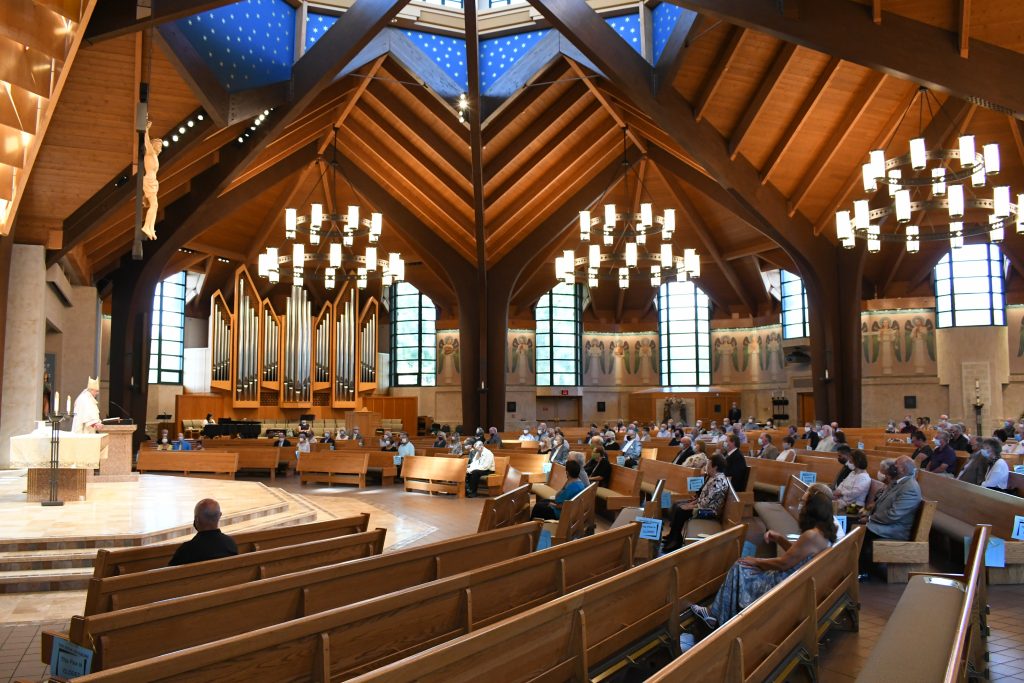 In his homily, Archbishop Naumann said he finds it fascinating to learn how God brought couples together.
"Today, I guess the Holy Spirit can even use eHarmony to bring lives together," said the archbishop. "But however it happened, we believe it was part of God's plan and call to you. What you pledged at the altar 50 years ago was to try to imitate the love of Jesus Christ himself, to try to lay down your life in love on a daily basis for each other, to put the good of your spouse ahead of your own wants and desires — to make their good, their happiness, the highest priority. This is a bold pledge you made to each other."
Joseph and Cathleen Bellafiore, members of Curé of Ars Parish in Leawood, were married in Las Vegas all those years ago. It wasn't at a cheesy casino/wedding chapel with Elvis, however, but at St. Viator Church.
The COVID-19 restrictions of the celebration at Nativity didn't faze them.
"It was very nice to attend Mass," said Joseph. "It's been a while since we've been able to attend . . . a Mass in person."
What's the best thing about being married 50 years? The laughs, said Cathleen.
"We always still find the humor in all these years and how we met," she said. "Sharing the fun times and humor in things. I laugh sometimes and they say, 'Why do you laugh?' It's because I find the humorous things rather than what's negative."
Like most married couples this year, Ed and Colette Bernica's 50th wedding anniversary celebration plans were canceled, so they welcomed this Mass.
"For us, it was a big occasion," said Ed.
"We looked at it as a way to celebrate our anniversary besides it being acknowledged by our children, especially this year since we couldn't go to a restaurant or have a big party," said Colette. "This was a wonderful opportunity. . . . We were thrilled to be part of this beautiful day."
The best thing about being married for 50 years is that the love and support continues to grow, said John and Sally Bukaty, members of the Cathedral of St. Peter Parish in Kansas City, Kansas. It's the foundation of their existence as a couple.
And what is the secret to a long and happy marriage? Listening and making your spouse your priority.
"It's a shared commitment to each other and to your faith," said Sally, "and to always listening to each other. Listening is so important."
"Try your best to put the other one first in your concerns," said John. "Yours are important, but they have to be considered in light of the desires of your spouse."
Gratitude, too, is important for success and happiness in marriage, according to Dennis and Judith Runser, members of St. Michael the Archangel Parish in Leawood.
"Be grateful you have someone you love to share life's journey," said Dennis. "Celebrate the good times. In the challenging times, trust in the Lord.
"Share your laughter, prayers and tears with each other," he also advised. "Trust and respect each other and focus on the positives."
After his homily, Archbishop Naumann asked the couples to turn to each other as he led them in a renewal of their marriage vows. After Communion, each couple was invited to come forward to receive a gift: a marriage crucifix, featuring two intertwined rings. And before the dismissal, the archbishop prayed a blessing over all the couples.