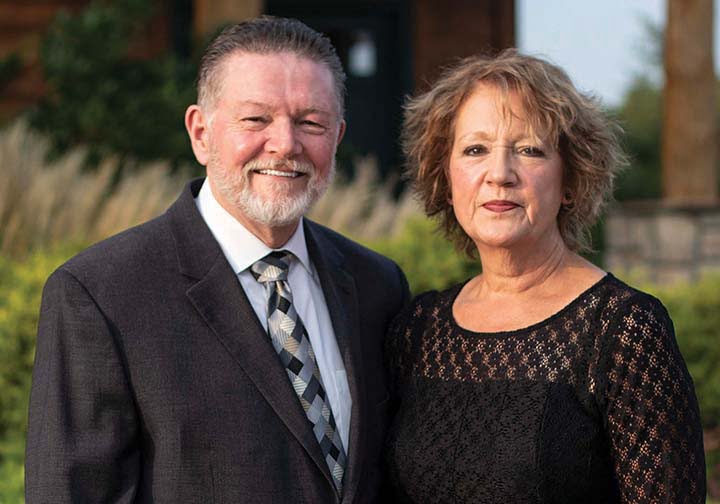 by Carol Cowdrey
Special to The Leaven
In the summer of 2019, Craig and Karen Gaffney, parishioners of Holy Angels Church in Basehor, were invited to serve as presidents of the 47th annual Snow Ball benefiting the Catholic Charities Foundation of Northeast Kansas. When they accepted, they had no idea that they would become the first couple to lead an entirely virtual Snow Ball gala on Jan. 16, 2021.
"Initially, Craig and Karen were poised to take the helm as Snow Ball presidents because of their deep love for the mission of Catholic Charities and their incredible years of service the two combined have given to the organization," said Lauren Solidum, president and CEO of Catholic Charities. "No one could have expected the pivot(s) Catholic Charities would have to make to ensure the agency's doors stayed open during a worldwide pandemic.
"Craig and Karen have risen to every challenge," Solidum said, "accepting the situation and meeting it with creativity, humility and grace."
Although the Gaffneys wish they could celebrate Snow Ball in the traditional way, they have embraced the new platform, viewing it as an opportunity to expand the event's reach and audience.
Nearly 2,000 people who primarily live in the Kansas City area attend Snow Ball each year. The event goal for 2021 is to have participation throughout all 21 counties of the archdiocese and beyond.
"For the first time, anyone can participate in Snow Ball from anywhere," said Craig. "We realize that many may have shied away from it over the years due to expense or travel. Now, you can be a part of Snow Ball in a more economical way from the comfort of your own home."
Guests have multiple package options to choose from, including "The Potluck," which pays tribute to the event's roots. (The original Snow Ball was a potluck dinner with a small gathering of friends that grew into the premiere gala.) All packages include an invitation to the virtual Snow Ball Mass celebrated by Archbishop Joseph F. Naumann; a heartfelt virtual reception and livestreamed program; several menu options and Snow Ball favors; and the opportunity to join a Party Host session.
"There's a new energy," said Craig. "We've been challenged to think differently about the event and ways to better communicate about all the great programs Catholic Charities offers, especially during a critical time when the need for services is greater than ever."
The Gaffneys dedicated the 2021 Snow Ball to their longtime friends, Ben and Betty Zarda. The couple, who have since died, introduced Craig and Karen to Catholic Charities 25 years ago through their annual Golf Classic, which will celebrate its 40th anniversary next May. While they remain active supporters of that event, the Gaffneys each strengthened their involvement with the agency by volunteering for additional event committees and programs.
For two years, Craig served as the Catholic Charities Foundation board chair, where he gained valuable insight into the agency's mission to move people into a more hopeful situation. As regional president at Country Club Bank, it has been personally rewarding to be part of the first bank to team up with Catholic Charities' Kansas Loan Pool Project (KLPP), designed to fight predatory title and payday loans.
Karen has shared her interior design talents with agency events including "The Gathering," which raises funds for the New Roots for Refugees program. She pulled back on her community volunteer efforts when her father became ill, and she and Craig found themselves on the receiving end of one of Catholic Charities' ministries: Catholic Community Hospice.
"Craig and I were taking care of Dad," she said. "We couldn't have done it without their help. They are incredible caregivers, and we'll be grateful for them for the rest of our lives."
It's the critical work that Catholic Charities does for all those in need that motivates the Gaffneys to make Snow Ball unforgettable, even if that means it will look a little different.
"While no one before us has been in this position, it's what God planned," said Karen. "He chose us, and we must do what he has asked of us."
Their pastor sees little reason to doubt God's choice.
"There could not be a more perfect fit for Snow Ball presidents in this most challenging of years," said Father Richard McDonald, pastor of Holy Angels. "[The Gaffneys] are so adaptable, flexible and always ready to consider new ways of doing things. They are two of the most charitable and sociable persons I know.
"As a couple and individually," he continued, "they have been for many years incredibly dedicated to the mission of Catholic Charities. That is why it is most appropriate that they are set to herald and reign over a new kind of Snow Ball. We're all so excited to see the possibilities that arise from it."
To register for Snow Ball or make a patron gift, visit the website at: snowballgala.org.