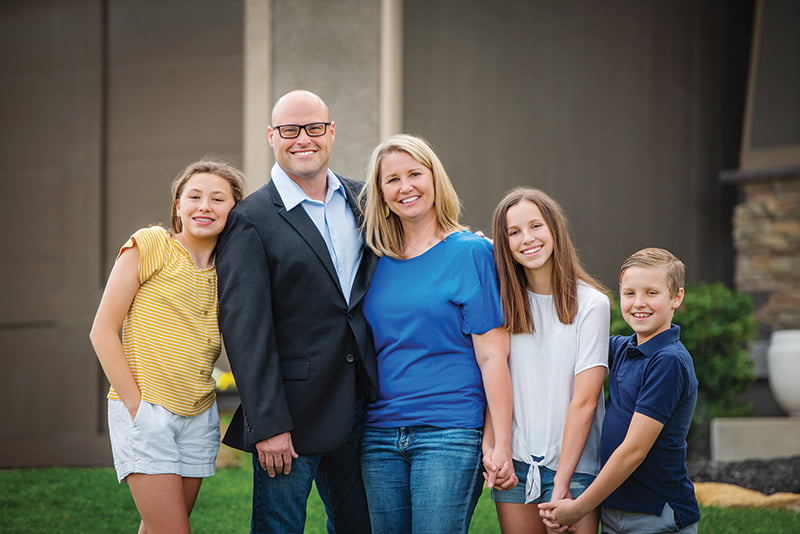 by Moira Cullings
moira.cullings@theleaven.org
SHAWNEE — Jodi Chaput was in the hospital ready to give up on her fight with COVID-19.
"I remember laying there in bed," she said. "And one day, I just wanted to tell my doctor to either let me die or put me on the ventilator because I couldn't do it anymore.
"I just felt like I had no more fight left in me."
But Jodi had a lot to live for.
Lifted up by family, friends, medical professionals and Shawnee's Sacred Heart of Jesus Parish community, she overcame the virus and returned home to her husband Daran, who fought COVID-19 from home, and their three children.
Medical care from a fellow parishioner
Jodi tested positive for COVID-19 on April 13 and was admitted to the hospital on April 16. Daran also tested positive, but his symptoms were milder, and he was never hospitalized.
The couple suspects their children — Morgan, 14, Malin, 12, and Grant, 10 — had the virus, too, as they experienced mild symptoms during this time.
Both Daran and Jodi are young, healthy and have no pre-existing issues that would make them more prone to be hospitalized, they said.
But Jodi spent nine days at AdventHealth Shawnee Mission, where she works as an occupational therapist, fighting for her life.
"It was the hardest thing ever," she said. "I was on 10 liters of oxygen just at rest in bed. Then, anytime I had to get up, I was on 15 liters of oxygen.
"It was so hard to breathe. I kept thinking it felt like trying to breathe out of a little Capri Sun straw."
Because she was alone, Jodi relied heavily on the medical staff for support.
"All the doctors and the nurses were so caring," she said. "It was a lot of work for them to come into the room to gown up every time with all the masks and gloves and everything.
"But they never seemed bothered or put out."
One of the medical professionals who took care of Jodi was Dr. Ryan Hays, an internal medicine physician who is now the lead physician for the COVID-19 unit at AdventHealth.
Hays is also a parishioner at Sacred Heart, with children close in age to the Chaputs, which allowed him to treat Jodi with her physical and spiritual health in mind.
"It's an absolutely amazing feeling to be able to connect with someone on the spiritual level," said Hays.
"To realize that it's the mind, body [and] spirit all together that we are managing simultaneously is empowering and gives not only the patient lots of comfort, but also the providers that are helping care for them," he added.
Hays' spiritual aid played a key role in Jodi's journey to recovery.
"He kept asking every day, 'What can I bring you? Can I bring you a drink from somewhere or something to eat?'" said Jodi.
"Nothing sounded good to eat," she continued. "I wanted nothing. So, one day, he brought in a bottle of holy water that another patient had given him."
The holy water was a gift Hays received from a COVID-19 survivor he treated before Jodi.
"He said, 'You kept telling me I couldn't bring you anything. But this is something I knew I could bring to you,'" said Jodi.
Moments like that made the difference.
'An outpouring of love'
Meanwhile at home, Daran was dealing with his own symptoms while also worrying about his wife and kids.
"It was difficult because nobody could be there with Jodi to hold her hand or just be with her while she was going through this difficult time because of the infectiousness of the coronavirus," he said.
"I was stuck in our room, [sick] for three days," he added. "Thank goodness our kids are old enough where they can take care of themselves and help with our pets."
Although no one could go inside the home to help, people showered the family with care any way they could.
"We had support from our parish and family and friends that came to our aid with food and prayers and, most importantly, an outpouring of love, which helped enlighten our spirits and deepen our faith," said Daran.
One evening, Sacred Heart held a livestream rosary and eucharistic adoration led by pastor Father Pat Sullivan, which Jodi watched from her hospital room.
More than 900 people tuned in to pray for the family.
"I organized this online rosary the night before we did it," said Father Sullivan, "and we still had so many people on such short notice. I know of people that literally dropped other commitments to take part in the live version."
The prayers touched Jodi deeply.
"The emotions of knowing that all these people paused during the middle of a workday to do this rosary — I could definitely feel the love and support and the power of prayer the whole time," she said.
The night before the livestream, Kelly Goodwin, a friend of the Chaputs and an ICU nurse, organized a rosary with six families who gathered at a distance outside Sacred Heart.
"I think the power of prayer is amazing," said Goodwin. "I'm sure it helped [Jodi] to know that people were praying."
Goodwin was inspired by the efforts she saw her fellow parishioners make.
"I think Sacred Heart is such a great community," she said. "Everybody rallies around each other. There were so many people that offered help."
'A powerful moment of God's grace'
The morning of the livestream eucharistic adoration, Father Sullivan asked Father Andrew Strobl, pastor of St. John Paul II Church in Olathe, to give Jodi the anointing of the sick, since he has underlying conditions and couldn't do it himself. Father Strobl quickly agreed.
"The medical staff at AdventHealth was wonderful in making sure I was able to have access to provide the anointing of the sick," said Father Strobl.
"It was a blessing to be allowed into the room," he continued, "having a nurse vest me in the proper protective gear and to visit Jodi in person.
"It was a powerful moment of God's grace."
That same day, Jodi received plasma from a survivor of COVID-19, and from then on, she began getting better and better.
Father Sullivan believes prayer was a critical part in her recovery.
"I have no doubt that these instances [of prayer and anointing] at a minimum assisted Jodi, if not provided for the miraculous turnaround that she experienced," he said. "This is why prayer is so important."
Jodi was released from the hospital on April 25 and continues to get stronger each day with her family by her side — and a new appreciation of her loved ones brought on by her battle with COVID-19.
"It makes you realize that life is definitely precious," she said, "and it's a blessing."