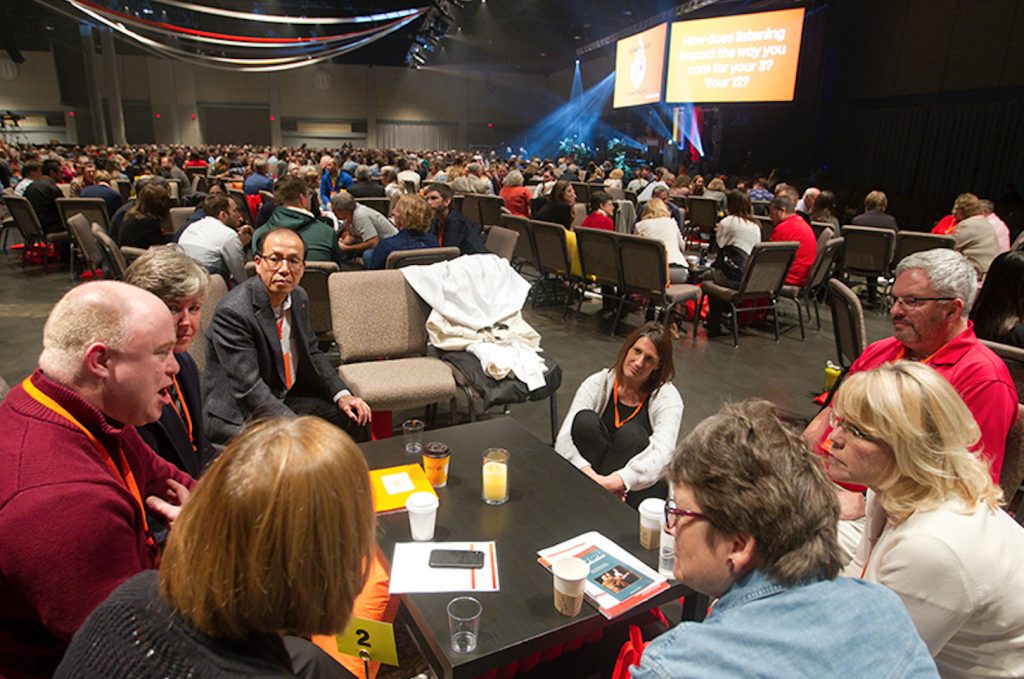 by Susan Fotovich McCabe
Special to The Leaven
After two days full of inspiration, prayer and reflection, it was time to get to work.
Delegates attending the final day of the Archdiocese of Kansas City in Kansas convocation were being prepped to return to their parishes to convert new ideas into calls to action.
Father Gary Pennings kicked off the final day with the answer to the delegates' most pressing question: What's next?
"We have to go. That means we have to go, change, take risks, try something new," he told the crowd.
With 10 breakout sessions to choose from, delegates could learn more about topics ranging from the School of Faith to serving individuals with special needs.
In a session about families in crisis, CarePortal executive director Adrien Lewis shared staggering statistics about the number of families with a child at the center of a crisis.
"In the counties of Johnson, Douglas and Wyandotte combined, there are 10,000 investigations annually that began with someone who saw something in a family that represents neglect, abuse, etc.
"What can our parishes do for the kids who come into care, need to be adopted and for families who are on the brink of coming into care?" Lewis asked.
In a session on racism, speakers representing local black and Korean Catholics shared their cultural differences and their desire to work as one with all Catholics.
While those sessions will spur new ideas at the parish level, some simply evoked emotion. Such was the case for 16-year-old Michael Sandstrom, a delegate from Hayden High School in Topeka. Sandstrom attended the breakout session, "Business: Church and Secular that Builds the Kingdom."
He was surprised by what he heard.
"There are some jobs out there where you can't hold onto your faith and you could actually be fired. There are some legal aspects to it. I was a little shocked and felt sad when I heard this. I had never heard this before," Sandstrom said.
Delegates gathered after the breakouts and before a closing Mass to share and plan for the future. Ronda Smith of St. Leo Church in Horton left with new ideas.
"I learned the importance of building communities and bringing people together for friendships and conversations that build trust," she said.
"We'll be working on our Bible study and daily rosary app to form these friendships and show Christ through the ways we live our lives," she added.