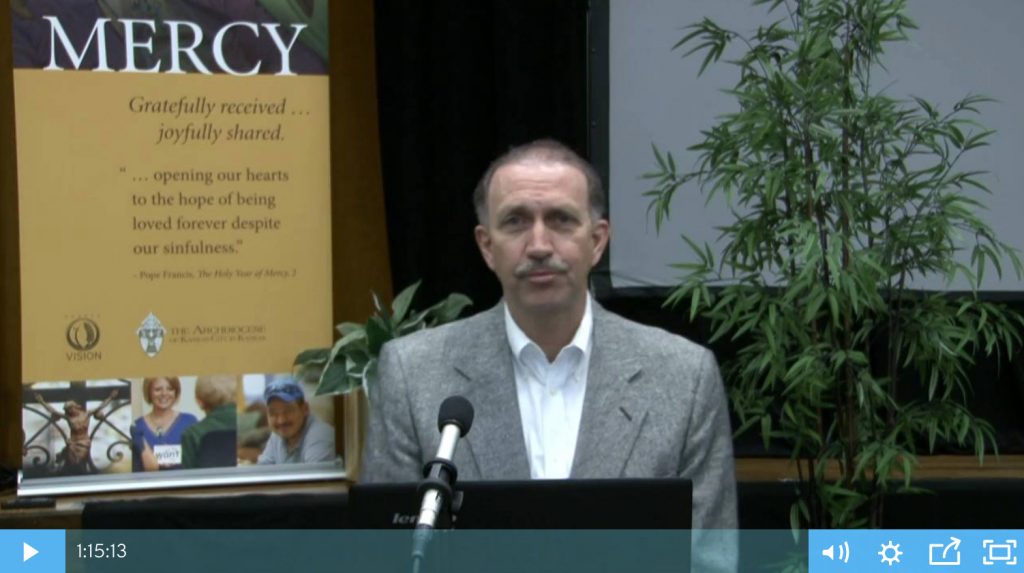 by Joe Bollig
joe.bollig@theleaven.org
KANSAS CITY, Kan. — There you are in line at the confessional, waiting your turn to confess your sins — some of them for the umpteenth time.
It can be a cause of frustration and discouragement, but you're not alone. St. Paul felt that way, too:
"For I do not do the good I want, but I do the evil that I do not want" (Rom 7:19).
It could be that you're caught in a "temptation habit loop," according to David G. Smithson, M.D., a member of Queen of the Holy Rosary Parish in Wea.
Smithson has married the wisdom of the Scriptures and modern science to explain why the cycle of repeated bad habits, or sin, is so strong. More helpfully, he then proposes a way for people to break that cycle — or use it to build virtue.
Smithson is the medical director of the in-patient medical rehabilitation ward at St. Joseph Medical Center in Kansas City, Missouri.
The inspiration to develop his idea of the temptation habit loop came out of his interest in two books.
The first is "Self-Knowledge and Self-Discipline: How to Know and Govern Yourself," by Father B.W. Maturin. The second is "The Power of Habit: Why We Do What We Do in Life and Business," by Charles Duhigg.
What is the temptation habit loop, and how does it work?
"What it is, is a scientifically based diagram which helps explain what happens with temptation to do bad or invitation to do good," said Smithson.
The diagram begins with two contending forces outside the loop: the conscience (for virtue) and the lower self (for sin). Both lead into the loop at the point named "temptation."
Depending on which of the two outside contending forces is acted upon at the "temptation" point, either "virtue" or "sin" results.
From there, either choice can lead to the point named "reward." "Reward" leads back to "temptation," and the loop goes around and around — a self-perpetuating loop, or habit.
"It objectively and diagrammatically looks at what actually happens in our daily spiritual life," he said. "It helps explain what happens when we are tempted to sin or invited to do something virtuous."
The mistake many people make is that they try to "stop" bad habits of sin. But just "stopping" doesn't work — because of the loop.
"In order to progress, you don't stop doing bad. You start doing good, and concentrate on virtue," said Smithson. "We are made for action, and nature abhors inaction. The key is to fill your life with virtue to the point that there isn't room for sin."
Although the temptation habit loop was invented by Smithson, the Catholic Church has used the principle of using the power of habit to build virtue and break sinful habit patterns for centuries.
"Even the fact that God has given us the commandment to honor the Sabbath, to go to Mass every Sunday, keeps us in contact with him," said Smithson. "That isn't for his benefit. It's for our benefit — that is, forming good habits to keep us in contact with him."
The devotional practices of the church also utilize the power of habit to grow virtue in Christians.
Smithson began presenting the temptation habit loop in a series of talks to various groups about two years ago and, with the help of Father Anthony Williams, has made a video that explains his idea.
Father Williams, a priest of the archdiocese, is also the director of mission integration at St. Mary's Medical Center in Blue Springs, Missouri, and St. Joseph Medical Center. He is also chaplain manager.
He sees pastoral applications and daily practices for Catholics in utilizing the loop — especially now that Lent has begun.
"I highly recommend this video, certainly during the Lenten period," said Father Williams. "Looking at how we can sometimes get stuck as a result of habit and temptation, knowing the movement in the loop, what can we change to avoid the temptation to sin [can help us] move to the habit of virtue."
The video can be viewed at the Archdiocese of Kansas City in Kansas website at: archkck.org.
Scroll down the home page and click on "Digital Media Center." On the DMC, select "Search Videos" and type: "The HABIT Loop by Dr. David Smithson."
Smithson will soon launch a website that looks at addiction from a Christian perspective at: studiesinfaith.org. For more information, contact Smithson by calling (816) 943-4554, or send an email to: dsmithson@studiesinfaith.org.