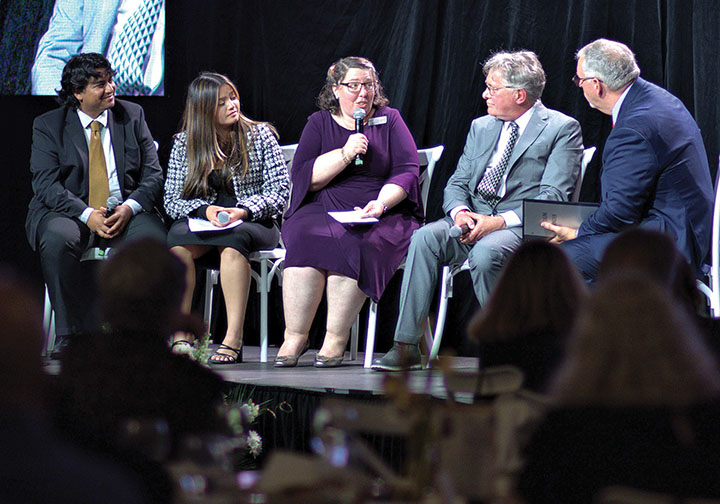 by Jill Ragar Esfeld
jill.esfeld@theleaven.org
KANSAS CITY, Mo. — Aadesh Biswa was born in a refugee camp in Nepal. When he was 13, his family immigrated here.
It was difficult adjusting to life in a country where the culture and language were completely foreign to him.
But Biswa persevered, working hard to do well in school. And he credits Donnelly College in Kansas City, Kansas, with empowering him to pursue a bright future.
"Donnelly accepted me and gave me a full-ride scholarship which I'm still using at UMKC," he said.
Biswa is one of many success stories celebrated this year at SHINE, the annual fundraiser for Donnelly College.
The event was held at The Abbott in downtown Kansas City, Missouri, on Oct. 5, the feast of Blessed Francis Xavier Seelos.
Donnelly president Msgr. Stuart W. Swetland told those in attendance that his favorite quote from Blessed Seelos is: "Every day holds the possibility of a miracle."
One miracle at this year's SHINE event was an anonymous donor's pledge, in thanksgiving to Blessed Seelos, to match the first $50,000 raised.
By the end of the evening, that pledge was met and a record-breaking $920,000 was raised to support Donnelly's mission.
During the invocation and blessing Sister Elizabeth Schweiger, prioress of the Benedictine Sisters of Mount St. Scholastica in Atchison, called the college "the bright light that shines as a beacon in the heart of Kansas City, Kansas."
Event chairs John and Terry Gillcrist took the stage to talk about how moved they are by the college's mission.
For the past five years, John has been an adjunct professor in the Business Leadership Program.
"I see the transformative power of Donnelly firsthand," he said. "And I assure you that your donations are making a difference."
Because of community support, Donnelly was able to keep tuition this year at just under $10,000, and 82% of its graduates last year were the first in their families to attend college.
"Donnelly College is working hard to make sure we can serve even more students in the decades to come," he said.
Msgr. Swetland explained that new plans are focused on areas of academic excellence, institutional effectiveness and financial stability as the school approaches its 75th anniversary.
He talked with enthusiasm about the school's expanding nursing program, growing partnerships with high schools and colleges, and the Bloch Scholars program.
"Typically we've had about 20 Bloch Scholars each year," he said. "Next year that number will expand to 50."
In an effort to increase service to the wider Catholic community, the college is creating a new Blessed Francis Xavier Seelos Institute for the advancement of Catholic education, focusing on adult formation and related initiatives.
Msgr. Swetland went on to relate information from the just-released U.S. News & World Report college rankings in which Donnelly has several top 20 rankings.
"We do what we do because it's God's work," said Msgr. Swetland. "But it's always nice to receive external recognition as well."
Donnelly board chair Jason Banks introduced this year's inductees to the Alumni Hall of Fame: Benedictine Sister Mary Teresa Morris, RN '77, and artist Bob Briscoe '67. (For a video about each inductee, type their name into YouTube.)
Another evening highlight was an inspiring panel featuring Donnelly students and staff interviewed by John Gillcrist.
Student Sarai Thao told Gillcrist that her father, a diabetic, lost both of his legs, leaving her mother to provide for the household.
"I was not going to let her pay for my education," she said.
She came to Donnelly on a Henry W. Bloch Scholarship.
"I'm here at Donnelly and my life has completely changed," she said.
Biswa, also on the panel, agreed, adding, "At Donnelly, the staff want to know what you think. There are so many opportunities for you to voice your opinions, and it's encouraged."
Panelist Karen Lombardi, the Bloch Scholars coordinator, said many Donnelly students have struggles outside of school, but inside the doors of the college, they become "students who are confident and grateful and motivated."
Assistant professor Richard Esvang said he encourages students like Biswa and Thao to tell their stories.
"It's their stories that are going to change the world," he said. "And the more we can hear from these students and what they have travailed through and what successes they have — it makes this country a better place."
Archbishop Joseph F. Naumann closed the evening by thanking the audience for their generosity and the students and alumni for their inspiring stories.
"Donnelly College is an important part of the church showing respect for the dignity of life," he said. "You heard that tonight in the testimonies of our new Hall of Fame members but also in the students and the faculty."