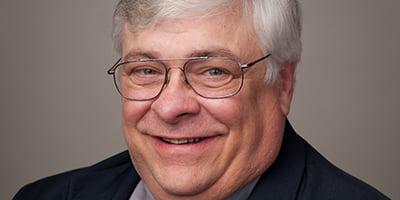 by Father Mitchel Zimmerman
The deadline for this article hits as KU heads to the Final Four. And, being associate director of the St. Lawrence Catholic Center at KU and a KU alum, I'm excited I had Mass last Sunday at 5 p.m. while KU was playing North Carolina, and I can assure you that there were more people on Mass (Street) than at Mass. I'm sure I'll hear a few confessions about that before Easter.
This article will arrive in your mailbox on Good Friday. The tournament will be over and, win or lose, the Jayhawks' run to the Final Four will have been a great story. It is not too often that the Jayhawks surprise rather than disappoint, given the impossible expectations of KU fans. I know many spoiled KU fans who were nervous and worried to play the game against North Carolina.
Thankfully, our coach and players were not afraid to play the game. Bill Self said after the game that he had a good feeling, an air of confidence, heading into the game. Coach Self remembered as he prepared to take on former KU coach Roy Williams a phone conversation that he had with his dad as he pondered whether to take the job at KU right after Roy left. His dad told Coach Self that if he was scared to take the job, he was not the right man for the job.
A big part of my job as vocation director is to encourage young men
to pay attention to the signs that are pointing toward the priesthood. I give lots of compliments and encouragement and advice. Yet, every once in awhile, I have to use the negative psychology that Bill Self's dad used: If you're scared of the job, you're probably not called.
Even greater than the need we have for more priests is the need we have for courageous and holy men who are not afraid to be great priests. Quality is more important than quantity when it comes to vocations.
So sometimes I have to challenge a young man who has all the signs of a vocation, but still isn't sure, to man up. Sometimes I have to tell them that they lack the courage to be a priest. I can't say that this has worked every time, but it hasn't hurt.
As we enter as fully as we can during the Triduum into the story of Jesus, his paschal mystery, let us pray that more young men will have the courage to find their story within his. If the Lord is calling you, don't be afraid to play the game that really is for keeps.