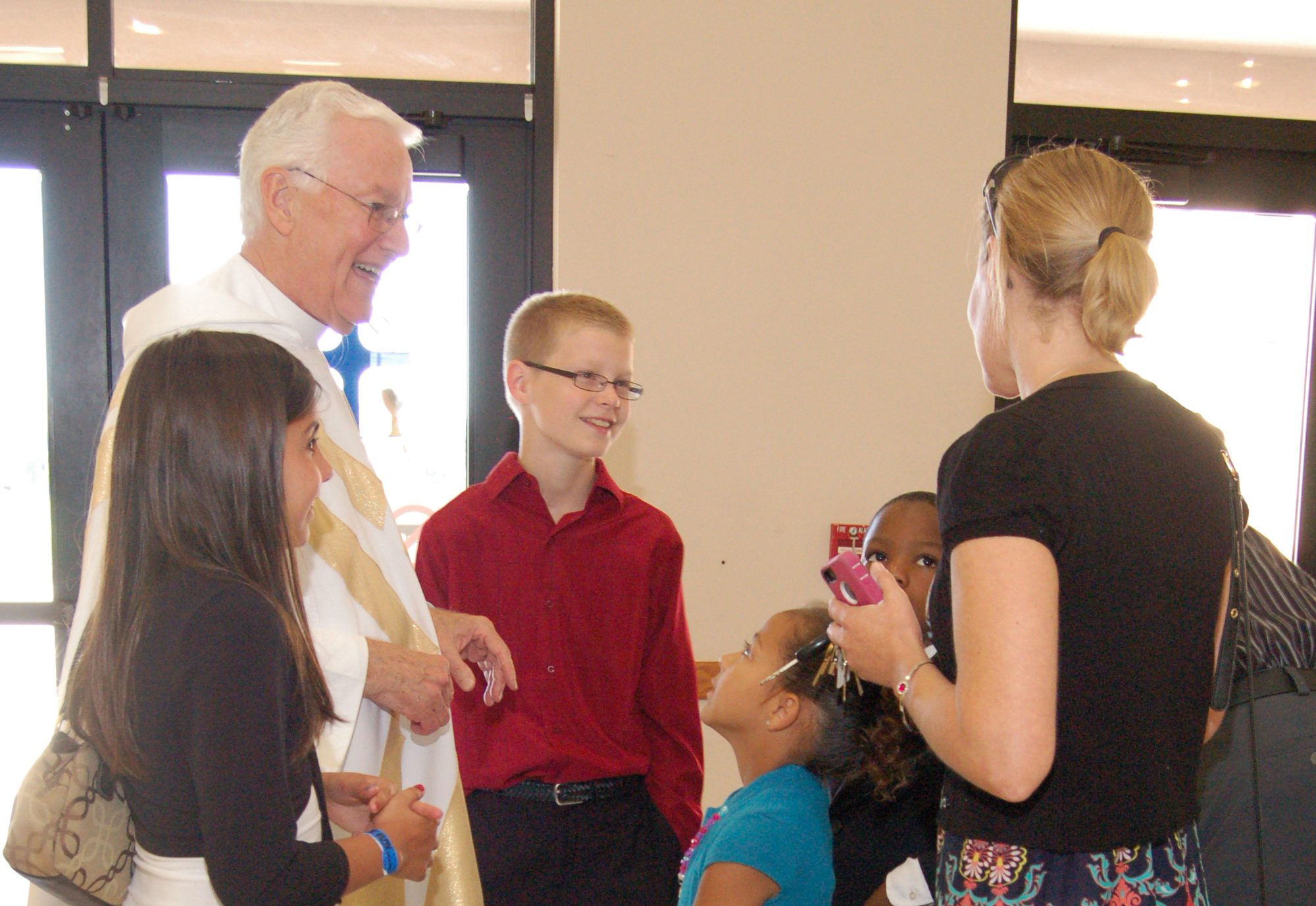 Despite his official designation, Msgr. Vince Krische is as busy as ever
---
by Carolyn Kaberline
LAWRENCE — If it weren't for Msgr. Vince Krische, believes Sarah Meinershagen, her husband Kevin might not be Catholic today. She credits then-Father Krische's encouragement and example for bringing Kevin into the Catholic Church.
"We were both KU students," said Meinershagen. "Kevin started going to church with me during my senior year and wanted to learn more about the Catholic faith. He fell in love with Father Vince and the church."
Father Krische, who headed the St. Lawrence Catholic Campus Center at the University of Kansas in Lawrence for almost 30 years, was well-prepared to meet the young student on his ground.
"I attribute [Kevin] coming into the church," she continued, "to Father Krische because he could talk with him on an intellectual level on the church's teachings and beliefs."
But the campus ministry director's influence didn't just end there, she adds. After Kevin joined the church in the spring of 2003, the couple was married by Father Krische that July.
"People today still comment on how beautiful our wedding was just because of the elegance and grace Father Krische used when he was conducting the ceremony as it showed how important and special marriage is," said Meinershagen.
Msgr. Krische left St. Lawrence in 2004 and went on to serve as pastor of St. Ann Church in Prairie Village from 2005-09 before celebrating his 50th anniversary as a priest, and then officially retiring.
Sort of.
"Don't say retirement around him," says Father Michael "Mick" Mulvany, pastor of Corpus Christi Parish in Lawrence, where Msgr. Krische now serves as pastor emeritus to the parish's 1100 families.
"I help Father Mulvany," said Msgr. Krische. "Father Mulvany respects my retirement — he just opened the door for me."
That door has allowed Msgr. Krische "to retire to become a priest! I don't have to worry about the budget and administration duties. I get to teach religion in the elementary school and RCIA classes. I get to celebrate the sacraments and I'm available for people who may want to talk to a priest."
But most importantly, said Msgr. Krische, "retirement" gives him more time to celebrate the Eucharist and spend time in quality prayer.
"Father Mick didn't have an assistant," said Msgr. Krische. "People say we're complementary. He's fast and I'm slow — that's good, because we don't need another me around here."
"I think he's enhanced the parish," said Father Mulvany. "He doesn't have a difficult time talking to young people, teenagers, or older people. He has a real rapport with people.
"I'm just happy to have him."
Msgr. Krische, a Topeka native, began his priesthood at St. Agnes Parish in Roeland Park while also teaching religion at Bishop Miege High School. From there, he was appointed an associate pastor at Queen of the Holy Rosary in Overland Park, followed by an assignment at Most Pure Heart of Mary Church in Topeka, while serving as part-time chaplain at Washburn University.
After later serving as full-time chaplain at Washburn, Archbishop Ignatius J. Strecker appointed Father Krische as director of St. Lawrence Catholic Campus Center. At the time, the Catholic Center was located in a house and had a budget of $32,000, all of which came from the archbishop's annual Call to Share appeal.
During his 28-year tenure at St. Lawrence, then-Father Krische oversaw the building of the current center, a parking facility for the center, and a greatly increased annual budget, most of which came through donations and fundraising. He also served as chaplain to the KU football team for two years.
His campus ministry program eventually became so well-known that he was invited by the U.S. bishops to assist their editorial committee in writing their pastoral letter on campus ministries.
He also strengthened the ties between the Catholic faculty members at KU and St. Lawrence. In addition, several of his students represented the United States at World Youth Day in Paris in 1997.
But perhaps Msgr. Krische's greatest legacy from his campus ministry days is not measured by programs and improvements, but by the many people he touched — some of whom are now priests themselves. Among those are Father Mitchel Zimmerman, current pastor of Christ the King in Topeka, and Father Scott Wallisch, archdiocesan vocation director, both of whom met Msgr. Krische when they were students at KU.
"Without Msgr. Krische, I wouldn't be a priest," said Father Zimmerman. "From the moment I stepped on the KU campus as a freshman in 1992, I was inspired by Msgr. Krische personally. His zeal and joy were inviting and motivating."
"I got involved at St. Lawrence in the choral program that was so dear to him," Father Zimmerman continued, "and my prayer life and my love for the church and her liturgies grew exponentially — so much so, that I began thinking seriously about becoming a priest."
After meeting Msgr. Krische at the Lawrence Center as a freshman in 1992, Father Wallisch knew that St. Lawrence was going "to be a good place" for him.
"The church was beautiful, the music was beautiful, the liturgy was beautiful, and the homily was inspiring," said Father Wallisch. "I think Msgr. Krische obviously deserves the credit for making St. Lawrence such a special place."
Father Wallisch even says that Msgr. Krische was the one that had the most impact on his vocation.
"I had 13 years of Catholic education, but I didn't really know why we believed what we believe until I went to St. Lawrence, heard the homilies, and attended classes," explained Father Wallisch.
"Students at all different places in their faith journey would find a place at St. Lawrence," he added, "and then once they began to feel safe and secure, Msgr. Krische and his staff were great at drawing them to a deeper faith."
St. Lawrence organist Debbie Vignatelli Konzem agreed. Msgr Krische saw "college age kids [as being] at such a critical time of their lives. He had a way to give them a desire to stay with their faith and deepen it," she said.
Masses were full, she said — especially the 10 p.m. Sunday service that was "packed with standing room only."
"I think it's a real gift to get people to come to church," said Konzem, "because they want to — not because they have to."