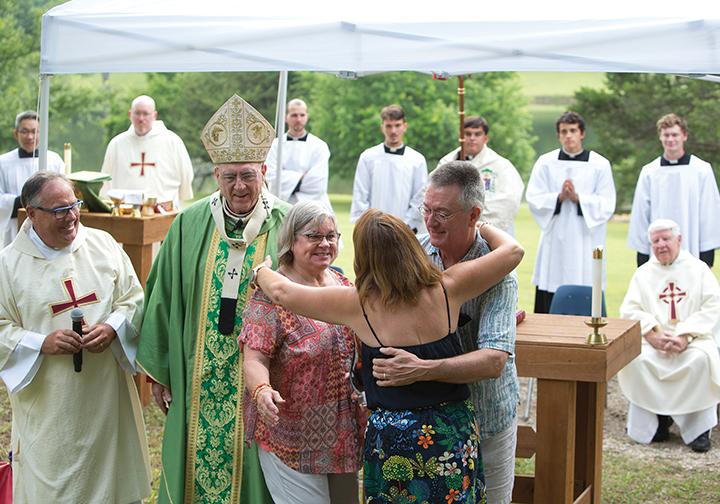 by Joe Bollig
joe.bollig@theleaven.org
WILLIAMSBURG — If there is one thing that this year's winners of the Echo of Kateri Award have in common, it's this: commitment.
The two couples and one priest have been involved with the ranch and Camp Tekakwitha for decades.
The Echo of Kateri Award was presented to Dennis and Marisa Hurd and Ray and Katy Wilson just before the closing Mass for the camping season on July 30. Father Mark Mertes, pastor of St. Patrick Parish in Kansas City, Kansas, and archdiocesan moderator of the curia, received his award on July 22.
The Hurds, members of St. Paul Parish in Olathe, have a family connection to the camp since 2001. They attended the first Family Camp and later sent all three of their daughters to each summer camp — and all of them became counselors or adult staff after high school.
Since 2002, they've stood at the front gate of the camp to welcome and pray for the counselors and staff.
"Not only do we meet them when they come for training, but we also lift them in prayer throughout the summer," said Marisa Hurd. "We pray for each one of them by name and collectively. We ask for intentions that they may have. We provide a spiritual foundation for them while they are at summer camp, and it kicks off our summer."
The Wilsons, members of Curé of Ars Parish in Leawood, sent their daughter Amanda to camp in 2001. She became a counselor and Blue Team Leader. Amanda's husband Jay Breeden became a camper in 1999.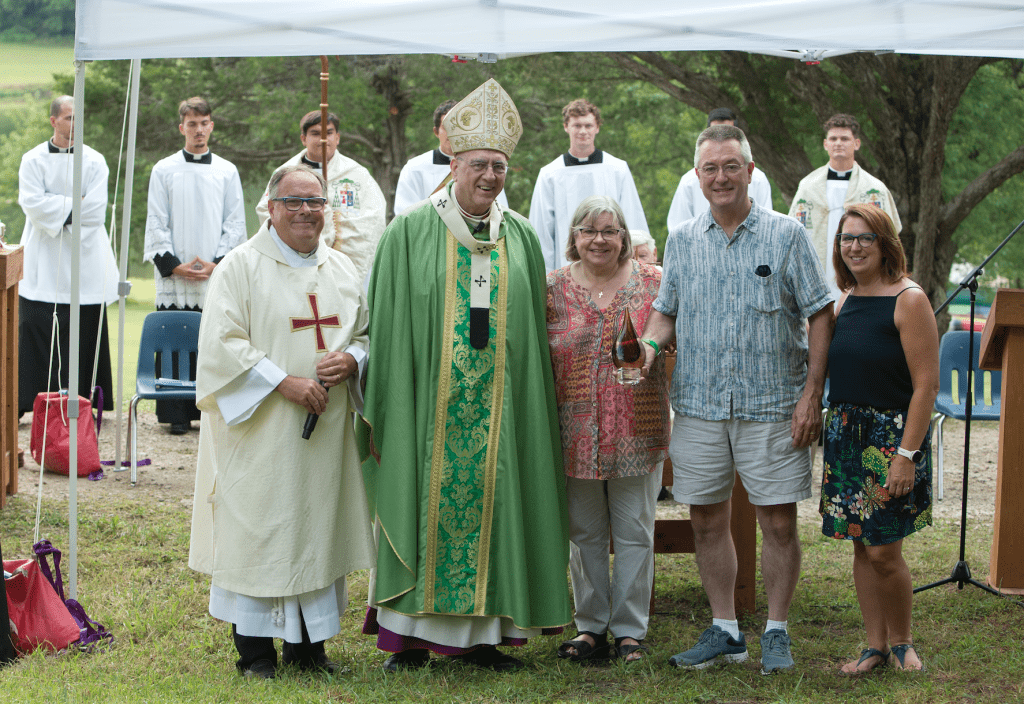 Ray Wilson has been involved in F.I.R.E. ministry at the ranch, helps maintain the grounds, and created and placed a crucifix and two crosses on the peninsula of the canoeing lake.
"It's been such a huge return for our Catholic community," said Ray Wilson. "Yes, there was investment and expense, but the return is immeasurable. We don't know how many lives will ultimately be impacted for generations to come. It's the right thing to do."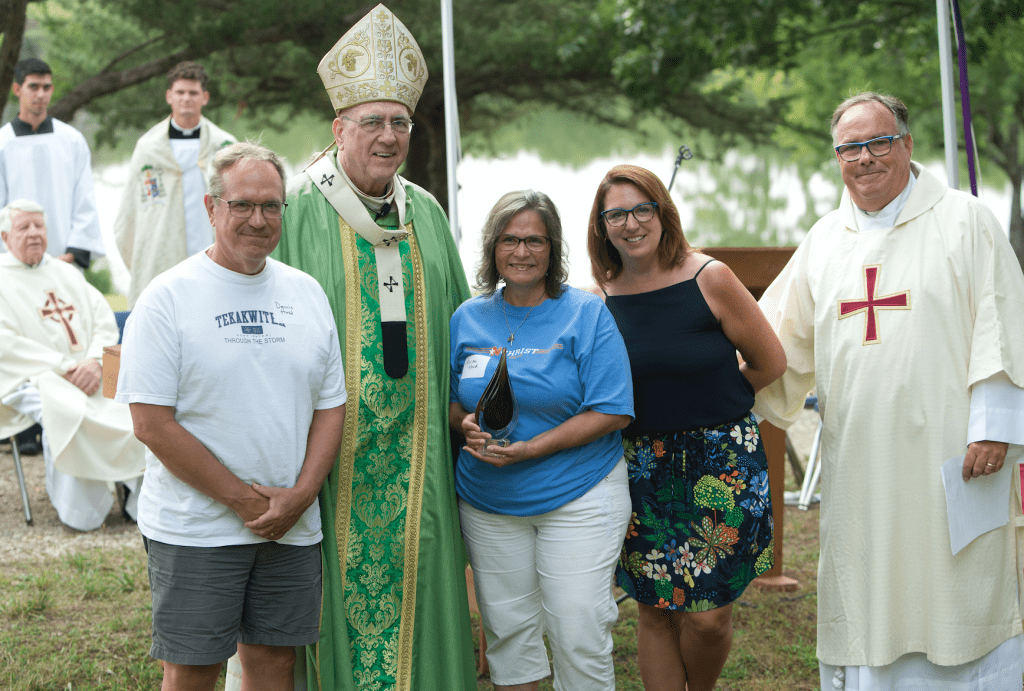 Father Mertes has long associations with youth ministry, Camp Tekakwitha and Prairie Star Ranch. The Spanish-speaking Family Camp, new this year, was created as a result of his suggestion to promote their deeper participation and benefit.
For more than 25 years, he has gone to camp to teach, offer the sacraments and even have fun.
"I've always tried to help out with confessions and presiding at Masses," he said. "Maybe five years ago, I started going down there for several days. . . . One year, I did all the activities so I could say I did them — although I did hurt myself!"
On the high ropes course, he climbed up a power pole, stood at the top, and leapt out to catch a bar — and he did catch it . . . "painfully."
"It took three months for my upper arm to get better," he said. "Moral of the story? Sixty-year-old men shouldn't leap off of power poles."
Why does he do it? He enjoys the kids.
"I find them quite inspiring," said Father Mertes. "People who say the young are going to hell in a handbasket haven't been to camp."