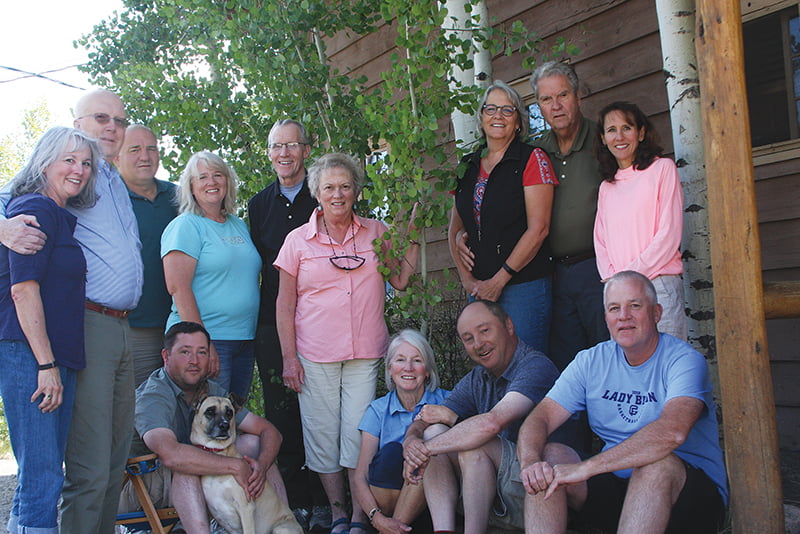 by Joe Bollig
joe.bollig@theleaven.org
KANSAS CITY, Kan. — When Misti Grady and her extended family get together for a week-long summer vacation at a lake, they never have to worry about missing Sunday Mass.
That's because of her brother Gale.
Make that Father Gale Hammerschmidt, a priest of the Diocese of Salina. He brings the Mass to them — and a lot more.
Having a brother who is a priest has its advantages.
Grady, a member of St. Paul Parish in Olathe, counts herself fortunate to have a brother who is a priest. But she's not the only one.
By unusual coincidence, eight St. Paul parishioners have brothers who are priests. One has a brother who is a bishop. An additional parishioner has a brother who is a seminarian.
Bishops and vocations directors often say that a priestly vocation begins in the domestic church — the home. The family usually plays a big role in laying the groundwork of a future priestly vocation.
But the support isn't all one way. Priests offer support in many ways to their families, from offering the sacraments at important moments in family members' lives, to lending a sympathetic ear or timely advice.
A vocation to the priesthood doesn't mean giving up family. To the contrary, ordination intensifies that family connection.
Growing a vocation in the family
Bishop Thomas Olmsted of the Diocese of Phoenix credits his faithful family as the foundation of his spiritual life.
"The biggest blessing for our family was the faithful love of my mom and dad," said Bishop Olmsted, brother of Monica Anderson.
"That remained true after I became a priest and remains true today," he continued. "Their spiritual leadership was expressed in fidelity to the day-to-day work of bearing with one another, forgiving one another, encouraging one another and praying for one another, and hoping that for all of us children.
"This is where we children first experienced the love of God and where we still do. Of course, my two brothers and three sisters have also had a great impact on my life, especially in the ways they have faced suffering and sorrow with courage and prayer, and the many joys we have shared together."
While growing up in Topeka, Mary Loya always knew her older brother, Father Peter Jaramillo, SSA, would be a priest.
"My mother prayed as a young girl that her firstborn would be offered to God as a priest," said Loya, "and she was granted that blessing.
"My brother used to pray to [the] Our Lady of Guadalupe statue in our home every morning before school. He knew as a young boy he wanted to be a priest. He was the first one to leave home, being the oldest, and entered the seminary in Kansas City, Kansas, at age 18."
Father Peter learned that his mother had dedicated him to God only after he'd been ordained for 10 years. Despite his parents' strong desire for a vocation in the family, he'd never felt they were forcing him in that direction.
"My family has always been a support to me in my journey to the priesthood," said Father Peter, pastor of three parishes in Kansas City, Kansas, and a retired colonel of the Kansas National Guard.
"I've never been pressured," he said. "My father always said whatever you decide to do in life, do it well. He was most respectful about whatever vocation a person had. If they gave their best, he felt, God would bless them."
By contrast, no one in Father Hammerschmidt's family had any idea he was considering this option.
"I don't think we ever realized he had a calling to the priesthood," said Grady. "He was a Catholic school teacher and coach, and he loved it. He had gone on some mission trips and it was after one of those he came home and talked to all of us individually to see what we thought about him going to seminary. We were all supportive."
Renee Schmit remembered early vocation signals from her brother, Father Stan Schmit, now pastor of two parishes in Howells, Nebraska.
"He was in the sixth or seventh grade," she said, "in art class with Sister Cecilia Polt. While others were making vases, bowls and ashtrays, he made a clay chalice. Some of his classmates laughed at him when he told them he was going to be a priest. When he brought it home to show Mom and Dad, he told them it was a chalice and he was going to use it at his ordination."
It was used at his ordination — as a table centerpiece with a shellacked loaf of bread.
Cathryn Radiel remembered how her oldest brother — Father Francis Hund, minister to priests and senior associate at Prince of Peace Parish in Olathe — used to "play Mass" when he was a kid and even visited Savior of the World Seminary in Kansas City, Kansas. Ultimately, however, he went to Paxico's high school.
"Toward the end of his senior year at Benedictine College, Francis let everyone know that he planned to study to be a priest," said Radiel. "Francis didn't talk about it through his high school and college years. I'm not sure if anyone was 'surprised.' We were all very excited for him. As a family, we prayed for vocations every day. My parents were very, very pleased that at least one of their children had a vocation [to the priesthood]."
A priest in the family
One of the blessings of having a priest in the family is that they bring the sacraments to them at important moments in their lives, said Radiel.
"Francis is called upon at every family gathering — holy days, family gatherings, weddings, baptisms, funerals, home blessings and graduations," she said.
"And by 'family' I mean not only nieces and nephews and cousins," she added, "but family friends and friends from Paxico. We all tend to call on Francis for advice during difficult times in our lives. He is a great listener and offers great spiritual and emotional support."
Patrice Walker also found this to be true of her brother, Msgr. Bernie Schmitz. He's a pastor and vicar for clergy for the Archdiocese of Denver.
"My brother has had a tremendous impact on the family's spiritual health," said Walker. "The first question is always: 'Will Bernie be able to come?' whenever there is a baptism, wedding or funeral.
"But aside from the big spiritual events, his constant love and presence is always felt in our family."
Grady said that her brother, Father Hammerschmidt, also serves as a role model for the family.
"Those of us who don't live in the same town always listen to his homilies online, which has been amazing," said Grady. "I love it that my kids have such a wonderful relationship with him. They see him as a fun uncle and then can see him in his leadership role in the church.
"All my kids have received a sacrament from him, which has been awesome."
The "family priest" is also someone to go to for answers, said Renee Schmit, about her brother Father Stan Schmit.
"When we are together, we ask his opinion to help us understand the changes happening in the church," said Schmit. "Some of the siblings' friends ask questions about the faith, and we would ask him about their questions, too."
Apparently, priestly expertise can be transferable.
"I heard from a teacher about a nephew in the second grade," said Father Hammerschmidt. "[In] a small discussion with some other boys in the classroom, he put forth himself as an expert on a religious question because his uncle is a priest."
Father Peter has been there for all the great family celebrations, large and small, said Loya.
"He is big on family gatherings around the table," she said. "He loves family meals for celebrations and just being together with each other, talking and joking, and sharing his life with all of us. He celebrates the Mass with my parents at their home as they've gotten older."
Just as importantly, Father Peter has also been there to offer support during family tragedies — the deaths of two brothers, and of aunts who died during the Hyatt Regency Kansas City walkway collapse in 1981.
"A family that is close and dedicated to God in the good times will find him in the hard times," said Father Peter. "It's the family that has been strong in the faith, and we each mutually have all worked together to be there for each other.
"They look to me to be there, but I look to them as my strength."
Family is forever
Family members sometimes worry, at least at first, that the priest in their family will be so busy that he won't have time for them.
And priests are busy — and keeping that balance between the parish family and the birth family can be difficult. That's why priests value so highly the times when they can be with their "first" family.
But on the whole, both priests and their families discover that ordination doesn't take the new priest away from them, though he might share his life with them in new ways.
Father Hammerschmidt sometimes enlists his family to reassure prospective seminarians, for example.
"I'm also the co-vocations director for the Diocese of Salina," he said. "On occasion, when we have prospective seminarians whose parents are questioning that calling, my mom and dad will have dinner with the prospective seminarian's parents, and tell them what it's like to be parents of a priest."
His family always pitches in to help him move when he receives a new assignment from his bishop, and all sorts of nephews and nieces participate in his Prayer and Action mission programs.
Conversely, priests often turn to their families for respite from work and a chance to relate with the people who know them best.
"They see me as a son and a brother," said Father Peter. "With my family, I can be who I need to be with the people who are closest to me. There's nothing that I need to do but be myself. I find going home on a Monday afternoon a place I can relax, watch a KU basketball game and not have to worry about problems."
That respite is especially needed now when the church is in crisis, said Patrice Walker, whose brother is Msgr. Schmitz of St. Joseph Parish in Denver.
"I know my brother had significant challenges during several years as the vicar for priests in Denver, and other assignments," said Walker.
"He had to find big shoulders to carry the weight," she added. "There wasn't much I could do then and not much he could talk about. That is when the prayers for him seemed most important."
There comes a time for most priests when they must leave active ministry and retire. During this time, as at all times during their vocational discernment and ministry, family support is important.
Radiel and her husband are already planning ahead.
"One of my dreams was to have Father Francis live with us when he retires," she said. "I asked him about 10 years ago if he might be interested in the possibility someday. He said, 'Yes — possibly.'
"Last spring, when Chris and I bought a lot [near St. Paul Parish in Olathe] and were beginning to design our house, we needed to know if Father Francis wanted us to incorporate a space for him into our plan. We were delighted when he said yes!"