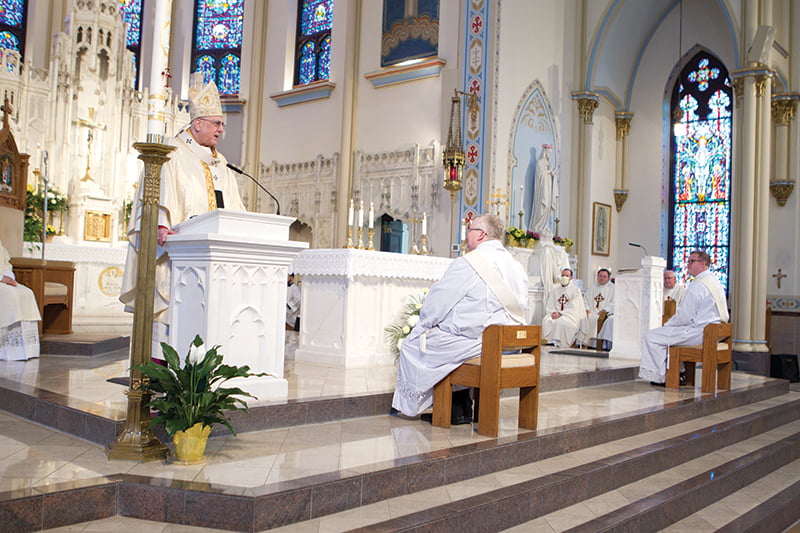 by Joe Bollig
joe.bollig@theleaven.org
KANSAS CITY, Kan. — The Cathedral of St. Peter here was absolutely packed on May 23 for the ordination of Father Travis Mecum and Father Anthony Mersmann to the priesthood.
Not with people. Social distancing and a limit on the number of people present were still in force because of the COVID-19 pandemic.
Despite the paucity of people in the pews, however, the cathedral was absolutely packed — with joy, happiness, celebration and prayer.
"Your ordination occurs at this strange moment when our nation and world are contending with this COVID-19 pandemic," said Archbishop Joseph F. Naumann in a prerecorded homily offered for later listening because of the shortened liturgy.
"It has altered many of the externals of the ordination liturgy: the number of people present, social distancing, the wearing of masks required, the music and the lack of congregational singing, the number of priests able to be present to welcome you into the presbyterate."
"However," he continued, "it has not been able to contaminate the essential component of the liturgy — the coming of the Holy Spirit anew into your hearts, powering both of you to share in the priesthood of Jesus and become shepherds after the example of our Lord."
Simpler is good
Father Scott Wallisch, archdiocesan co-director of seminarians, was one of eight priests present (including the archbishop). He couldn't help but remember his own ordination at the cathedral in 2010.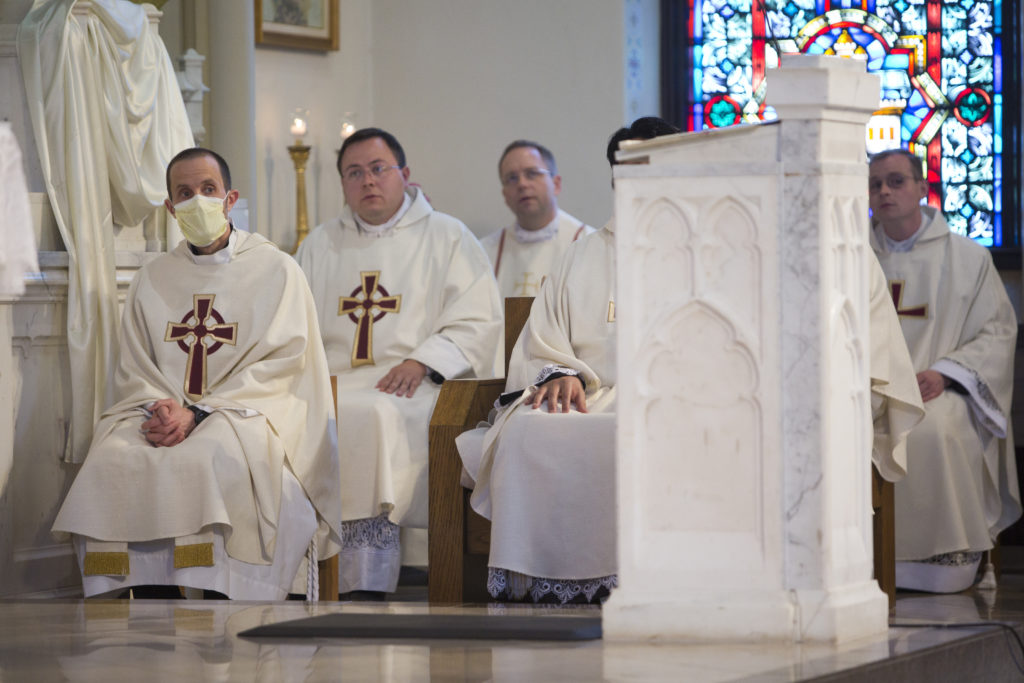 "One of the things that stuck out to me, in my own ordination, was a point where the men are presented to the bishop," said Father Wallisch. "The bishop says he accepts them for ordination and everybody says, 'Thanks be to God,' and begins clapping. The [ordinands] are encouraged to turn around and see everyone who's supporting them. I felt very supported by everyone there, standing room only.
"I was disappointed for them that they didn't have that same sort of experience. But I noticed that those of us who were there were applauding much longer than usual, just to let them know on behalf of everyone that we were proud of them and excited for their priesthood."
Each ordinand was allowed only 10 guests, so the many people who wanted to attend had to mitigate their frustrations by watching the liturgy on livestream.
"There is nothing that can alleviate our frustrations and disappointments [over not attending] save the love and grace of the Lord," said Michael Podrebarac, archdiocesan consultant for liturgy and sacramental life, who cantored at the Mass. "So, I would simply say attach yourselves to the rites as they happen, whether in prayerful remembrance or by following the livestream.
"Offer your sacrifices and sufferings to the Lord for the sake of souls — that's what it's all about. And do not lose hope. As St. Julian of Norwich counseled, 'All shall be well.'"
Families supported new priests
Family members present included some siblings and parents: Gary and Clara Mecum, who attend Holy Cross Parish in Overland Park; and Walter and Martha Mersmann, who attend Holy Family Parish in Eudora.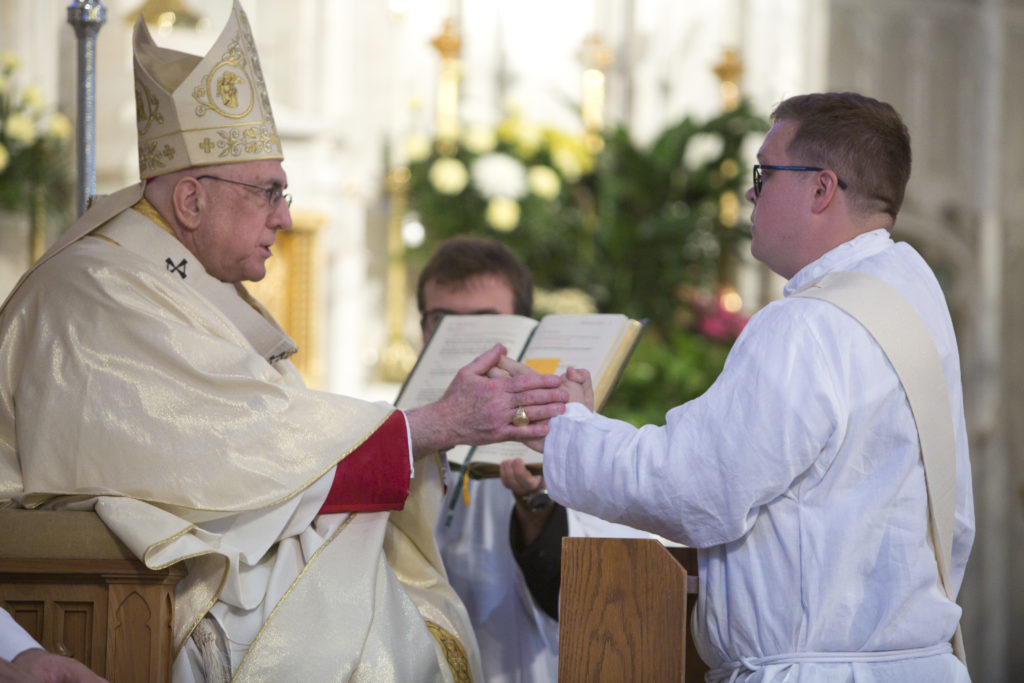 "I was glad I was wearing a mask because I was bawling like a baby," admitted Walt.
When Father Mersmann was growing up, Walt would occasionally ask him what he wanted to do with his life. The future priest would usually name two choices.
"The first thing out of his mouth was always something different, but it was always followed by, 'or maybe become a priest,'" said Walt.
"It was very wonderful," said Martha. "I felt very happy for him. And I was glad that the time finally came for him to be ordained because he anticipated it for a long time."
Ruth Finnegan, one of Father Mersmann's sisters, was equally proud, and prays for her brother's success.
"[I hope] that he will continue to be given the grace and strength to do well and continue to grow in his pursuit of the truth," said Finnegan, from Atchison. "I really hope that he can continue to love the Lord and share that with people he encounters."
Molly Pratt, another of Father Mersmann's sisters, was moved when her brother's hands were anointed.
"What stood out to me during the ordination was the focus on the hands of the new priests being blessed and watching him participate in the consecration for the first time," said Pratt, a member of Holy Family Parish in Eudora.
"It was a powerful moment," she continued. "I realized that he isn't a different person. He's still my brother I've always known, but his hands are now capable of something miraculous through the power of the Holy Spirit."
Julie Fields, one of Father Mecum's sisters, confessed she had "a vision of him running down a dirt road in Olmitz" as a little boy even as she was watching him be ordained now as a man.
"I loved it when Archbishop Naumann said that one of the blessings of being a bishop was that he got to be the first one blessed by the new priest," said Fields, from Rochester, Minnesota. "That sent chills down my spine."
Shari Weber, from Merriam, watched her uncle Father Mecum's ordination via livestream to limit her exposure. He brings many qualities to the priesthood, she said.
"He's an excellent listener," she said. "His faith is amazing. If you're going through something that makes you question God or anything in your life, he's very confident in what he believes and that is very reassuring. He gives advice based on faith."
A torch is passed
Jayson Molnar, a boyhood friend of Father Mecum, noticed something interesting about the vocational story of Father Mecum and Father Mersmann.
Father Mersmann's vocation was influenced by Jared Cheek, and Father Mecum's vocation was influenced by Matthew "Matty" Molnar, Jayson's brother. Both Cheek and Matty Molnar were friends and seminarians at the University of St. Mary of the Lake Mundelein Seminary in Chicago and died in a car accident in September 2005.
"I've lost my entire family," said Molnar. "When [Father Mecum] was up there, I was incredibly emotional. . . . I was really touched, and I honestly felt my family was there with him."
"Matty's dream was to be a priest," his brother continued, "and I feel he had a big hand in [Father Mecum] taking his journey. There wasn't a long conversation we've had in the past four or five years where Matty's name didn't come up."
"One zealous priest," said Archbishop Naumann during the ordination, "can change thousands of lives and will serve the church for decades to come."
On May 23, the archdiocese welcomed two.
Father Mecum has been appointed associate pastor of Holy Trinity Parish in Lenexa, and Father Mersmann has been appointed associate pastor of Holy Cross Parish in Overland Park and chaplain at Bishop Ward High School in Kansas City, Kansas.