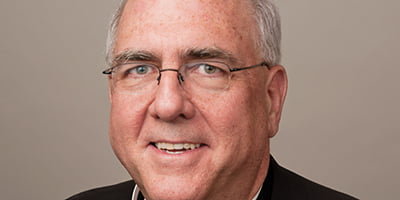 Some weeks ago, I challenged every member of the Archdiocese to think about their "call story."
---
by Archbishop Joseph F. Naumann
In other words, what event or series of events in your life moved you to make your relationship with Jesus Christ and his bride, the church, the foundation for your life? Some have asked: "Archbishop, what was your 'call story'?"
I did not have an experience as dramatic as St. Paul, where a single, overwhelming event changed the course of his life. I think my experience was more like the vast majority of Christians, where conversion happens more gradually over a number of years. Even Paul, after the Damascus road apparition, took some years to process and to ponder prayerfully the meaning of the Gospel of Jesus and its implications for how he would live the rest of his life.
My own experience was closer to the spiritual journey of St. Timothy. Timothy, one of Paul's closest companions, was like a spiritual son to him. Yet, in his second letter to Timothy, Paul indicates that the groundwork for Timothy's ardent faith preceded his friendship with the Apostle to the Gentiles. Paul acknowledged Timothy's "sincere faith . . . first lived in your grandmother Lois and in your mother Eunice and that I am confident lives also in you" (2 Tm 1:5).
I was blessed to grow up in a family where the faith was at the center of our lives. Like Timothy, the faith of my mother and my grandmother had a huge impact on me. My mother was a teacher at our parish school, eventually becoming its principal, and my grandmother was the parish secretary.
Our parish priests, perhaps in part because my father was deceased, took a special interest in me and my brother. Our pastor, whom I thought was ancient at the time, occasionally would take my brother and me with him on his day off.
I remember visiting one of the small towns where he had formerly been a pastor. Sometimes, while we were with him, he would stop to visit a parishioner at a hospital. I received a glimpse of what priests do. I knew how important the priests were in the life of my family, so I had a quite natural admiration for them and attraction to the priesthood.
I chose to go to the high school seminary in St. Louis, which was not an unusual choice at the time. I had more than 160 freshman classmates. There were more than 500 students in a school that was built to accommodate to a maximum of 400. By my junior year, the Archdiocese opened a second seminary high school, because they were turning away so many young men for lack of space.
When I entered high school, I was not at all certain that I was called to be a priest. I was interested in the priesthood, but not sure this was the path for me. I enjoyed the high school seminary. We had a great faculty and I was surrounded by 500 other young men who were highly motivated to serve God and others with their lives.
In terms of serious discernment, I somewhat floated through high school and the first couple years of college. Everything that I had studied up until that point I could apply to any career that I was interested in pursuing. However, beginning with my junior year of college, my courses would be focused on philosophy for which there were limited applications outside of the priesthood.
The year was 1969. It was a turbulent time in our culture, country and church. Many cities in our country were afflicted with race riots. On many college campuses there were protests against the Vietnam War. The sexual revolution was in full swing, challenging conventional morality. The use of illegal drugs was widespread on college campuses.
In the wake of all this societal upheaval, a youth culture had emerged that encouraged my generation to question all authority and not to trust anyone over 30.
Vatican II had brought some dramatic changes within the church and created a level of uncertainty about what else might change. Sadly, many priests abandoned the priesthood.
I was a very confused young man by the summer of 1969. Not only was I not certain that I was called to the priesthood, but I was not sure I even believed in God. And if there was a God, how could I be sure that Jesus was his son? Was the Christian belief — that God took a personal interest in humanity, much less in individual human beings — just wishful thinking?
This was my state of mind as I completed my sophomore year of college. I wondered with such questions swirling in my mind, how could I continue with integrity in the seminary? Stay tuned! Next week, I will share how I resolved these questions.