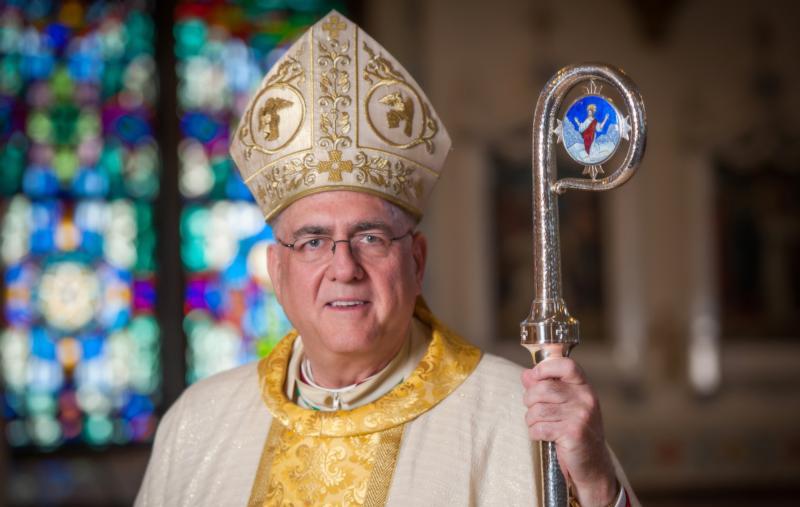 by Archbishop Joseph F. Naumann
The late winter snow storms took a toll on the cleanliness of my car. The grime from the salt and snow melt made my car look like a mobile toxic waste machine. I joined the long lines to go through the local car wash!
We are approaching the halfway mark for Lent! If you have not been to confession yet, I urge you to make it a priority. If you are like me, you need to place a time on your calendar to receive the sacrament of reconciliation.
On the First Sunday of Lent at the Rite of Election liturgies celebrated at Most Pure Heart of Mary Church in Topeka and Prince of Peace Church in Olathe, I encouraged the candidates for full reception into the Catholic Church to prepare well for their first confession.
Those preparing for baptism at the Easter Vigil do not receive the sacrament of reconciliation. The waters of baptism wash away our sins.
However, I always encourage adults preparing for baptism to make a good examination of conscience and prayerfully surrender to the mercy of Jesus all of their past sins. I invite them to look forward to the peace and joy that comes from the waters of baptism, both cleansing them from sin and bestowing upon them a share in the eternal life of Jesus.
For those who are already validly baptized Christians but are preparing to be received into the Catholic Church, the church respects the efficacy of their baptism and does not rebaptize them.
At the Easter Vigil, after making a profession of faith, they will be confirmed and receive holy Communion for the first time. To prepare themselves to receive these sacraments worthily, the candidates for full reception into the Catholic Church need to receive the sacrament of reconciliation.
At the Rite of Election, I acknowledged to the candidates for full reception into the Catholic Church that confession is something converts often dread.
Making a good examination of conscience as an adult is challenging enough. However, confessing one's sins before another human being is, for many, intimidating and frankly downright scary.
I remind the candidates that in St. John's Gospel Jesus empowered the apostles to continue his ministry of mercy on Easter night when he breathes the Holy Spirit upon them and says: "Whose sins you forgive are forgiven them, and whose sins you retain are retained."
Our Lord gives the apostles the authority to forgive sins, when they are most vulnerable and personally most in need of mercy.
This is the first time Jesus sees his apostles after all of them, save John, abandoned Our Lord during his passion and crucifixion. It is purposeful of Jesus to grant them this authority to forgive sins at the precise moment they themselves most needed mis mercy.
This makes crystal clear that it is not because of their virtue and sanctity that the apostles and their priestly successors are the ones bestowing God's forgiveness. They are merely the humble human instruments that Jesus has chosen to use for this ministry. Our Lord likes to use the weak and lowly to be his instruments. Every bishop and priest are penitents before they are confessors.
The sacrament of reconciliation is such a blessing. Our Lord understands our humanity completely, having immersed himself into our human condition. Jesus knows that we need to be able in a safe space to speak aloud our sins in order to get them outside of ourselves. Our Lord also knows that we need to hear the words of absolution by someone he has empowered to communicate his mercy.
Jesus loves us when we approach him in the sacrament of reconciliation. In making a sacramental confession, we come before Our Lord with great humility, honesty and faith. These virtues are irresistible to Jesus. Whenever Our Lord was approached in this way during his earthly ministry, Jesus lavished his love and mercy upon the contrite individual.
Jesus loves us in our weakness, not because of our perfection. Our Catholic faith is not a self-improvement program, where we grow in virtue by our self-discipline and determination. Our Christian faith is about being transformed through encountering Our Lord's unconditional and merciful love.
Sometimes, Protestants will protest: Why go to a priest for God's mercy? Why not go directly to God? My response is: By all means, go directly to God. Devout Catholics should make a daily examination of conscience and daily surrender our sins to God.
However, Jesus himself entrusted this power to his apostles and their successors. Why would we not use this great gift of sacramental confession? Why would we not cherish the opportunity for the great peace Our Lord wants us to enjoy through this sacrament?
It is true that sacramental confession has developed over the centuries. The Irish monks introduced to Europe and the entire church the current method of private confession through which the reputation of the penitent was protected by the seal of confession. This so-called Irish method did away with the ancient public acknowledgment of sin and the performing of public penances.
In his book, "Heroism and Genius," Father William Slattery describes the reaction to the Irish method of confession on continental Europe as "enthusiastic." Father Slattery characterizes Irish confession as "a most unexpected answer for many an anguished soul longing to encounter God's mercy."
Father Slattery writes: "Now, within the sanctuary of secrecy, through priests who were hard on themselves but gentle with others, learned but also down-to-earth, they were able to have the same experience as that of the woman publicly accused of sin to whom Jesus Christ had said simply: Has no one condemned you? . . . Neither do I condemn you; go and do not sin again (Jn 8:10-11)."
I encourage every member of the archdiocese to take advantage of this amazing sacrament that allows us to receive and be transformed by God's merciful love.
I hope the lines to our confessionals will be, at least, as long as the lines for the car wash. During Lent, get a soul wash!