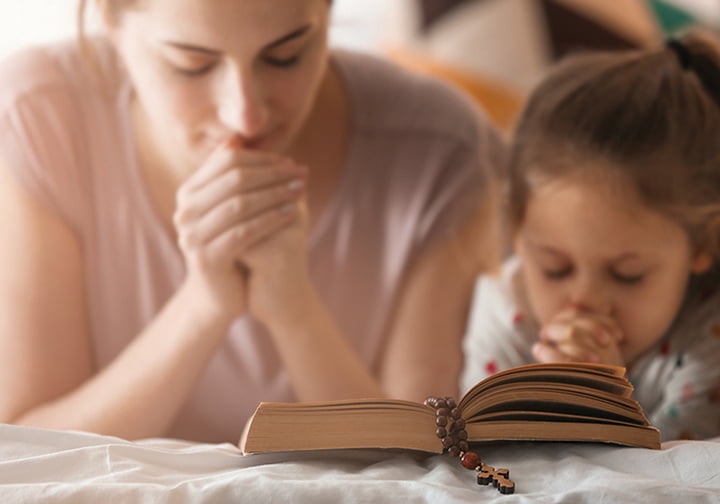 by Joe Bollig
joe.bollig@theleaven.org
KANSAS CITY, Kan. — First, the bad news. Your family isn't perfect. The good news, however, is that your family can be joyful.
The archdiocesan office of marriage and family life has begun the Enflame Our Homes initiative to help families grow in the love of God together and, in the process, become more joyful.
"It can feel like that the last thing people can think about during a pandemic and the stress of regular, daily life is being a joyful family," said Libby DuPont, consultant for the archdiocesan marriage and family life office.
"We want families to recognize that there is joy there every day if we just look for it, and we can invite more joy — more of the presence of God — into our homes in small, simple ways."
The Enflame Our Homes initiative is a follow-up to the archdiocesan-wide Enflame Our Hearts, Homes and Communities convocation in October 2019, that drew Catholics from throughout the archdiocese to Overland Park. This program began on Sept. 1 and will continue for three years.
Three great things about this initiative are first, its small and attainable goals; second, its simplicity; and third, its flexible options. There's nothing offered by Enflame Our Homes that any family couldn't do.
Each month has a theme. The theme for September is "Joyful families are intentional." The one-page resource for each month offers family discussion topics and activities that can help families participate in "small, attainable goals" that set them up for success.
For September, the activities include praying a family rosary or holding a family Scripture reading, blessing the kids before school and at bedtime, assigning chores in pairs and scheduling a family night.
Emily and Jim Donohue, members of Holy Spirit Parish in Overland Park, learned about the initiative and discussed it with their four children during a family campout.
The Donohues began to participate as soon as they got home.
"We create dinner time around our kids' schedules," said Emily. "Partially, that's the way my husband and I grew up, and we want to recreate that for our kids. We intentionally make homemade meals and have the kids set the table and do the dishes."
During the dinner they read from "Jesus Calling: 365 Devotions for Kids," and have their meal prayer.
"[Enflame Our Homes] is a good program," said Emily. "It creates opportunities for discussions between kids and parents, and even between siblings, that you maybe normally wouldn't have.
"We asked our kids about things they missed when we were quarantined, and what they thought we should go back and do and do differently. We learned more information about our kids and the kids learned information about each other."
There is no cost to participate in the Enflame Our Homes initiative.
Resources can be found on the Joyful Homes website at: archkcks.org/joyful-homes.
Families can get a one-page resource through parish bulletin handouts or via email from Catholic schools and parish religious education programs.
Families can sign up to receive a weekly email containing resources by going to the website, scrolling down the home page, clicking on the button that reads "…Stay in touch" and entering the relevant information.
The marriage and family life office plans to create a blog on the website for families to contribute posts about what they are doing.
For more information, call the marriage and family life office at (913) 647-0345, or contact Libby DuPont by email at: ldupont@archkck.org.