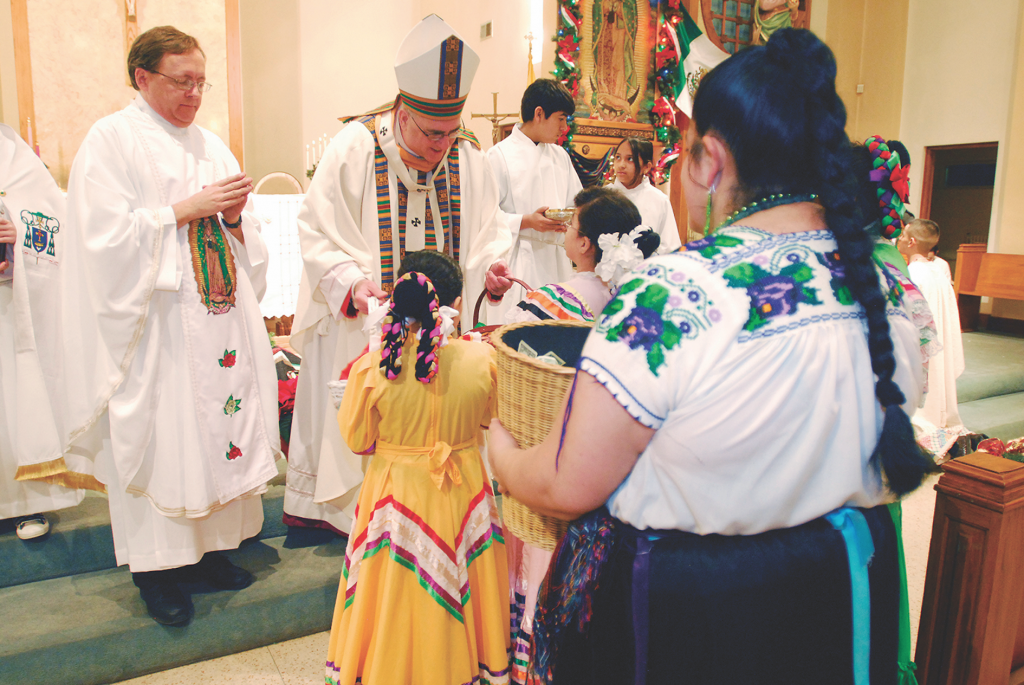 by Moira Cullings
moira.cullings@theleaven.org
KANSAS CITY, Kan. — It's a vibrant community that's grown tremendously in recent years in the Archdiocese of Kansas City in Kansas.
"The Spanish-speaking members of the archdiocese are very important and a very significant part of our population, especially our younger population," said Archbishop Joseph F. Naumann.
To better minister to this community, the archdiocese has created a brand-new position: vicar for Hispanic ministry.
And it didn't take the archbishop long to identify the priest he hoped would take it on.
"He's probably one of our best-known priests in the Hispanic community," said Archbishop Naumann. "I think he really has a rich experience of this ministry and how it's evolved in the archdiocese."
Father Michael Hermes, pastor of St. Paul Parish in Olathe, was chosen for the new role. For him, it's an honor.
"I've been involved in the Hispanic ministry of the archdiocese in one way or another for 27 years," he said. "I consider it to be very important, and the Hispanic community a blessing to our church."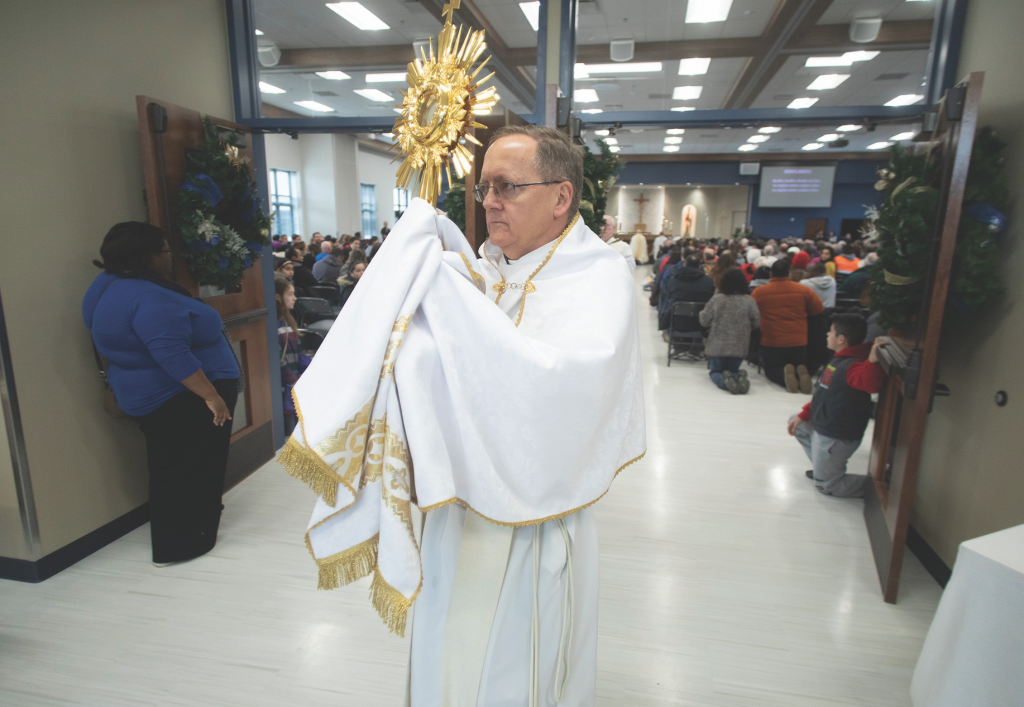 Father Hermes has served at All Saints Parish and Our Lady of Unity Parish, both in Kansas City, Kansas. He was the president of Bishop Ward High School in Kansas City, Kansas, and now serves at St. Paul.
In each of these assignments, said Archbishop Naumann, Father Hermes created space for a robust Hispanic ministry to take root.
"Father Hermes has been doing ministry with the Hispanic community for a long time," he said, "so I'm hoping he'll bring new ideas, fresh ideas, on how we can better serve that community.
"He has a lot of great gifts."
The archdiocese has had a Hispanic ministry for years, most recently led by director Father Gianantonio "Giani" Baggio, CS.
When Father Giani was reassigned by his religious order to priestly ministry outside of the archdiocese, effective this August, Archbishop Naumann saw it as a chance to implement a vicar position for an archdiocesan priest.
In his time, Father Giani paved the way for a stronger ministry to Hispanics in the archdiocese. Recently, he's helped brainstorm ideas for the ministry's future with Father Hermes at the helm.
Although the role will evolve, Father Hermes is already set to be a member of the administrative team at the archdiocese.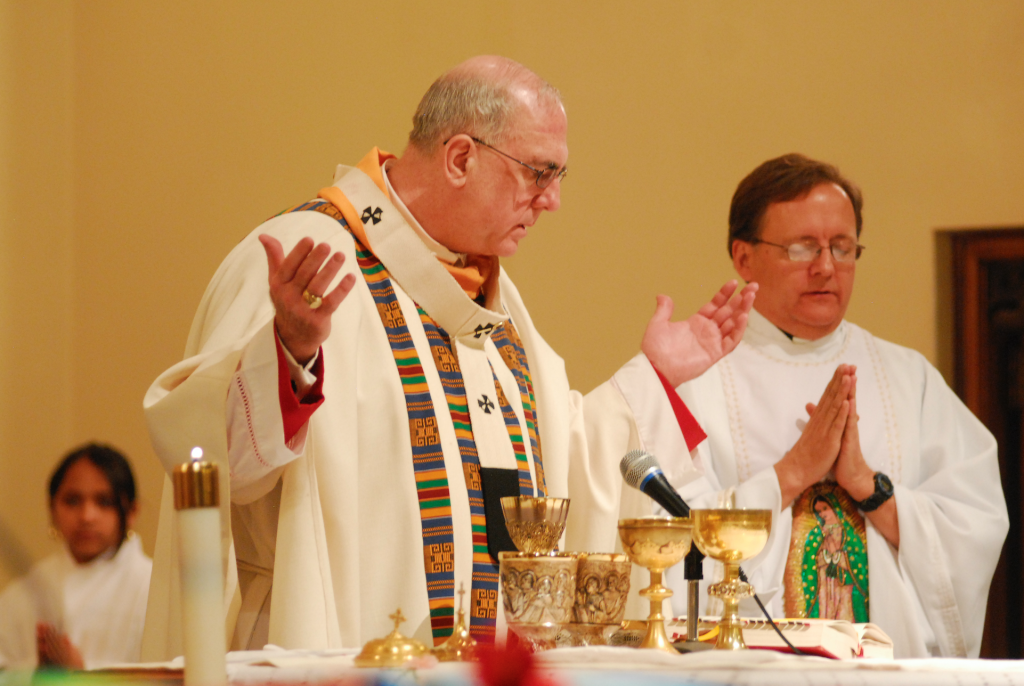 Father Mark Mertes, pastor of St. Patrick Parish in Kansas City, Kansas, and the new moderator of the curia, will also be on that team, making two priests with a long history of working in Hispanic ministry.
"That's going to help us at the archdiocesan level be more conscious, more aware [and] more sensitive to the importance of always making sure that we're including the Hispanic community in our pastoral initiatives," said Archbishop Naumann.
Father Hermes will likely serve on the priests' personnel board and will act as a liaison for the archbishop when he works with Spanish-speaking priests from other parts of the world.
The Hispanic ministry will also move its offices to the chancery so it's in close proximity with other archdiocesan offices.
Father Hermes is excited to take on the new role, emphasizing that Hispanic ministry has flourished in the archdiocese. Although the ministry has been integral to only a couple of archdiocesan parishes historically, there are now 12 parishes throughout northeast Kansas involved.
"This ministry requires a lot of support at every level in order to be successful," said Father Hermes. "I believe the archbishop's vision for the Hispanic ministry is that it will now become more systematic, deliberate and collaborative at the archdiocesan level."
Archbishop Naumann hopes the changes will allow the archdiocese to better serve the Hispanic community.
"I hope it will send a message to our Hispanic community [of] how important they are to the archdiocese," he said, "and how much we value their presence, their unique gifts and their traditions of the faith that are a great blessing to the entire church.
"I hope it indicates to them that they're important. They're valued. They're loved."