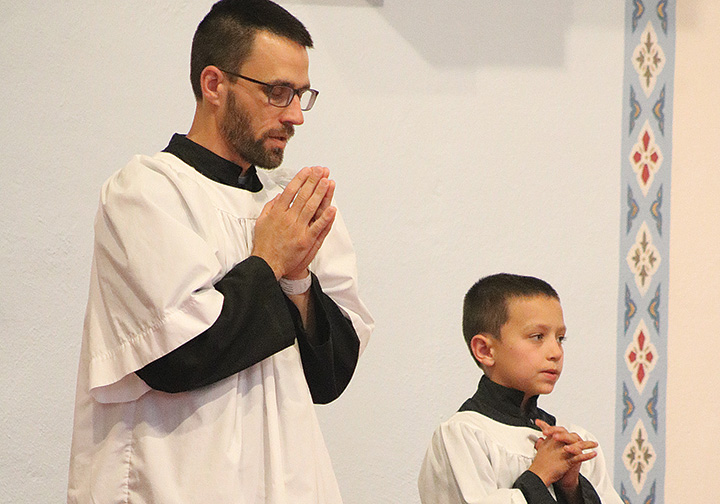 by Marc and Julie Anderson
mjanderson@theleaven.org
EMPORIA — "To be close to Jesus."
That was 8-year-old Zachary Tomsche's simple answer when asked why he likes serving at Mass.
And while it's not too often a father and son appear together at the altar of a Catholic church, it's becoming somewhat normal for Zachary to serve Mass with his father, Andrew Tomsche.
Andrew had been a Fellowship of Catholic University Students missionary while in college. Today, he works as the director of missionaries at the Didde Catholic Campus Center near Emporia State University.
Although the Tomsche family belongs to Sacred Heart Parish in Emporia, it's only natural the family attends the daily Mass celebrated at the center during the lunch hour, and it's also there that Zachary has developed a love for Jesus in the Eucharist, a love which two archdiocesan priests, Father Matt Nagle and Father Carter Zielinski, have taken note of.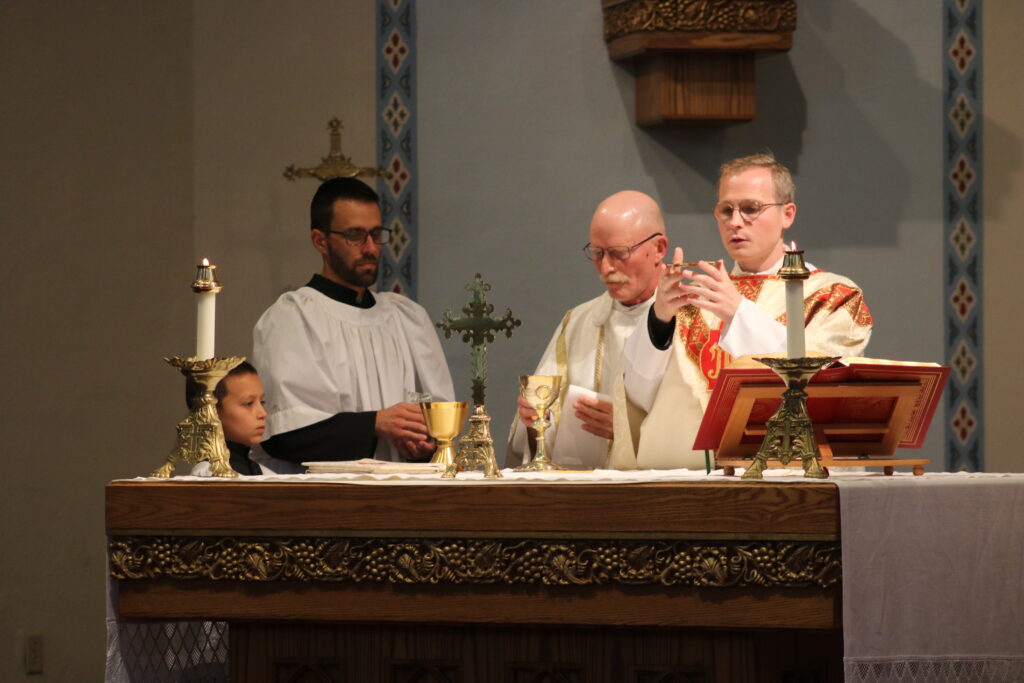 Father Nagle, the campus center's chaplain from 2019 through June of this year, said it's easy to see the Tomsches' love for Jesus. Prior to discerning a vocation to marriage and family life, Andrew spent time in a seminary for the Diocese of Winona- Rochester, Minnesota.
"Andrew had mentioned to me once or twice that he missed serving Mass. He and his wife Christi are daily Massgoers, along with their children, so I had seen the authentic love of the Mass and the Eucharist there. But I also understood where he was coming from. As a seminarian, I remember how much it fed my spiritual life to serve Mass," Father Nagle said.
Then there were the bells.
A couple of summers ago, the father and son attended a Saturday morning Mass at the campus center. Because it was summertime, Father Nagle said there weren't many people, let alone a server.
"I approached Andrew and asked if Zachary would like to ring the consecration bells. Andrew looked at Zachary, and he seemed very enthusiastic about ringing the bells, so I moved them to the foot of the altar right by the pew they were seated in. When the consecration came, he rang the bells perfectly. I was impressed that at a such young age he was so 'locked in' to the Mass."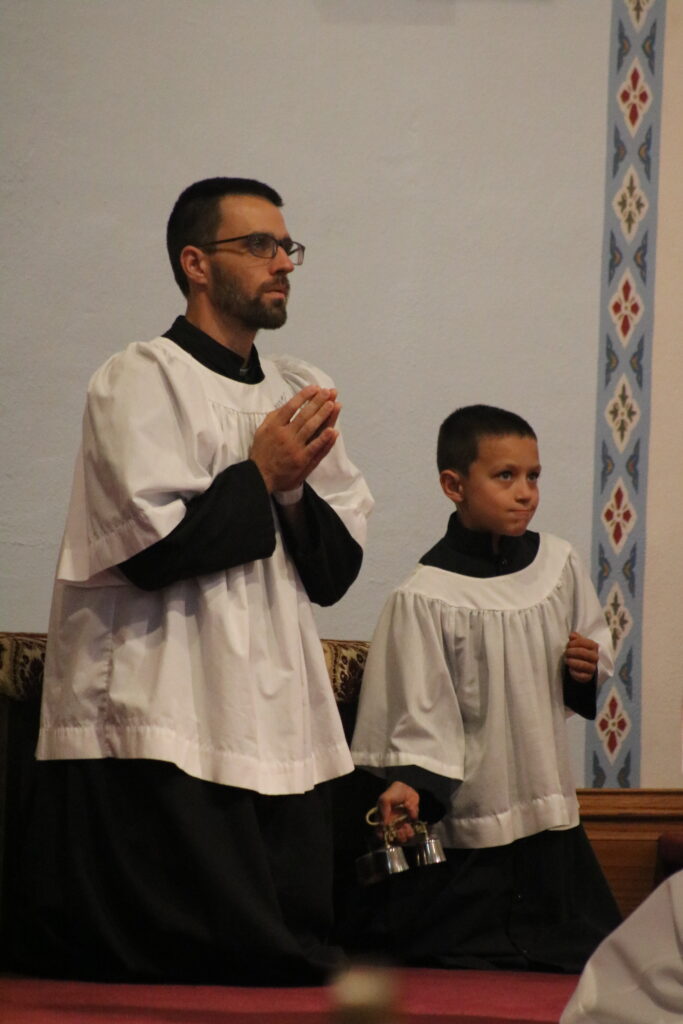 Fast forward to 2023.
Zachary made his first Communion during Holy Week. Following that, the Tomsches approached Father Nagle and Father Zielinski about Zachary becoming an altar server.
Due to Andrew's time in the seminary and his desire to serve Mass again, Father Nagle recommended father and son serve Mass together.
"The Tomsches liked the idea and so one day, I walked through serving Mass at the Didde Center with Andrew and Zachary. Father Zielinski did the same at Sacred Heart," Father Nagle said.
"I stepped in to help him gain confidence," Andrew said.
Since then, the father-son duo has served Mass together many times, both at Sacred Heart Church and the Didde Center.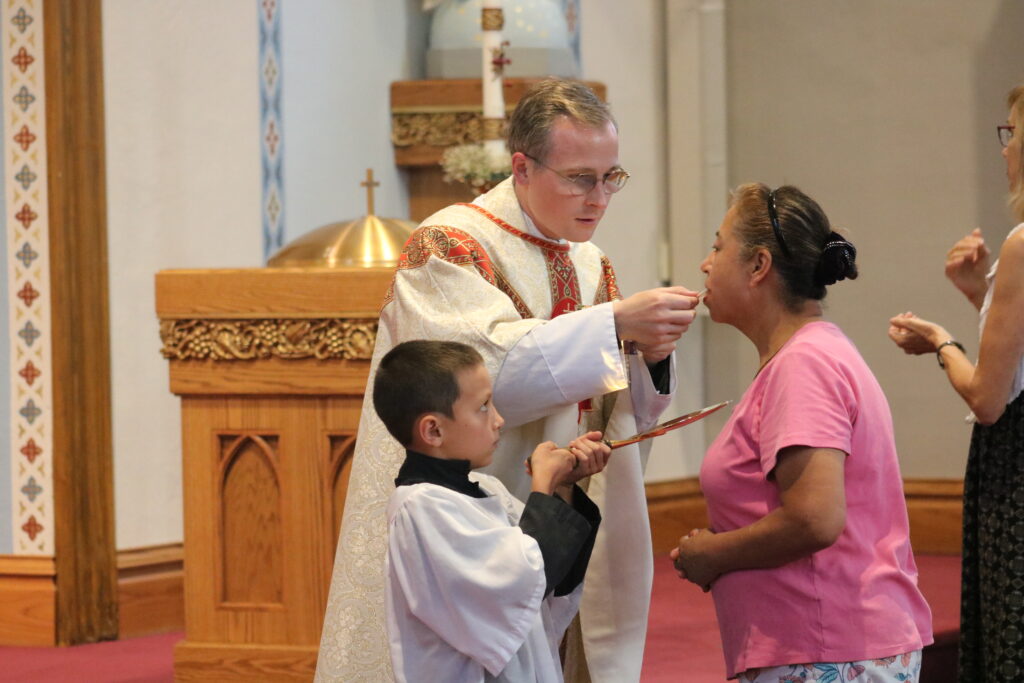 Zachary said his favorite part is holding the paten while people receive the Eucharist because he gets to be close to Jesus. Also, he can help ensure Jesus gets proper respect.
Father Zielinski, the family's parish priest at Sacred Heart, said he was happy in helping train Zachary to serve Mass and to see father and son serve together.
"Not only is it great for vocations, but it helps to develop a deeper love for the Eucharist," he said. "I pray that all Catholic parents follow Andrew and Christi's example."
For Father Nagle, watching that example has inspired him.
"The father and son serving together is really cool to see. Zachary is learning how to serve Mass from his father, and it just seems very fitting," he said.
"Encourage your sons to serve Mass," Father Nagle urged all parents. "Many a priest has discovered his vocation serving at the altar.
"And I really like the idea of fathers and sons serving Mass together. The Eucharist is the source and summit of the faith, and I can't think of any activity more fitting for a father and son to do together than serve at the altar."