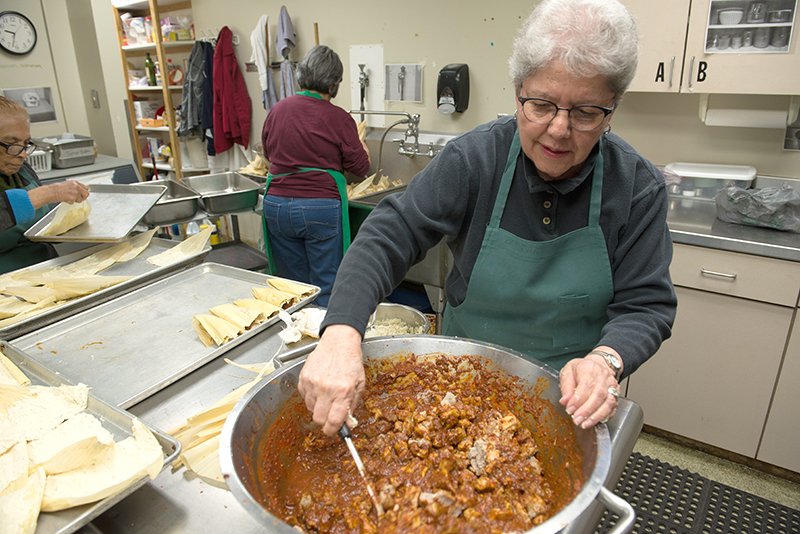 by Joe Bollig
joe.bollig@theleaven.org
LAWRENCE — Ligia Galarza has been making tamales most of her life, so you might think she was already an expert when she began making tamales 10 years ago for the St. John the Evangelist Parish Mexican Fiesta here.
But you would be wrong.
"I am from Ecuador," said Galarza. "The Ecuadorian tamales are different from the Mexican tamales."
Galarza makes the traditional "humitas ecuatortianas" for Christmas Eve. The dough is different, and the fillings include chicken, hard-boiled egg, parsley and green onion.
By contrast, the tamales made in the basement of St. John the Evangelist Parish are traditional Mexican, made from recipes handed down by mother to daughter for who knows how long.
More than 20 women and about five men were in the basement cafeteria on Feb. 19, working at a fast clip to reach their goal of more than 2,000 tamales before the kitchen would be taken over for Lenten fish fries. Their work had been spread out across four Saturdays since mid-January.
Out in the main dining room, about 10-15 women stood on both sides of long tables set end to end. These were the spreaders — smearing a layer of masa dough on moistened corn husks.
The husks were then taken into the kitchen, where other volunteers were mixing cubed pork, pork broth and gravy-like chili ancho sauce in big, silver bowls. They ladled the fillings into the dough-filled husks and rolled them up.
The rolled tamales were then taken to another room where four men packaged them and stored them in a freezer. Meanwhile, two women soaked corn husks in a sink to make them more pliable.
Festive Mexicana music played while they worked.
Just as the tamale recipe has been handed down, new volunteers are initiated into the ways of industrial-scale tamale manufacturing. A lot of the veterans like Loretta Chavez come back year after year and train the newer volunteers. Everyone seems to know what to do, how to do it and when to do it.
The tamales are the only food items that can be prepared ahead of time. They will be cooked fresh during the fiesta, which is June 26 and 27 this year.
"I've been doing this for 38 years, from day one," said Chavez, a St. John the Evangelist parishioner since 1974.
Chavez says she was there when the very first tamale was made for the very first fiesta. And she's been on the fiesta food committee ever since.
There are three essential elements to a St. John's Mexican Fiesta. They are: good music, good dancing and good food. The stars of the plates this year will be the tamales — followed by the burritos, tacos, tostadas and Mexican-style rice. They're ready to serve at 5 p.m. and usually stop at 10 p.m. — because that's when the food runs out.
"We usually end up having hot dogs with nachos," said Chavez.
Making the tamales is a lot of work, but also a lot of fun.
"I love it," said Chavez. "I like to be in the kitchen and cook. . . . [But] it's not all work. We have our music on and we have a good time. We don't see each other every day, but when we get together, we have so much fun. We catch up on everybody's families."
While Frank Lemos Sr. ladles filling into the husks, his son Frank Lemos Jr. stops in to see how things are going. He's been the fiesta chairman for the past 15 years — inheriting it from another man who also served for 15 years.
"This is a dedicated crew," said Frank Lemos Jr. "They want to make it happen every year and make it a success. . . . This is a well-organized machine."
The importance of the fiesta to the parish cannot be overstated.
"To St. John's, it's one of our biggest ministries," he said. "It's an invitation to the community to come here and enjoy our atmosphere. It brings money to our programs and is great exposure."
There is a lot of pride that goes into fiesta preparations, according to Lemos. It's about family, parish and community.
"The fiesta is mainly a celebration of the Mexican culture in Lawrence," added Lemos. "It's not so much the Old Country traditions, but more [from] when these families came here and set roots in Lawrence."
"This is what we celebrate — their arrival here and becoming part of the community, and the community welcoming them, especially St. John's," he continued. "St. John's was very welcoming to the Mexican community back in the 1920s and 1930s when they first started coming here."