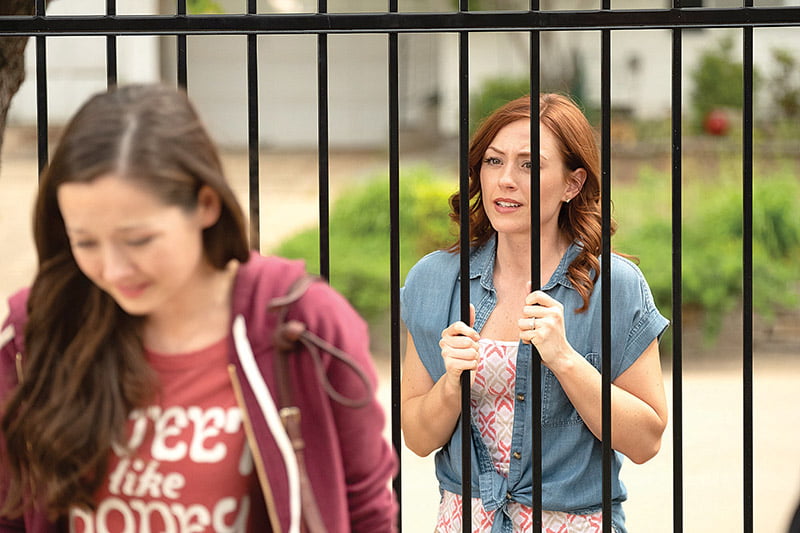 by Joe Bollig
joe.bollig@theleaven.org
KANSAS CITY, Kan. — "What she saw changed everything" is the tagline for the soon-to-be released film "Unplanned," the Abby Johnson story.
The film's creators and promoters hope it will change everything for viewers, too.
"Unplanned" premieres with special showings at select locations in the Archdiocese of Kansas City in Kansas on March 26 and 27, ahead of the nationwide release on March 29.
These advance screenings are a joint effort of the archdiocesan pro-life office and Kansans for Life.
Abby Johnson was one of the youngest Planned Parenthood abortion clinic directors in the United States. Naively, she joined the organization as a volunteer, thinking her work would actually decrease abortions.
Dedicated and enthusiastic, she was hired and promoted until she ran the clinic — and found out that Planned Parenthood's business model goal was to increase abortions.
The final straw came when she was called out of her office to assist with an abortion. It was then that the full horror of abortion was brought home to her.
Johnson resigned and joined pro-life efforts to spread the truth about the abortion industry — and to save babies, mothers and even the clinic workers themselves.
She wrote a book about her experiences, "Unplanned," and it was made into the film that will hit theaters all over the nation on March 29.
This is an important movie, said Debra Niesen, archdiocesan pro-life consultant. It's so important that Archbishop Joseph F. Naumann, chairman of the U.S. bishops' Committee on Pro-Life Activities, has become a major promoter.
"We screened it here at the chancery [in December 2018]" said Niesen. "After seeing it, the archbishop knew that this was going to be a very important pro-life film. And so, in his homily during the vigil Mass for the March for Life [in January] in Washington, D.C., he said, 'If you see one film this year, you should see 'Unplanned.'"
Thanks to significant support from various donors, including the Knights of Columbus, the archdiocesan pro-life office and Kansans for Life have arranged for theater "buyouts" for the "Unplanned" premieres at five locations in the archdiocese.
Under a buyout, tickets for an entire showing are purchased and then given away to generate word-of-mouth awareness of a film, said Niesen. Free tickets will be available at parishes in the five cities. People interested in attending premieres should call the parishes. (See sidebar.)
The film is more than just about abortion.
"I think 'Unplanned' is a story about conversion, a story about redemption," said Archbishop Naumann. "In many ways . . . Abby is a Saint Paul for the pro-life movement today, and her story has the power to open hearts, change minds and inspire people.
"I pray that many will see it and be influenced by it."
People are particularly encouraged to view the film on March 29 if they're free, since that will boost the opening box office and thus keep "Unplanned" in theaters longer.
"That's the point of us doing these premieres before the opening," said Niesen. "Hopefully, everyone who got a free ticket [for the premieres] will tell another person about it, and maybe see it again and bring a friend."
For information about the film, go online to: unplannedfilm.com.
Premiere locations
March 26 and 27
• AMC Studio 28, Olathe
• Hollywood Stadium 14, Topeka
• AMC Legends, Kansas City, Kansas
• Regal Southwind, Lawrence
• Emporia Flinthills 8, Emporia
Opening March 29
Check local listings for times
• AMC Dine-In Legends 14, Kansas City, Kansas
• AMC Town Center 20, Leawood
• AMC Dine-In Studio 28, Olathe
• Emporia Flinthills 8, Emporia
• B&B 16, Overland Park
• B&B 18, Shawnee
• Regal Southwind, Lawrence
• Regal Hollywood, Topeka