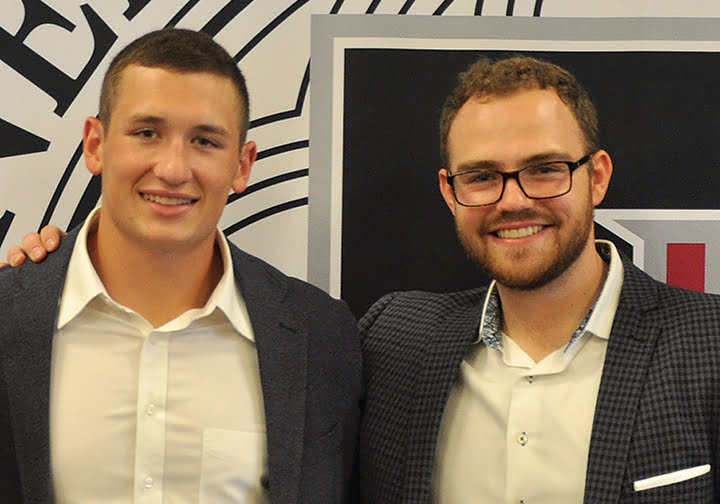 by Todd Habiger
todd.habiger@theleaven.org
ATCHISON — For five* years, Shaefer Schuetz and Logan Harris were part of the Benedictine College football team here. On July 26, the two joined a different team — the Catholic team.
That's right, Schuetz and Harris converted to Catholicism during a ceremony at St. Benedict's Abbey. The two came to Benedictine to play football and get an education. They left with so much more.
Strange new world
Before arriving on the Benedictine campus, both Harris and Schuetz's exposure to Catholicism was limited. Schuetz grew up as a non-denominational Christian while Harris was raised Methodist. Suddenly, they were surrounded by Catholicism.
"It was uncomfortable at first, just trying to understand what everything meant," Harris said. "I had the football team to fall back on because there were a lot of other non-Catholics on the team and we could relate on those things and talk about them."
Harris said that, even though Catholicism was ingrained strongly in the Benedictine culture, there was never any pressure on him to do anything he didn't want to do.
"The biggest thing for me was that it was never overbearing," he said. "There was never a push for me to become Catholic. They weren't forcing people to go to Mass or anything, but the option was always there."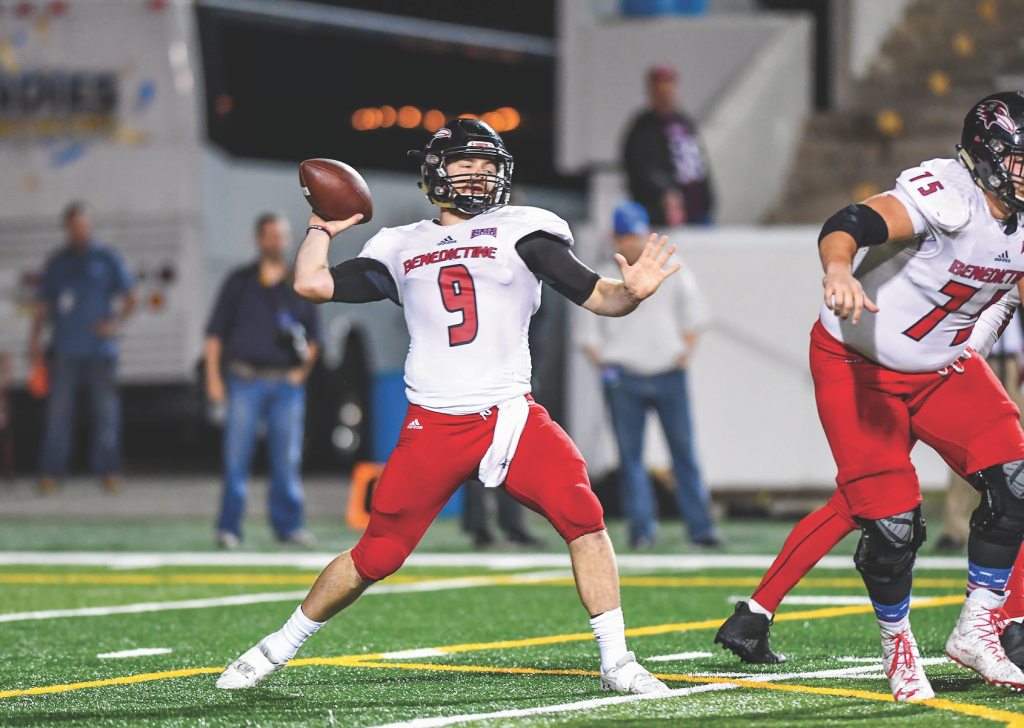 Schuetz admits to being a little "freaked out" at first.
"I remember coming in during fall camp and it's 105 degrees and there are these guys walking around in black robes," he recalled. "I was petrified of all of them because I had never seen a monk before. I was thinking, 'What in the world are these guys doing?'"
Schuetz quickly found out there was nothing to be afraid of.
"What's cool is that those guys are so present. They go to games. They go to different school functions. They are super- involved. I got to know those guys and realized that they are normal human beings and good dudes," he said.
An invitation
After a couple years on campus and soaking up the Benedictine experience, Schuetz and Harris received an invitation from athletic director and assistant football coach Charles Gartenmayer to attend the rosary that Benedictine president Steve Minnis offers every Wednesday morning.
"I saw a little bit of light in each of them," Gartenmayer said. "They are both special young men and they had made some strong friendships with people who had a really strong walk with Christ. I think they were wondering, 'Well what is all of this?'"
They both accepted the invitation and to make things easy, Gartenmayer gave them a sheet of paper that showed them how to pray the rosary.
It was more curiosity than anything that led the two to attend the rosary.
"Whenever Coach reaches out to you and offers something, you want to give it an opportunity to see if it's something that you like," Harris said.
Both Harris and Schuetz discovered it was something they liked a lot. Wednesdays quickly became their favorite day of the week, starting with the rosary and, afterward, having breakfast with Gartenmayer.
"It became a blast. It was something we would look forward to every week — it was rosary and then breakfast and it was awesome," Schuetz said.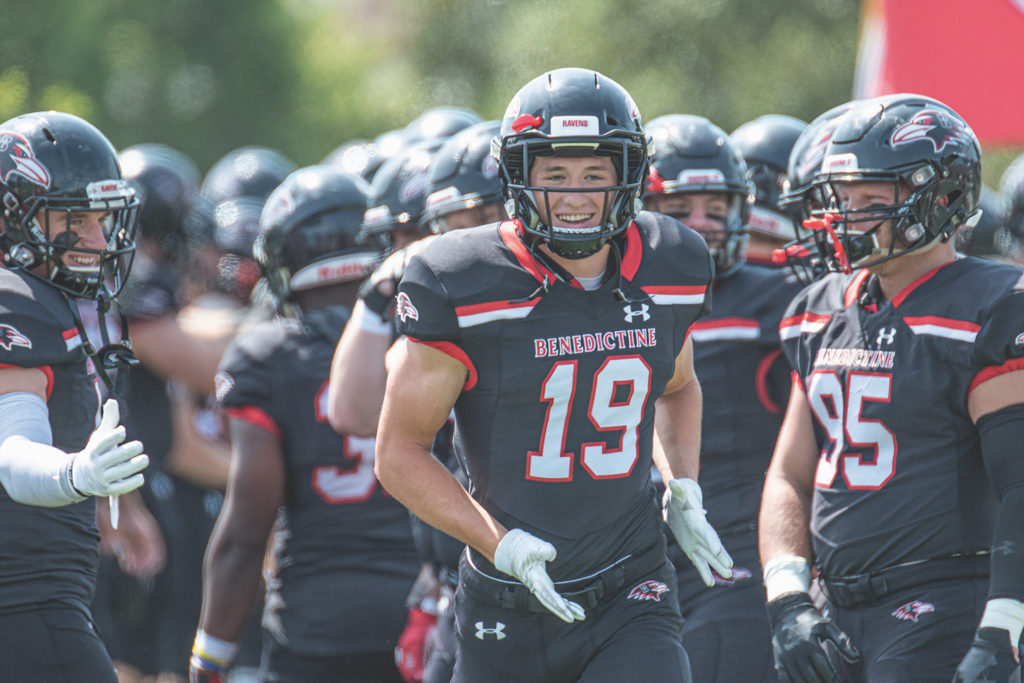 Harris agreed.
"I felt like Wednesdays were always my most productive days," he said. "My buddies and I always felt so much better on Wednesdays because we got up and did something like that. It was a great way to start the day."
With Schuetz and Harris fully invested in the Wednesday rosary, they soon began extending invitations to their friends to come check it out.
"That's one of the really cool things that transpired from this — the fact that soon they were asking friends to come," Gartenmayer said.
The rosary's origin
For more than a decade, Minnis has been offering the Wednesday morning rosary at the abbey church.
"When I got married, my wife challenged me personally to say the rosary every day, so I've been doing this since we've been married," he said. "Then when I became president, I asked myself, 'What can we do to increase the prayer life here at Benedictine?' And so I just decided to do one rosary every week for the entire school. We have it at 7:30 on Wednesday morning and it's done before the 8 o'clock classes start."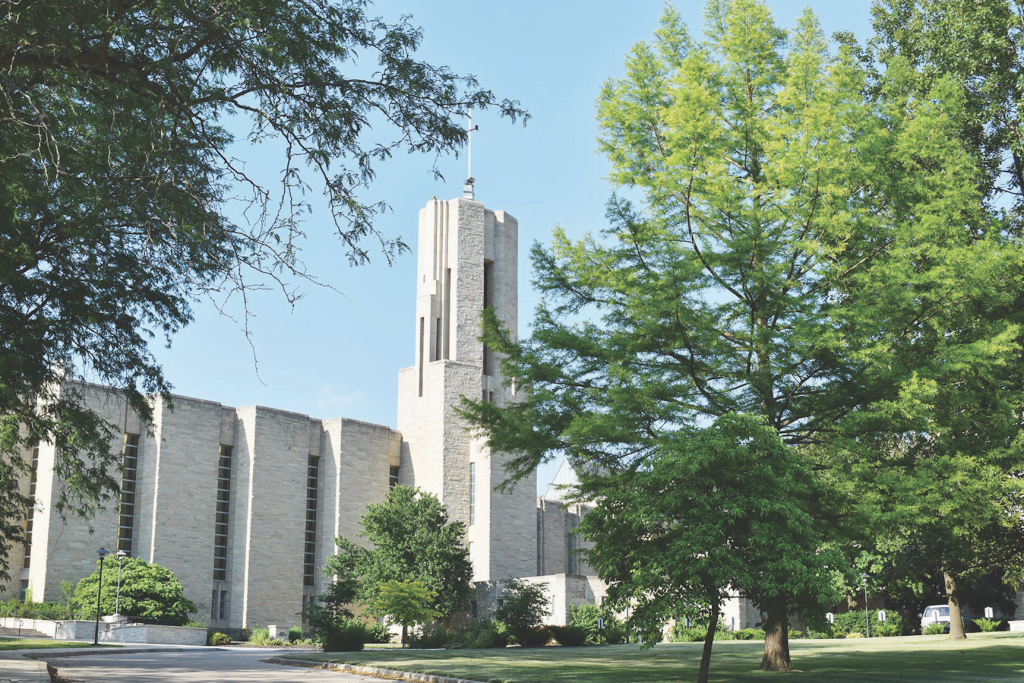 Minnis said that typically 50 to 60 people attend the rosary, including Gartenmayer, the academic deans, the vice president for student life and many other leaders on campus.
But it's the students that impress him the most.
"When you see these kids get out of bed on Wednesday morning at 7:30 a.m. and they come to the top of the hill (the abbey is on a bluff overlooking the Missouri River) and pray a rosary, and when you see them leave, you just think, 'OK. The world's a better place because these kids are in it,'" he said.
But Schuetz and Harris were two that especially impressed him.
"Most of the kids that were going to the Wednesday morning rosary were Catholic," said Minnis. "But those two were non-Catholic — and they never missed a day. I was really inspired by them."
Becoming Catholic
The rosary may have gotten the ball rolling on Schuetz and Harris' road to Catholicism but there were other forces at work as well.
One of the main forces was the culture of the college. The Benedictine monks were a constant presence. FOCUS missionaries were available to talk to. And there were ample Bible studies and other religious opportunities always available.
"I really appreciate that Benedictine made it readily available for you to have access to Catholic resources," Schuetz said. "It wasn't jammed down your throat. BC did a really good job [of both] allowing it to be your decision and cultivating an environment for discussion."
Harris said being around successful Catholics that he admired made him want to explore Catholicism.
"The past two years I really started to think more and more about converting," he said. "I was surrounded by people who were Catholic, who were really living out their faith, and it started to become more attractive to me."
The two had plenty of time to think about their decision to convert. They were supposed to enter the church in April, but because of the COVID-19 pandemic, they didn't enter until July.
"I always wanted to receive the Eucharist and obviously never did prior to becoming Catholic," said Schuetz. "So, when I was finally able to receive it after going to Mass for years without receiving it, that was pretty awesome and pretty special to me."
Harris echoed the sentiment.
"If I wanted out, I would have done so by now," Harris said. "I'm super happy with my decision."
* Schuetz and Harris graduated in 2019 with their bachelor's degree, but stayed to complete their master's in business in 2020 as part of BC's unique 5-year program.