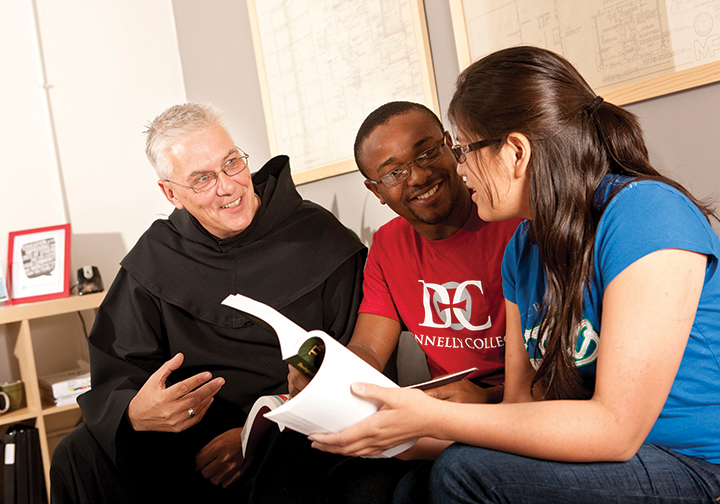 by Joe Bollig
joe.bollig@theleaven.org
KANSAS CITY, Kan. — Priest and educator Father John Edward Melnick, 62, died on Jan. 15 at St. Luke's Hospital North in Kansas City, Missouri, from idiopathic pulmonary fibrosis.
"Father John was faithful to the charism of the Augustinian way of life," said Father Peter Jaramillo, SSA, pastor of St. Mary-St. Anthony and All Saints parishes in Kansas City, Kansas.
"He followed his restless heart and continued to seek the joy of his life in community," he added, "to be of one mind and heart with the Lord and with those whom he lived with."
Father John is remembered for his love of his priesthood and the church, Father Peter said.
Father John — who was also known by his religious name Father John Stone of the Holy Cross — was born on Feb. 28, 1960, in Glace Bay, Nova Scotia, Canada. He was the only child of Edward and Beverly (MacKenzie) Melnick, members of St. Joseph Parish in Reserve Mines, Cape Breton, Nova Scotia.
He attended St. Joseph School, 1965 to 1971, in Reserve Mines and graduated from Reserve District High School in 1977. He graduated with a bachelor's degree in philosophy from St. Francis Xavier University in Antigonish, Nova Scotia, in 1980; a bachelor's in education from St. Francis Xavier in 1981; a master's of divinity from the Toronto School of Theology in 1986; a bachelor's of theology degree (STB) from St. Paul's University in Ottawa in 1986; and a licentiate (STL) from the Pontifical College of St. Thomas Aquinas (Angelicum) in Rome in 1989.
A visit to a monastery inspired him to enter the Order of St. Augustine in 1979. After completing his postulancy and novitiate, he professed simple vows on Aug. 13, 1983, and solemn vows on May 12, 1986, at St. Augustine Monastery in Monastery, Nova Scotia.
Father John was ordained a deacon on May 16, 1986, and ordained a priest on June 14, 1986, by Auxiliary Bishop Robert Clune of Toronto.
Father John had an active and varied ministry as a friar, educator and priest in various pastoral and academic assignments.
He was a pastor, retreat director, vocation director, and seminary teacher and formator. He served in various capacities in his religious order and for different dioceses. While in Rome he worked part time as a secretary for Cardinal Paul Augustin Mayer, OSB, at the Pontifical Commission Ecclesia Dei.
While teaching at Our Lady of Guadalupe Seminary in Scranton, Pennsylvania from 1997 to 1998, Father John became acquainted with members of the Society of St. Augustine. He became incardinated in the Diocese of Scranton and later became a member of the Society of St. Augustine on Oct. 19, 2002.
After serving (and merging) four parishes in Freeland, Pennsylvania, from 2002 to 2009, Father John came to Kansas City, Kansas, to help establish a new community of friars of the Society of St. Augustine. Archbishop Joseph F. Naumann met Father John and told him about the need for a Catholic priest at Donnelly College in Kansas City, Kansas. Father John became director of campus ministry and religious studies instructor at Donnelly.
"While at Donnelly, Father John touched the lives of countless students through campus ministry programming, RCIA, theology courses and [celebrating] daily Mass on campus. He also provided friendship and counsel to all faculty and staff, including the president and board of directors," said a 2020 "Donnelly Digest" article announcing his retirement.
Father John was known for his approachability, and people felt free to speak to him about any problems they had, and he inspired them to keep the faith during very difficult times in society and the church, said a friend.
Father John left the Society of St. Augustine in 2020, while retaining his status as a diocesan priest incardinated in the Diocese of Scranton.
"Father John was faithful to his prayers and spiritual duties," said Father Peter. "He enjoyed great theological conversations while having a nice vodka martini in hand, discussing the ecclesiastical issues of the day. And sometimes, stirring the pot to seek the truth of the matter or the best answer to his concerns."
He was preceded in death by his mother and is survived by his father.
Archbishop Naumann celebrated the funeral Mass on Jan. 25 at St. Mary-St. Anthony Church in Kansas City, Kansas. Burial was at Gate of Heaven Cemetery in Kansas City, Kansas.
Arrangements were by Skradski Funeral Home in Kansas City, Kansas.