by Moira Cullings
moira.cullings@theleaven.org
BURLINGTON — Mike Skillman's grandfather Albert was surely smiling down on the Catholics gathered at St. Francis Xavier Church here on Sept. 12.
At the Mass and dinner held in celebration of the parish's 150th anniversary, Skillman retold a story he heard as a child about his grandfather.
"My Grandfather Albert was on the parish council," he said, "and they were trying to modernize all the churches at the time."
Traditional altars were being torn down, but Albert didn't like the idea of changing such a prominent part of his home church.
"He stayed steadfast and said, 'I think we need to keep it,'" said Skillman.
The council decided to repaint the ceiling and renovate the altar instead.
"It was a cool story to know that at one point, they were trying to take away all that," said Skillman, "but he stood up for it and we still have this beautiful church."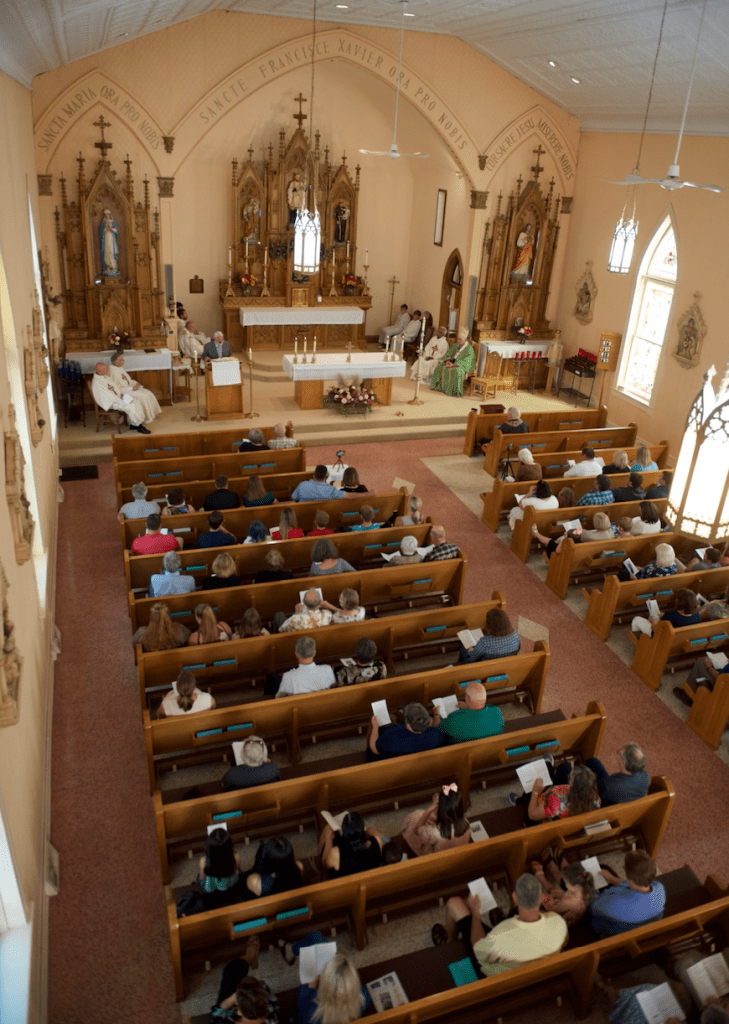 Before the sesquicentennial Mass celebrated by Archbishop Joseph F. Naumann, Skillman's granddaughter Acelynn, who is the seventh generation of her family to belong to St. Francis Xavier, was brought to that very same altar and baptized.
By that baptism, Acelynn joined her ancestors and the hundreds of parish family members who have gone before her in that community of faith.
St. Francis Xavier's current church building has been standing strong since 1902, but the parish itself was founded in 1871 with just 10 families.
Although they were not financially prosperous, they came together to build a small frame church, and they named it St. Francis Xavier.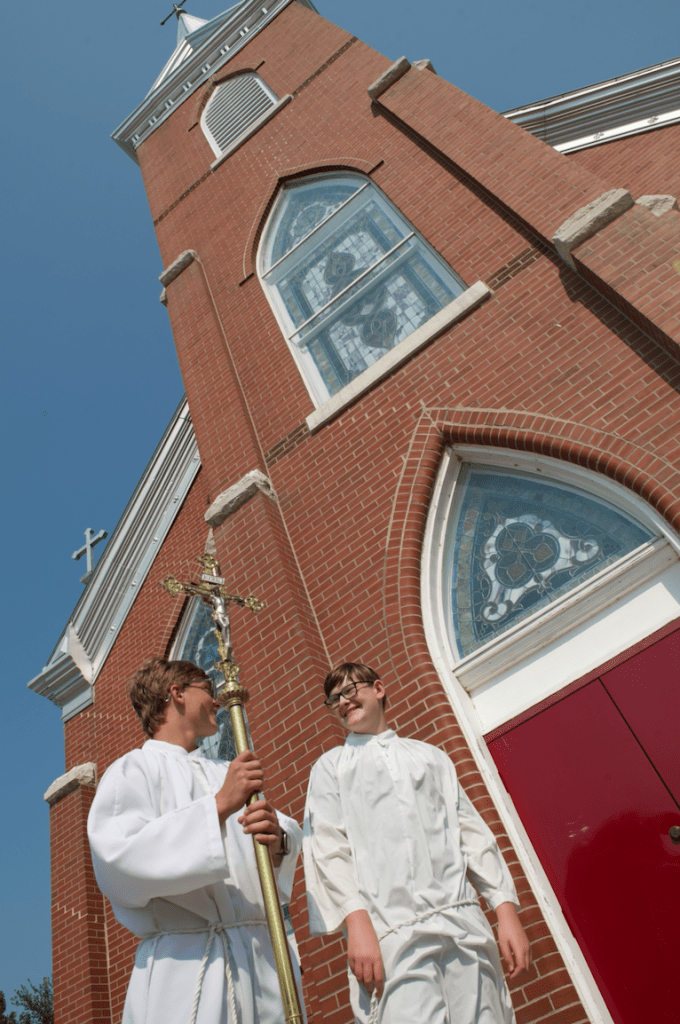 The parish continued to grow and is now made up of around 130 families.
Father John Samineni — parochial administrator of St. Francis Xavier; St. Joseph in Waverly; St. Patrick in Emerald; and St. Theresa, Westphalia — said he felt welcomed upon his arrival in Burlington last summer.
"The initial reaction was that I felt at home," he said.
Father Samineni felt an instant connection with the church because St. Francis Xavier spent time in his native country of India as a missionary.
He also noticed the style of the church building is similar to those back home.
"I felt at home in the church even though the people were new," he said. "And I love the people here."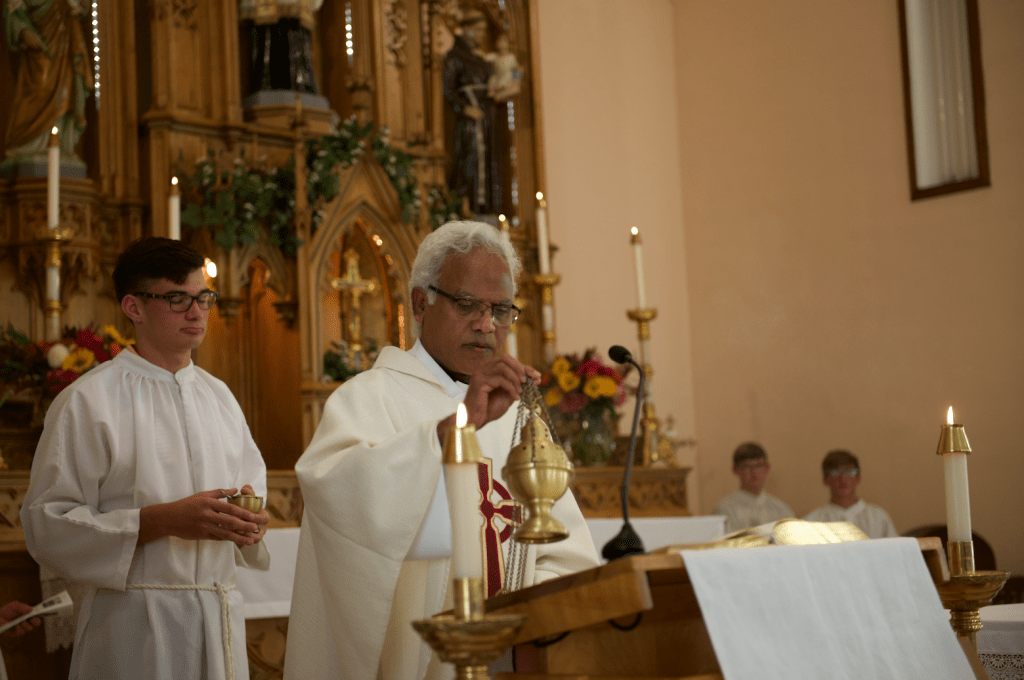 His sentiments were echoed by the five former pastors of the parish who came back to help celebrate the parish's anniversary.
"It really is a mark of the great affection these priests have for the community," Archbishop Naumann said during his homily.
"The joy that they have in serving this community and your sister parishes here in the south region [is palpable]," he added.
Fathers Earl Dekat, Francis Hund, Mike Hawken and Quentin Schmitz all concelebrated, and Father Ken Kelly was also present for the Mass. Father Anthony Saiki acted as master of ceremonies.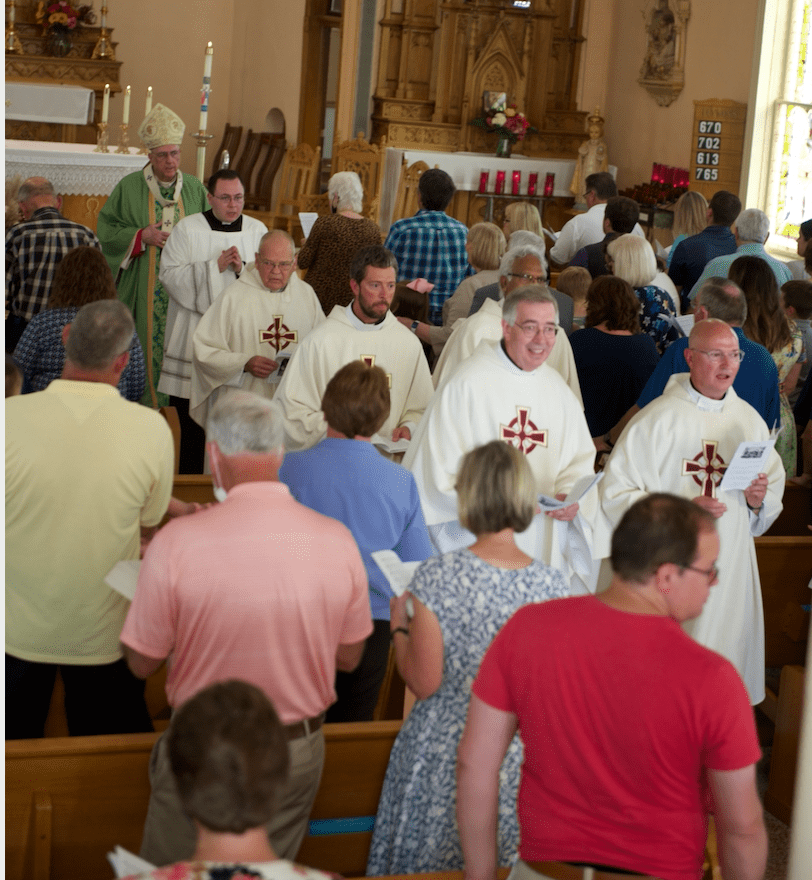 Father Hawken's time at the four parishes was his first ever as a pastor.
"So, these people helped break me in," he said. "They were easy on me.
"This whole four-parish community down here is just fantastic. They're faith-filled people, salt of the earth, [and they would] do anything for you. I love them a lot."
The parish community is a strong one indeed.
Andrea Jones came to Burlington at 30 years old after growing up in Topeka.
"Being in a small parish where everybody knows everybody, you really get to know your priests," she said.
"You don't have to be on a committee or in a Bible study like in a big parish," she continued, "where you get to know the priest because you're working on something.
"Here, your priest is a few blocks away."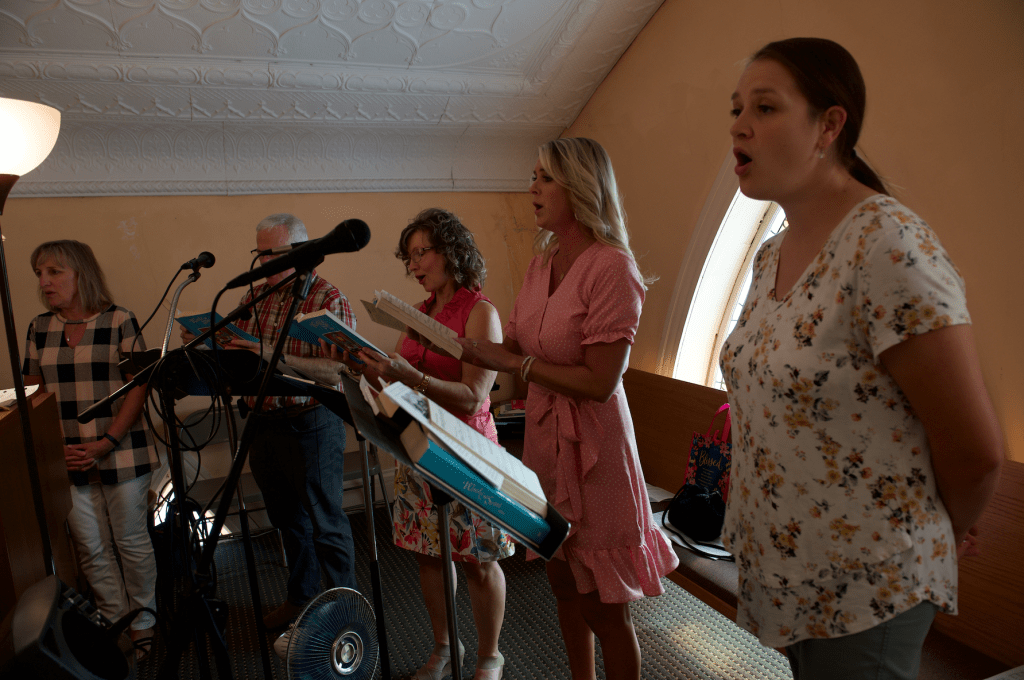 For Jim Decker, who grew up at St. Francis Xavier and whose family has been there for decades, the parish's unwavering presence holds a special place in his heart.
"It's what kept things running [for me]," he said. "Every family's got difficulties [and] hardships. And you've got to have something to lean on."
In his homily, Archbishop Naumann spoke of how moved he is by the deep faith of the Catholics in Burlington today, as well as 150 years ago.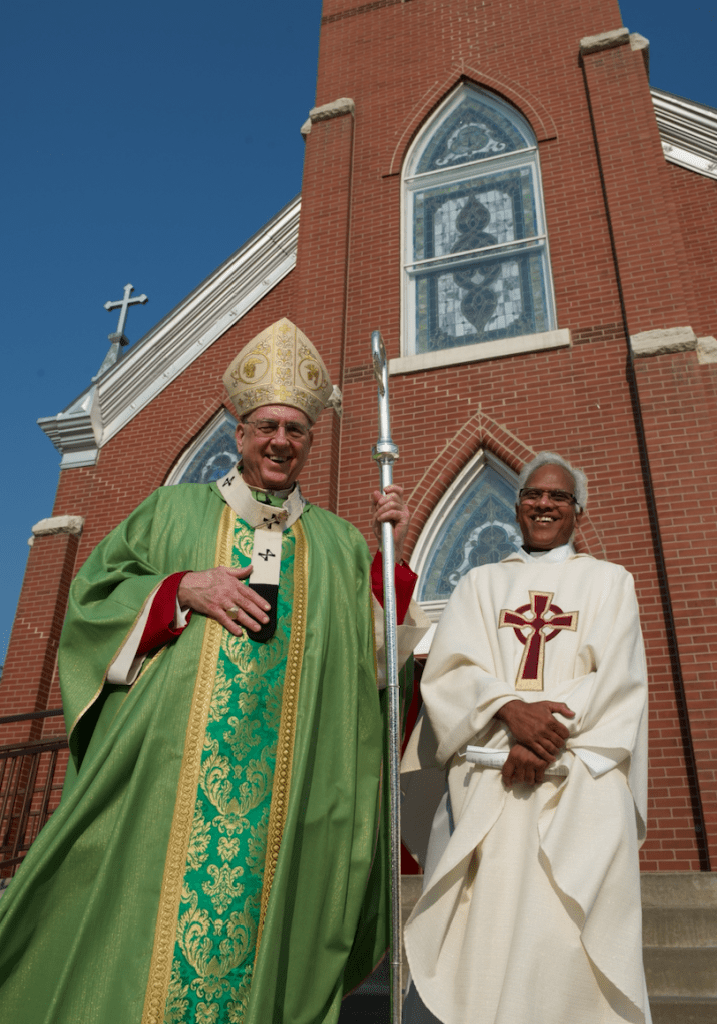 "It's inspiring to see the importance that those founding families put on the faith," he said, "[and] what they were willing to do and sacrifice, even though many times their financial means were rather modest.
"But the church was a priority for them, and certainly this beautiful current church of St. Francis Xavier is a symbol of that priority that the people in this community placed on it."
He concluded by expressing his hope for the community to continue cherishing their faith and passing it down to the generations to come.
"May it carry on the tradition of those who founded this parish," he said, "so that generations to come will know the truth that there is a God, and that this God loves us and pursues us and sent us Jesus Christ to be our redeemer and savior . . . who gives meaning to our suffering and promises us eternal life."