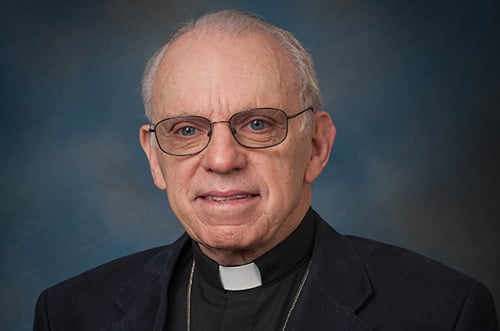 by Joe Bollig
joe.bollig@theleaven.org
LAWRENCE — The priesthood was his life, and Father Lawrence D. Albertson, 81, served joyfully into retirement, until advancing ill health reduced his activities to prayer for others.
Father Larry Albertson — he preferred to be called "Larry" — died on March 9 in hospice care at Brandon Woods at Alvamar in Lawrence.
He was born on Dec. 5, 1938, In Parsons, the oldest son of Orville and Frances (Giefer) Albertson. Jerry was his only sibling. Growing up, he attended a succession of grade schools. For high school, he entered the Brunnerdale Minor Seminary in Canton, Ohio, run by the Missionaries of the Precious Blood, then St. Joseph's College in Rensselaer, Indiana.
After deciding he did not want to continue in the Precious Blood order, he became an archdiocesan seminarian and studied philosophy at Cardinal Glennon College and then theology at Kenrick Seminary, both in St. Louis.
Father Albertson was ordained a priest of the archdiocese on May 29, 1965, at the Cathedral of St. Peter in Kansas City, Kansas.
His first assignment was at Holy Name Parish in Topeka. He went on to several parishes over the years, even becoming the founding pastor of the Church of the Ascension in Overland Park.
Father Albertson served the longest — 14 years — at Queen of the Holy Rosary Parish in Wea-Bucyrus.
"He always said he wanted to be buried there in its peaceful little cemetery," said Amy Albertson, wife of Father Albertson's nephew Tim.
Father Ron Livojevich, a retired priest living in Overland Park, was newly ordained when he met Father Albertson in 1970 at St. Agnes Parish in Roeland Park.
"I would describe his ministry to the sick as quietly legendary," said Father Livojevich. "He would visit the sick 28 days out of 30. He was always visiting the sick and had a great love for that. He also brought holy Communion to people in jails, homes and institutions."
Msgr. Vince Krische, retired but assisting at Corpus Christi Church in Lawrence, was part of a three-priest pastoral team in the late 1970s that included Father Albertson.
"[Father Albertson] was interested in the diocesan priesthood and concerned about every aspect of the church," said Msgr. Krische. "He loved his family and was interested in religious education. . . . People loved him."
Msgr. Greg Gier first met Father Albertson in 1967 through a mutual priest-friend. They all became part of a group of priests who would go on vacations occasionally.
"The priesthood was his whole life," said Msgr. Gier, rector emeritus of Holy Family Cathedral in the Diocese of Tulsa. "He was very dedicated to his people."
Paul and Marilyn Murray got to know Father Albertson during his final years at Queen of the Holy Rosary in Wea. Chronic health problems made his ministry increasingly difficult, and Marilyn was able to help with her skills as a nurse.
After 65 years in active ministry, Father Albertson retired on July 1, 2016, to Villa St. Francis in Olathe and then Silvercrest at Deer Creek Senior Living in Overland Park.
"Father Larry missed celebrating the Mass, so I said, 'Let's try having Mass here,'" said Marilyn. "What started out as a very small, in-apartment Mass turned out to be Mass for 60 people every Saturday at 4 p.m. We had all the Holy Week services!"
For three years, he continued to celebrate Mass, hear confessions, and anoint the sick — so much so, that some of the residents and staff began calling it "St. Silvercrest Parish."
The residents, who would either go without any sort of parish life or have to be bused to a nearby parish, deeply appreciated Father Albertson's ministry.
A funeral Mass was celebrated on March 13 at Queen of the Holy Rosary Parish. Burial in the parish cemetery followed the Mass.