by Joe Bollig
joe.bollig@theleaven.org
ATCHISON — No doubt you've seen plenty of pickup truck commercials on television — ones with manly men like firefighters, loggers and construction workers hauling big loads over rugged roads and rough terrain in their trusty trucks.
Maybe it's time they added a Catholic priest — one like Father Hughes Sundeme.
Sometime soon, Father Sundeme will be powering his way across the savannahs of north-central Ghana, West Africa, in his gray 2022 Toyota Tacoma TRD Off Road pickup. He'll be bringing sacramental succor and temporal assistance to his far-flung flock in the Archdiocese of Tamale.
It sure beats that worn-out '97 Buick he used to drive around Atchison.
The story of how Father Sundeme arrived in the Archdiocese of Kansas City in Kansas in the first place, and the how and why he got the truck, are a lot like a drive across the savannahs of Ghana.
It may take a while, but we'll get there.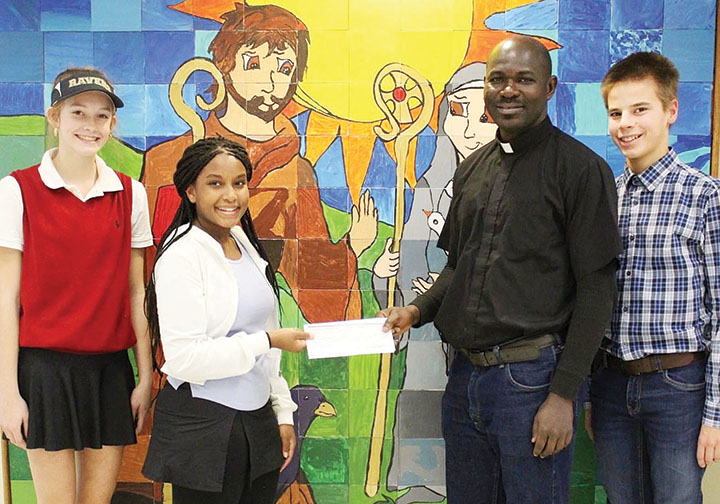 The Archdiocese of Tamale is 7,059 square miles of grassy plains and scrub, a little smaller than New Jersey. It's a poor, rural area with 70% of the population engaged in subsistence farming. It has mostly dirt roads.
"It is sometimes impossible to minister in the rainy season without a [vehicle]," said Father Sundeme. "The area experiences heavy rainfall, especially during the rainy season. Sometimes no pastoral work is done because of the lack of means of transport."
Muslims are about 84% of the population. Those who follow traditional African religions are 21.3% and Christians are 13.7% — and of those, Catholics are just 2 %.
The scattered Catholic flock is served by priests traveling the long distances on bad roads to mission stations.
"A means of transport also helps provide social services to the entire community," said Father Sundeme. "There are times priests use their cars as ambulances to carry sick people or pregnant women to delivery centers or hospitals."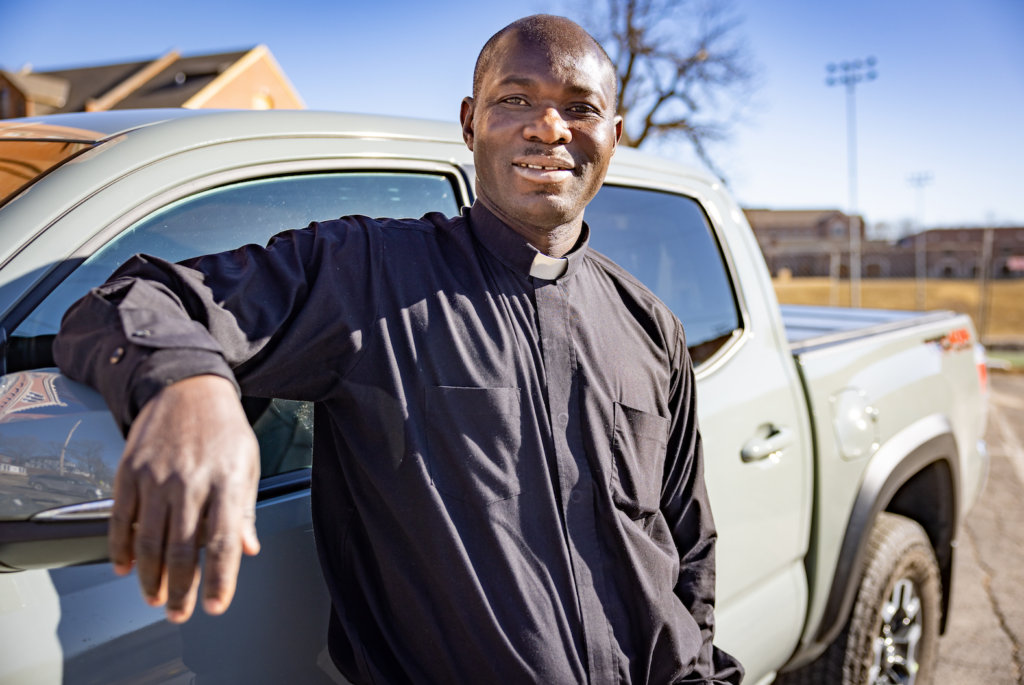 Father Sundeme, 44, has been a priest of the Archdiocese of Tamale for eight years. With the permission of his archbishop, he traveled to Kansas in December 2017 to study for a master's degree in business administration at Benedictine College in Atchison.
"As part of my scholarship of study, [St. Benedict's Abbey] offered me boarding and lodging, and the college offered me tuition," said Father Sundeme. "That was an experience for me, but I loved it. I did everything [the monks] did —except I am not a monk."
Since Father Jeremy Heppler, OSB, the pastor of St. Benedict Parish, didn't have an associate, Father Sundeme helped out with weekend Masses there.
Father Sundeme became friends with associate professor Christi Adams and her husband Brian, and professor David Harris and his wife Jacki. Adams had gone on a mission trip to Ghana in 2016.
"I graduated in May 2019," said Father Sundeme. "So, I thought I was going back. Doctor Harris and Doctor Adams asked me what they could do to help me in my ministry back home"
In a single word: transportation.
"At the time, he didn't have much money at all," said David Harris. "He knew he'd need a truck to handle the rough terrain and roads. He stated in a humble way that this would probably be the vehicle he'd have for the rest of his life. It struck us as a real need."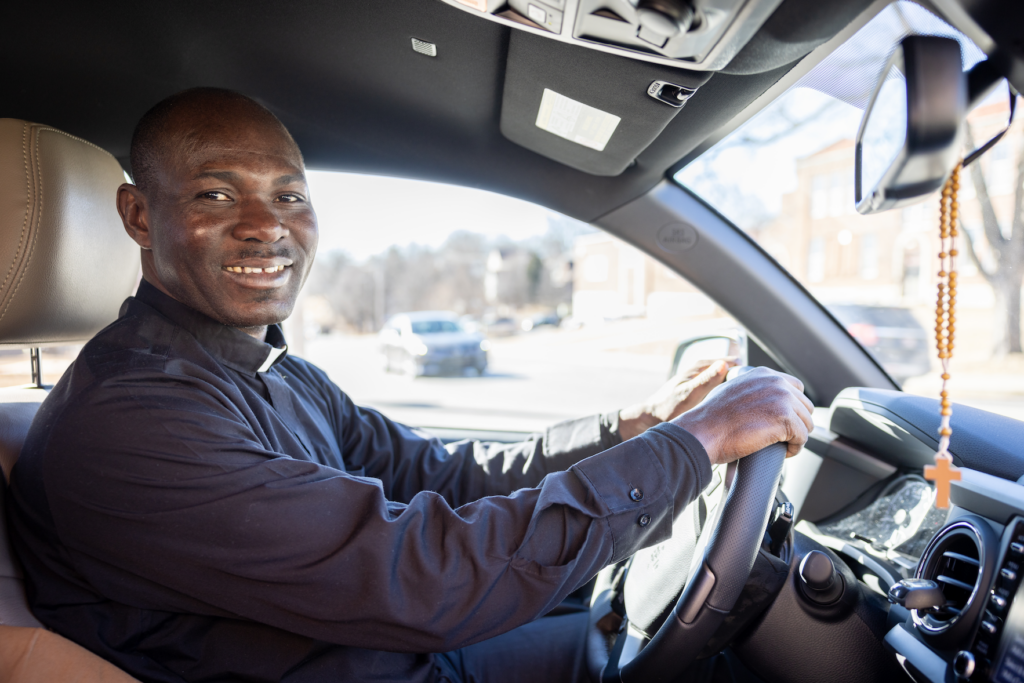 But time was needed to raise money to buy the truck.
"Fortunately, I also told my archbishop from Ghana of the need, after my studies, to have pastoral experience in the United States, and also to help raise some funds for the means of transport," said Father Sundeme.
Archbishop Philip Naameh in Ghana was willing, and Archbishop Joseph F. Naumann was happy to have Father Sundeme serve here. He was named administrator of St. Ann Parish in Effingham, St. Mary Parish in Purcell and St. Louis Parish in Good Intent in 2019.
While Father Sundeme was saving every penny he could for his truck, the Harris family and a few others organized a multifamily garage sale in the summer of 2021 that raised about $3,000.
Then, Jill Thorne, a St. Ann parishioner, was contacted by her friends Christi Adams and Jacki Harris. They explained Father Sundeme's plight to her. Thorne talked to St. Ann parishioners, and the Knights of Columbus sent a letter to the three parishes asking for help. Parishioners responded, donating $21,000 by December 2022.
Then, Luke Harris, 14, an eighth grade student at St. Benedict School in Atchison, and a son of David and Jacki Harris, decided to get his school involved.
Luke is a member of the Servant Leaders, which is like a student council. The Servant Leaders held a bake sale in May 2022, and a "non-school-uniform day" this past September. Between both fundraisers they collected about $1,300, which was presented to Father Sundeme in January 2023.
Little brother helped, too.
"My younger son John is 11," said David Harris. "He and a good friend share the same birthday in August. For their party, they asked everybody to just bring some money to donate for the same effort."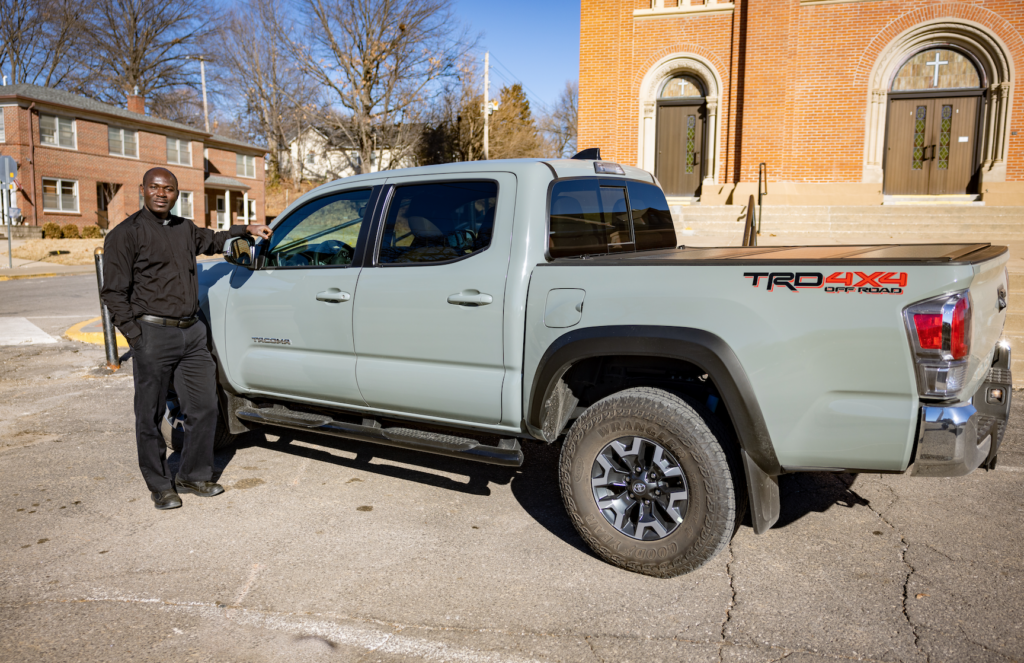 With his own savings and the money raised by his friends and parishioners, Father Sundeme was able to buy the Toyota Tacoma.
"Toyota is highly recommended as an ideal means of transport for the terrain in my part of the archdiocese, where the roads are virtually laden with potholes," said Father Sundeme. "This is a [vehicle] for all seasons, as it is very reliable, robust, tough and stable on the rugged roads. It has higher clearance. There are also available spare parts. And mechanics are familiar with Toyotas."
Nonstandard but necessary features like a cattle guard for the front, step bars and a trifold hard cover for the bed were added. And there were also sales tax, dealer fees, insurance, property tax, title and registration costs.
Father Sundeme now has his truck — but no money to ship it back to Ghana. And that will be very expensive.
The clock, moreover, is ticking.
"My visa expires next June 2024," he said.
And that's if his archbishop doesn't ask him to head back earlier.
So where does all this leave Father Sundeme?
Well, his saga continues.
Suffice it to say that if you're looking for him, you might just find him back at the drawing board.