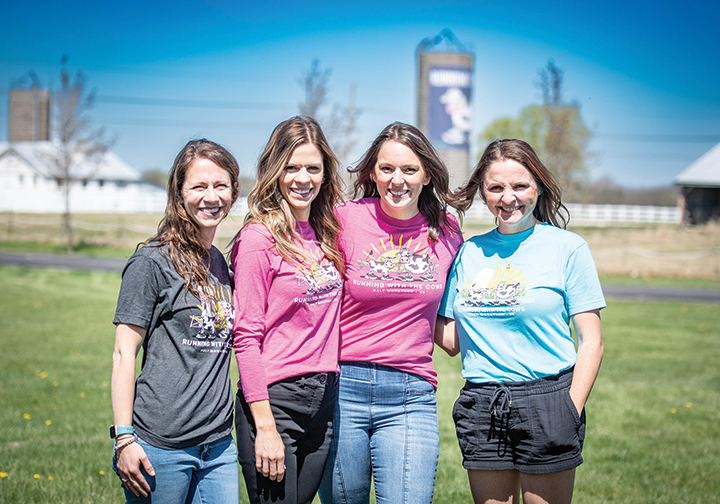 by Todd Habiger
todd.habiger@theleaven.org
BUCYRUS — Running with the Cows was dead. The popular 5K/half-marathon run that served as a fundraiser for Queen of the Holy Rosary School here was calling it quits. Father Gerardo Arano-Ponce, pastor of Queen, announced it from the pulpit in June of last year. An email went out to everyone on the Running with the Cows mailing list. The run was over.
But then it wasn't.
Revival
Running with the Cows was still successful in 2022 but not like it was before COVID. And the kids of many of the original organizers of the event had graduated from the parish school, leaving some of their parents hoping to retire from their organizing roles.
To some, it seemed like the best thing to do was to just shut it down.
But the announcement of Running with the Cows' demise did not sit well with many parishioners.
"As soon as Father (Arano-Ponce) announced it was over, I got a pit in my stomach," said parishioner Heather Woods. "It provides great support for the school but it's also a big event for our community. It's something that people in this community look forward to. They like to participate in it. It also brings in people that have never been here and shows them what we are all about."
For Madison McDonald, the reaction was much the same.
When they announced the race was over, many people said, "'Oh, no, we need to save the race,'" she said. "It's very important for the school. I think it brings the school, the school families and the parishioners in the community together."
So Woods, McDonald and another parishioner — Katarina Walker — banded together to save the race.
The only problem was, they had no idea what they were doing.
The return
Just as quickly as it was canceled, Running with the Cows returned with the new group of organizers, who were strong in spirit but short on experience.
"There's just a lot more that goes into the race than you realize," said Walker. "We've hit multiple speed bumps along the way, but our team really has each other's backs, and we are there for each other to brainstorm around whatever hurdles we encounter."
One of the group's first big decisions was to recruit someone with some experience. Enter Kelli Dorrell.
Dorrell served as the Running with the Cows race director in 2022 — something she told herself she wasn't going to do in 2023.
But when the call came, it was one she felt compelled to answer.
"I'm not good about saying no to a lot of things," said Dorrell. "I love my community."
"Kelli's a great mentor, a great liaison. She's done a lot of events," said Woods. "Having someone with that experience and connections, and who's always willing to help to make things successful, is critical."
Planning Running with the Cows is a yearlong process that runs a gamut of responsibilities. There's ordering the T-shirts, raising sponsorship money, asking for food donations, overseeing volunteers, creating and printing flyers, publicity, road closures, working with law enforcement . . . the list goes on and on.
There's also the actual race, which will have a different look this year. For various reasons, the race route that had been run for 13 years had to be changed.
What can runners expect from the new race course?
"More cows. A lot more cows," said Dorrell. "A lot more country. A little less congestion. I anticipate a more quiet, scenic route."
Girl power
One of the by-products of planning Running with the Cows has been the strong fellowship the women have created among themselves.
"During this whole process we've created great friendships," said McDonald. "These girls are my friends forever, whether we do this again next year or not — which we will. But these girls will always be my friends."
Dorrell couldn't agree more.
"It's about girls and girl time and working together for a common goal and sharing laughter and jokes all for the goodness of the Lord and raising money for our beloved school," she said.
"I went into this with the notion of, 'I'm going to give my time to God and I'm going to do something supportive of my community,'" said Woods. "But I gained much more. I consider these women my closest friends. It's been life-changing to have a very supportive group of women around me."
Finish line
Running with the Cows will be held on May 13. More than 1,000 runners have already registered and there's always room for more.
For the women involved, it's a culmination of nearly a year's work. But for all their efforts, the race isn't about them.
"It's really about seeing the community come together," said Walker. "While we've done a lot of the grunt work and planning, it really is a community-based event.
"Getting to share our faith and the joy of the community with so many people who aren't Catholic and who love coming and spending the day with us — it's a great way to evangelize."