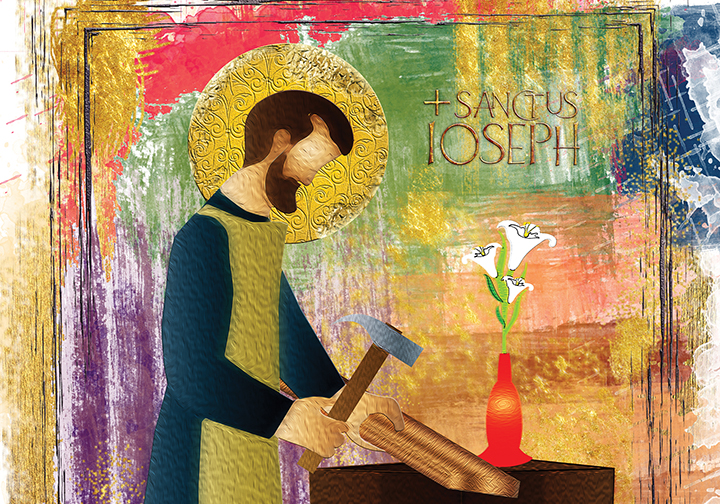 by Marc and Julie Anderson
mjanderson@theleaven.org
Ite ad Joseph.
Translated, the Latin phrase means, "Go to Joseph."
Pope Francis is encouraging Catholics to do just that — to go to St. Joseph during this Year of St. Joseph which began Dec. 8, 2020, the 150th anniversary of the saint's proclamation as patron of the universal church. The year ends Dec. 8.
In announcing the year, Pope Francis released "Patria corde," an apostolic letter in which he offers reflections about St. Joseph. He writes: "Joseph had the courage to become the legal father of Jesus, to whom he gave the name revealed by the angel: 'You shall call his name Jesus, for he will save his people from their sins' (Mt 1:21). As we know, for ancient peoples, to give a name to a person or to a thing, as Adam did in the account in the Book of Genesis (cf. 2:19-20), was to establish a relationship."
'Mystery man'
For Melanie Savner, a member of Holy Angels Parish in Basehor, establishing a friendship with St. Joseph helped her not only grow in spirituality but to also find love again.
Late in 2006, Savner suddenly found herself alone when her husband of 25 years died.
The following year, her supervisor Father Brian Schieber, pastor of St. Michael the Archangel Parish in Leawood, but then head of the archdiocesan vocation office, decided one of the seminarians needed a helping hand.
"One of our seminarians, now Father Oswaldo Sandoval, was trying to get through the immigration process to get a student visa to be able to enter seminary college," Savner said. "Time was running out, and if he didn't get it, he'd have to go back to El Salvador."
Although chancery staff usually pray the Angelus at noon, Father Schieber asked everyone to also pray to St. Joseph for assistance with the seminarian's visa. Thirty days later, on the last day, the visa came through.
Fresh off that experience of St. Joseph's intercession, Savner accepted an invitation that summer from Father Schieber to join a pilgrimage to the Oratory of St. Joseph in Montreal. The church is the largest in the world dedicated to St. Joseph.
During a Mass celebrated in the crypt by Father Schieber, Savner decided to "go to Joseph" for assistance.
"Basically, I was praying for help — for help with the rest of my life now that I was a widow and for help in finding a good man," she said.
"Right before Communion, I started getting really teary," Savner said. "In my mind, what I felt was the Holy Family saying to me, 'You're going to be all right. We're going to take care of you.'"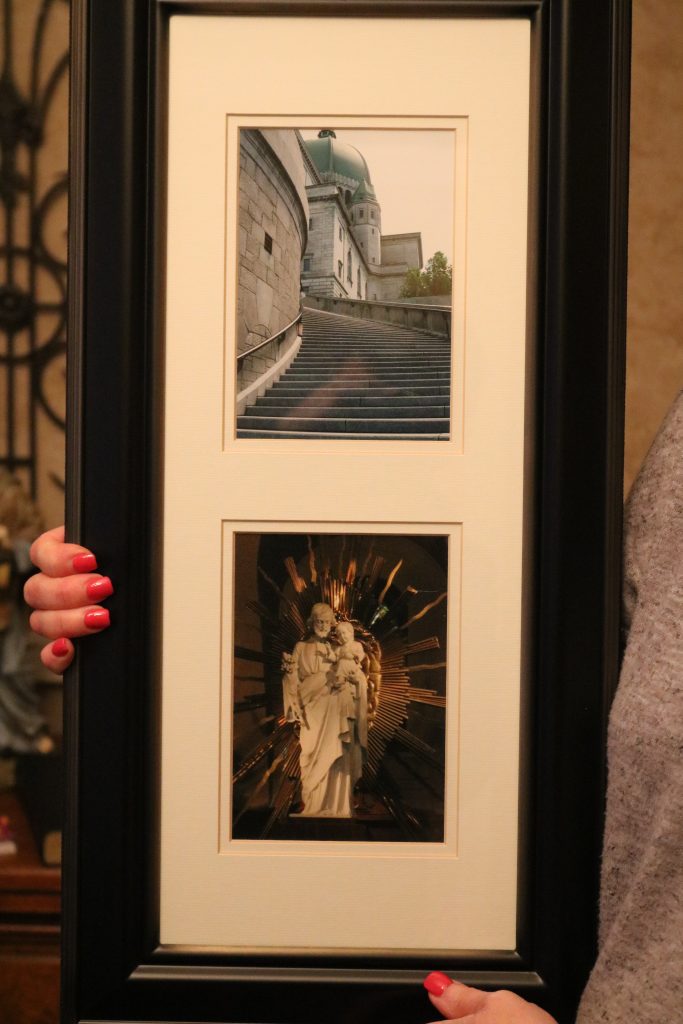 Despite that assurance, Savner admits her faith in St. Joseph wasn't always unshakable.
"I thought it was going to be impossible to find somebody," she said. "I worked at the chancery with priests and seminarians, and our parish had — well, if I saw a single man, he was older."
Part of that, she now recognizes, was her desire to predetermine the outcome.
"I kind of wanted to dictate what sort of man [I wanted]," said Savner, "like give [St. Joseph] a profile of what I wanted. But then, I realized that is so wrong. I needed to just surrender and just let him be in charge."
One Sunday morning, in November 2008, while scrambling to find a seat at Mass, she found herself in the middle of a pew.
"I noticed there was a man next to me by himself, and I was really impressed that he dressed nice — like he took the time to wear nice clothes to Mass — and he was singing and participating in everything. That just got my attention," she said.
She didn't give him much more thought, at first anyway.
The following Sunday, she found herself scrambling for a seat and ended up next to him again. After Mass, she introduced herself and exchanged pleasantries. While Savner was gone for the Thanksgiving holiday, her friend Denise struck up a conversation with him after Mass, helping to break the ice for the two.
The next time Savner was at Mass, the man, whom Savner often refers to as her "mystery man," saved her a seat, and the two talked afterward over breakfast.
In April 2010, after nearly two years of dating, the couple married at Holy Angels Church. While Savner said her husband Mark did not fit her profile, "he is the best match" for her.
She said she never should have doubted St. Joseph for a second — nor try to dictate to him what she thought was best for her life. She often recommends St. Joseph to those looking for a spouse, sharing her story, and she hopes the Year of St. Joseph will lead others to "go to Joseph" and establish a friendship with him.
"As hard as I thought it would be to find somebody, God put somebody, with the help of St. Joseph, right next to me in church twice," she said.
A father's example
Unlike Savner, Mike Easterday, a member of Corpus Christi Parish in Lawrence, said he didn't experience any single dramatic moment with St. Joseph, but just followed his father's example of honoring the saint.
Years ago, he wrote a paper titled "St. Joseph: What I Learned," a summary of his research into the saint. Eventually printed in booklet form, more than 600 copies have been distributed to others.
"I'm not a professor. I'm not a writer, but I started reading books about St. Joseph out of curiosity," said Easterday. "I got into a discussion with a priest one time about some of the things I was reading."
By the time Easterday's research was finished, he had read more than 50 different sources, and his love for St. Joseph had grown. Reflecting upon the Year of St. Joseph, Easterday said he hopes others will "go to Joseph" and learn from him.
'Never about him'
Learning from St. Joseph is important to Gary Pratt, a member of Holy Family Parish in Eudora.
Although he had a friendship with the Blessed Virgin Mary, Pratt admits a relationship with St. Joseph didn't seem to make sense. Then, he got married. As husband and father of seven kids, Pratt said he realized early on he needed a role model.
"St. Joseph was always an enigma because he's got so few speaking parts," he said. "I couldn't figure out how I was going to relate to him. . . . St. Joseph seemed to be the perfect father but without a whole lot of explanation about that."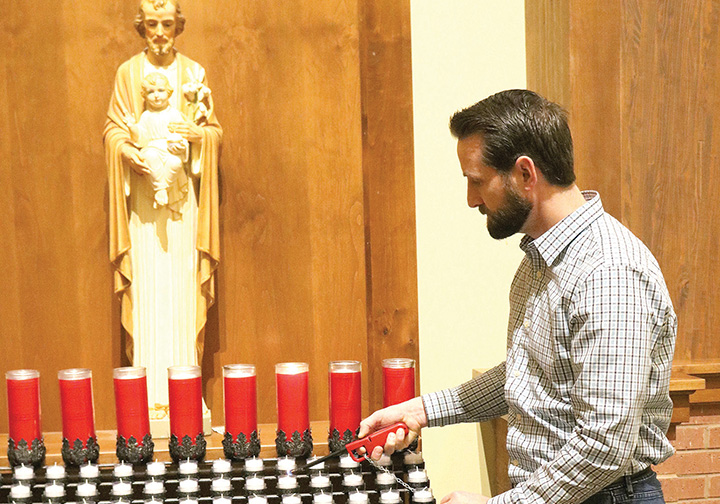 Somewhere along the line, Pratt learned that St. Joseph is "not only a pillar of strength but also a pillar of meekness in a sense that meekness is controlled strength." He also realized that St. Joseph never seeks the limelight.
"It's never about him," Pratt said.
And that's instructive.
"Marriage and fatherhood involve a surrender to other people besides yourself," Pratt said. "The opposite of that is selfishness. That's where I focus on, asking for help to put others first."
Recently, Pratt saw "Joseph of Nazareth," a movie which he said really brought to life the struggles St. Joseph might have had in life. Despite the struggles, Pratt said St. Joseph trusted God in all aspects of his life, just as he is called to do in his own life.
This year, Pratt said, provides him and the entire church opportunities to "go to Joseph" by making a personal consecration to St. Joseph, praying a novena or simply by entrusting one's daily work to the saint's intercession.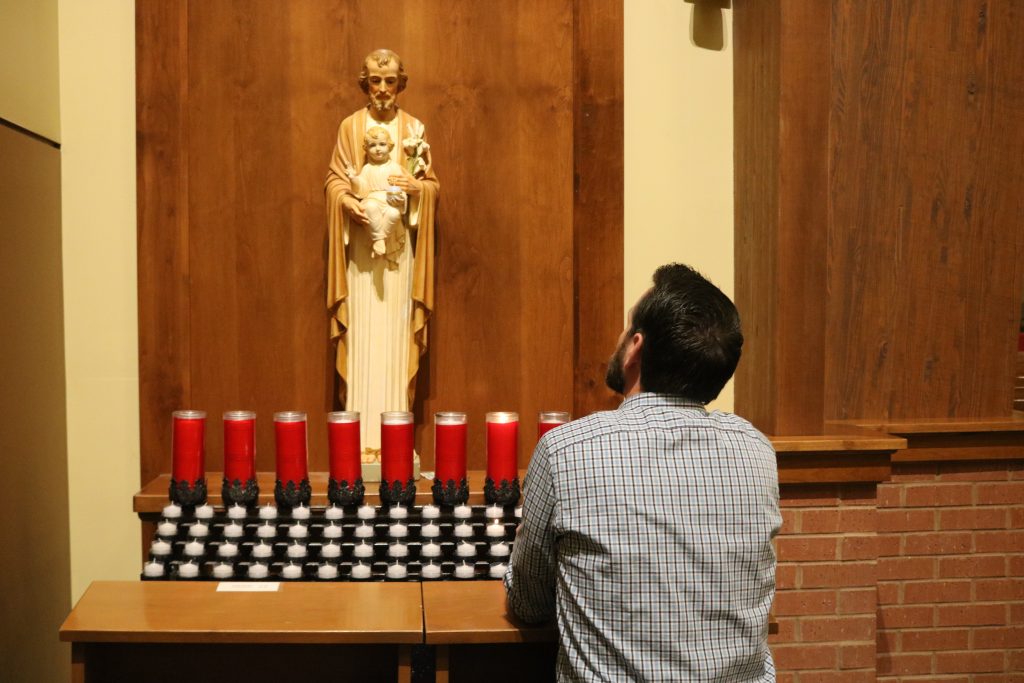 "When you go to St. Joseph," he concluded, "you are asking your dad to walk you to the feet of your savior."
Model of virtue
Father Tim Haberkorn, who grew up in St. Joseph Church in Topeka, cannot recall a time when the saint was not part of his life. Assigned now as pastor of the merged Sacred Heart-St. Joseph Parish there, he recognizes that this is where his vocation story starts.
As a child, he gazed in awe at a statue of St. Joseph perched above the main altar. Now, during this year dedicated to one of the parish's patrons, he encourages his parishioners to "go to Joseph" and grow in virtue.
"I think the virtues he can teach us are faith and trust in the Lord," he said. "A very, very clear virtue of St. Joseph that all of us could use in our lives is the virtue of patience. . . . Think how patiently he waited for the Lord's direction through an angel in his life, how patiently he dealt with all of that. I think that's a virtue we can all seek in our own lives: patience not just with ourselves but patience with each other."
Finally, at a time when marriage and family life are under attack, Father Haberkorn said St. Joseph provides a role model for families.
"We need those role models of Joseph and Mary in our lives. What I always tell people . . . is that the Holy Family isn't holy because everything in their life went perfectly. They're holy because of their faith and trust in God and his divine providence."