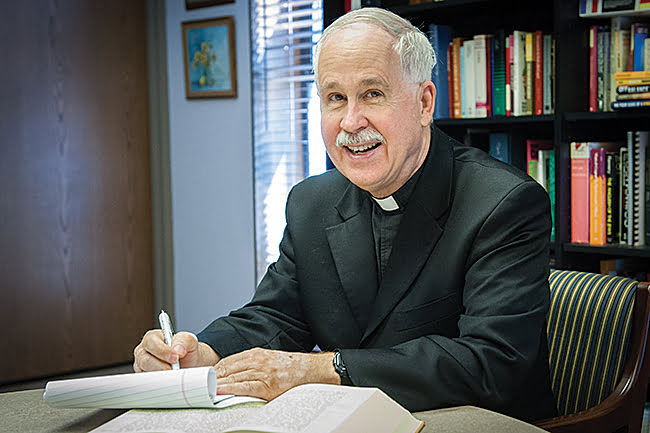 by Father Mike Stubbs
hen I invite parishioners to become involved in a ministry, they often ask me how much time it will take and what skills will it require of them.
They want to know the specifics. They hesitate to commit themselves to a ministry that is open-ended.
But in Sunday's first reading, Gn 12:1-4a, God invites Abram to enter into a commitment noticeably lacking in details. God calls Abram "to a land that I will show you."
The vagueness of this call anticipates a similar call that God will make later on to Abram, who at that point will have his name changed to "Abraham."
Then, God orders him to sacrifice his son Isaac "on a height that I will point out to you" (Gn 22:2). I'm not going to tell you where. Just go where I tell you.
In both of these instances, God is testing Abram's faith, his willingness to trust in God. Similarly, God is challenging Abram to demonstrate that faith by his obedience to God.
God is calling Abram to leave his comfort zone: "Go forth from the land of your kinsfolk and from your father's house." God is inviting Abram to enter into a world of unknowns, a world where the specifics are unclear, the future uncertain.
God speaks to Abram, but notice that Abram does not say anything back. Instead, he responds through action: "Abram went as the Lord directed him."
Besides issuing Abram a command, God also promises him blessings: "I will make of you a great nation, and I will bless you; I will make your name great, so that you will be a blessing. I will bless those who bless you."
Once again, aside from the mention of Abram's posterity, the promise lacks many specifics. This vagueness often marks a covenant. Compare the vows of marriage: "For better and for worse, for richer and for poorer, in sickness and in health." That covers a lot of ground.
The call that God makes to Abram parallels the call that God makes to us. We similarly are invited to venture into the unknown. We also are invited to place our trust in God, to respond to that call by our obedience to God's will.
Our journey through life also can be a journey of faith. And it also will result in many rich blessings.
Our journey through the 40 days of Lent helps us to understand that journey.