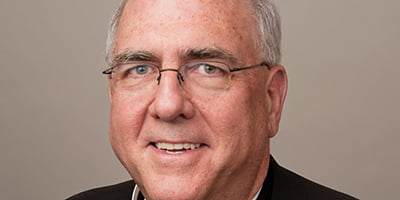 by Archbishop Joseph F. Naumann
We begin the month of November in the church's liturgical calendar with the twin feasts of All Saints and All Souls.
This year's prayerful commemoration of those who have died had a special poignancy for me because of the recent deaths of friends and family members.
Two weeks ago, I traveled to Munster, Ind., just outside of Chicago, to preside at the funeral Mass of my cousin, Jeff Gerdes. Jeff was the fifth of my Aunt Dolores and Uncle Ken's eight sons.
From childhood, Jeff always had a winning personality. He never met a stranger and made friends quickly. He connected easily with other people, finding common interests and humor in the most unlikely of situations.
About five years ago, Jeff was diagnosed with incurable bone cancer. Some months after his diagnosis, he actually broke his neck by sneezing because of the fragile brittleness of his diseased bones. Living alone and with his legs paralyzed, he had to pull himself across the floor with his arms to reach the phone and dial 911.
Amazingly, through the grace of God and the skill of some remarkable surgeons, they were able to fuse his upper vertebrae so that he could walk again, although he was never without pain in his neck.
The night of the wake, I asked one of Jeff's nieces, Cathy, if she had a favorite "Uncle Jeff memory." Cathy is a sophomore in high school and plays on the junior varsity volleyball team. About six weeks ago, Jeff had gone to one of Cathy's games. Very few fans come to junior varsity games and the ones that did never cheered. Cathy's team had never won a game. Before the first period was complete, Jeff had organized the small section of fans into a cheering machine. Cathy's team won their first match and Jeff had become a legend with her teammates.
Despite his personality and keen sense of humor, Jeff's life was not easy. He had married at a fairly young age. His wife was a nondenominational, evangelical Christian. Jeff quit practicing his Catholic faith and started to attend his wife's church.
Of course, our family was saddened by Jeff's abandonment of his Catholic faith. However, Jeff began to study the Bible more intensely than he ever had as a Catholic and, for the first time, developed a personal relationship with Jesus in prayer. His brothers found him a bit overbearing with his newly acquired biblical literacy and were greatly relieved when I was able to defeat him in a game of Bible Trivia. All those seminary Scripture classes proved useful.
Sadly, Jeff and his wife divorced after only a few years of marriage. His wife was granted custody of the children and, after a few months, disappeared. For more than 10 years, despite hiring private investigators to find them, Jeff never saw his children.
Jeff frequently challenged his brothers and later his sons never to complain, criticize, or condemn. He followed his own advice well. Despite his many emotional and physical sufferings, he did not complain. Though he had been mistreated by individuals he loved and trusted, he did not criticize or condemn them.
Oddly, his last years, despite his illness and physical suffering, were grace-filled in many ways. During this time, he experienced the tremendous blessing of reconnecting with his children. His terminal diagnosis made him face death squarely. This motivated him to return to the practice of his Catholic faith.
Jeff read some of the articles that I had written on the sacrament of reconciliation. They helped to pave the way for him to go to confession. Almost every time that we spoke in recent years, he would thank me for what I had written and express what a tremendous grace it was for him to experience the mercy of God through that beautiful sacrament.
He faithfully participated in Mass every weekend and developed a true love for the Eucharist. Having been away from the sacrament for so many years, Jeff treasured the gift of Our Lord's unique presence in holy Communion.
Jeff also developed a beautiful devotion to Mary, particularly by praying the rosary — something he had done as a child with his family. As an adult, he came to appreciate Mary who always draws us closer to her son, Jesus.
One of Jeff's weaknesses was that, in some areas, he was a procrastinator. In his last years, he had to apply for disability benefits. Of course, this involves a lot of paperwork. Jeff just never could find time to fill out all of the forms.
One of Jeff's brothers assisted him with this tedious task. We hope that there are no forms to be completed to get into heaven or Jeff may be waiting for his brother's arrival. Though Jeff's death was a sadness for our family, we found great consolation in knowing that he was well prepared spiritually. In his last years, Jeff encouraged other family members and friends to rediscover the gift of their Catholic faith. Jeff's life and death reminded me that God can use even what appear to be terrible tragedies in our life to accomplish great good.
Eternal rest grant to Jeff, O Lord. May his soul and the souls of all the faithful departed rest in peace! Amen.