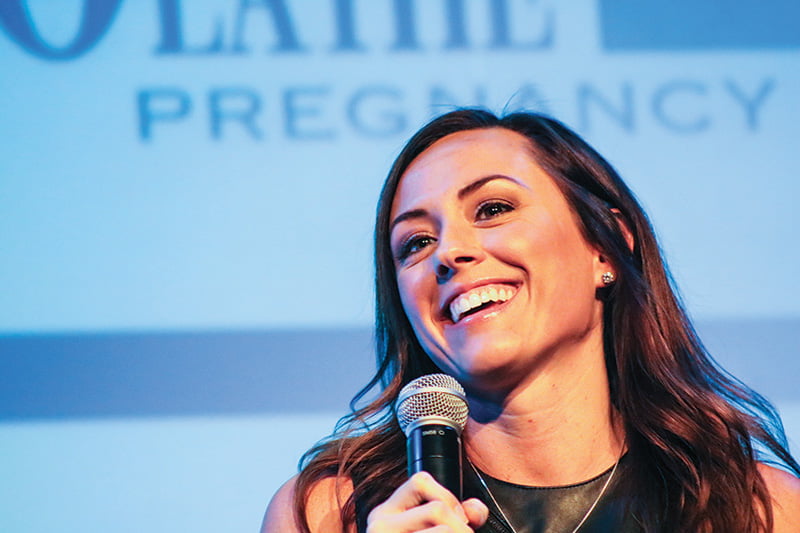 by Marc and Julie Anderson
mjanderson@theleaven.org
OVERLAND PARK — A year of transitions.
That's what Diane Drouhard called the past year for both the Wyandotte and Olathe Pregnancy clinics.
In February, Drouhard accepted the role of executive director for the Olathe Pregnancy Clinic and Leah Conner became executive director of the Wyandotte Pregnancy Clinic. Both women spoke during the "Evening for Life," an annual fundraiser held Sept. 5 at the Overland Park Convention Center.
The event included a reception, dinner, recognition of Archbishop Joseph F. Naumann and a keynote speech by Ashley Bratcher, known for her performance as Abby Johnson in the movie "Unplanned."
In her remarks, Conner said she had big shoes to fill.
"I quickly learned that this mission actually has very little to do with me," she said. "It functions entirely by the grace of God, by the dedicated staff, the courage of our clients, the countless volunteers and the generosity of our donors.
"So, I personally want to say thank you to every one of you who are here tonight and to those not present also. It's your thoughts, prayers and support that make this whole thing possible."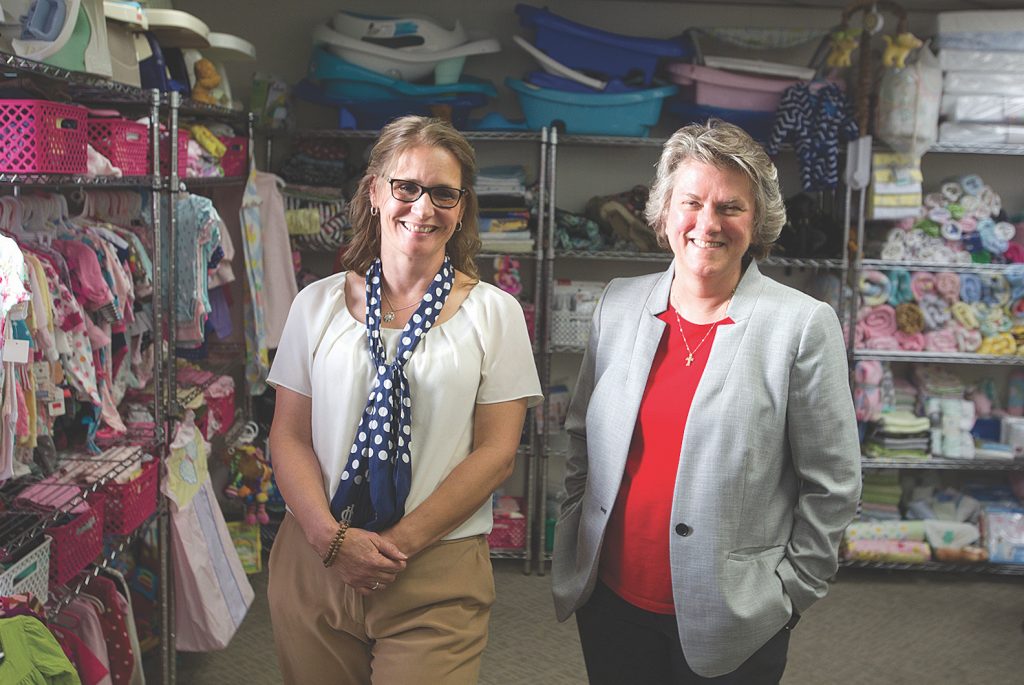 Drouhard echoed Conner's words. Calling it both "an honor and blessing to serve," she said it had been a year of transition for both clinics — transitions that had led to growth.
"Proverbs 16:9 tells us that a man plans his ways," she said, "but God directs his steps. We're here because of the One who directs us."
After dinner, Bratcher, 26, recounted her journey to committed Christian and playing Johnson.
While in high school, Bratcher began dating her eventual husband. One night, during her senior year of college, the couple went to the state fair. A booth's display changed her life forever.
"I happened to look up," she said, "and I see this one booth. It said, 'Do you want to be an actor?'"
She auditioned for a local commercial and landed the part. Afterward, her agent took her to New York City for a weekend's worth of auditions which resulted in 21 different offers. Yet, she was not ready to move away from home.
After her college graduation, Bratcher decided to give New York a try, but this time was different.
"I got there, and all I got was rejection," she said.
Returning home, she learned she was pregnant. But because she "knew the value of life," she said she never considered abortion. Instead, she and her boyfriend worked to provide for their son.
"The truth is, I was on government assistance. I had to have WIC. I was on Medicaid," she continued. "We could barely pay our bills, but we fought tooth and nail to get back on our feet so we could provide for our child."
Eventually, the couple married and she took a job as a middle school art teacher. It was there she realized she missed her passion — acting. So, she decided to try again. This time, she prayed first.
"I completely said, 'All right, this is my heart. This is my desire. But with open hands, I sacrifice it to you. And if you want to take it and bless it, then bless it. If you want to take it away, then take it away," she said. "And I have worked ever since that day. God is good."
Fast forward to 2015. Instead of a New Year's resolution, she chose to select a word to contemplate throughout the year. That year, she chose the word "prepare."
"I chose that word because God had put it on my heart that he wanted to take me somewhere that I was not yet ready to go," she said.
Having built up a small following on social media, Bratcher did not expect what happened next.
A woman named Emily contacted her and said she was to play Abby Johnson. A few weeks later, Emily had convinced the producers to send Bratcher a few pages of the script. After reading it, she looked up Johnson's testimony.
"I'll never forget it because it completely rocked my world," she said. She told her husband then that she felt as if she was "meant to tell this story."
After the audition, Bratcher and her husband prayed unceasingly. Several weeks later, Bratcher received a phone call from the movie's producers. She was one of the top contenders, but they wanted her to know the role might get her blacklisted.
"And without hesitation, because God had prepared me, I said, 'I don't care,'" she recalled.
The next day, while she was pouring her heart out to God in prayer, her phone rang. The producers offered her the part, but only if she could be on a plane within four hours.
"Again, God had prepared me," she continued. "So, I said, 'I guess nothing's impossible.'"
She called her husband, told him and then packed her bags.
Four days later, Bratcher's mother called her.
Bratcher said she hesitated before sharing her whereabouts. Her mother had had an abortion while in high school, and Bratcher did not want her mother thinking she was in any way judging her.
"I knew that Abby's story was transformational, and it was all about the love and grace of Jesus and his redeeming love, and I wanted to share that story with my mom," Bratcher said. "And as I did, she completely broke down."
That's when Bratcher learned she had almost been aborted.
"It was really a profound moment. You see, I had accepted this role to play one of the greatest pro-life activists of our time, never knowing I was intended to be aborted, never knowing I was moments away from not having the experiences I've had in my life," she said.
Later, Bratcher said, "I am just a girl from North Carolina who God gave a story to, who gave my mother enough courage to get up off that table and walk out.
"And here I am all these years later, telling the story of 'Unplanned.'
"You can't tell me that God isn't real. You can't tell me that my life doesn't have a purpose because it does."