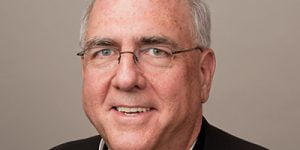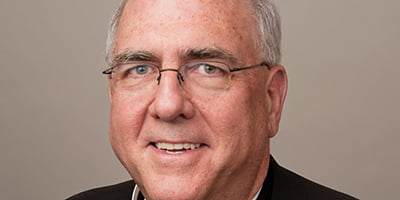 by Archbishop Joseph F. Naumann
This past fall, Ed Macauley, a good friend whom I knew from my pro-life ministry, died. In St. Louis, Ed Macauley was a sports legend and celebrity.
He was a hometown boy who had grown up in North St. Louis. He attended St. Louis University (SLU). In 1948, Ed led SLU to what was the equivalent today of the Division I National College Basketball Championship. He became known as "Easy Ed" because, despite being 6 feet 9 inches tall, his movements on the basketball court were fluid and graceful. "Easy" also described Ed's personality. He was naturally approachable, friendly and always humorous.
Professionally, Ed played for the Boston Celtics. He was a key part of some of their great teams in the 1950s. When I was a boy growing up, the Atlanta Hawks were the St. Louis Hawks. In the late 1950s, the Hawks traded their top draft pick, Bill Russell, to the Celtics to acquire hometown favorite, Ed Macauley. With Ed Macauley, the St. Louis Hawks won the NBA championship, defeating his former team — the Celtics.
Ed was the Most Valuable Player (MVP) in the first National Basketball Association (NBA) All-Star game, played in Boston in 1951. The first NBA All-Star game was a very low-key event by today's standards. In 1953, when the site of the All-Star game moved from Boston to New York, the NBA decided to begin the custom of naming an MVP. They also decided to post facto name MVPs for the first two All-Star games. Ed Macauley had scored the most points in the first All-Star game, so he was the natural choice.
In the late '90s and early 2000s, by which time the NBA All-Star game had evolved into a huge sports gala, some St. Louis sports writers noted that favorite son Ed Macauley was the MVP for the first game. One year, a local sports radio station interviewed Ed about his achievement. Ed downplayed the honor, recalling that he was named MVP two years after the game and had not even received from the NBA a plaque or trophy for this accomplishment. The radio station began a crusade to pressure the NBA to properly honor Ed Macauley for being the MVP of its first All-Star game.
In 2002, the NBA decided to address this oversight. For the occasion, there was a large banquet with some of Ed Macauley's former teammates and many of his legions of friends in attendance. Ed asked me to give an invocation for the event. Before leading the prayer, I thanked the NBA officials present for not honoring Ed back in 1951, because I would have only been two years old at the time and I doubted Ed would have invited me to do the invocation.
Actually, I got to know Ed long after his playing career had ended. Ed and his wife, Jackie, had seven children. Their youngest child, Patrick, was born with severe disabilities. His physical limitations were such that doctors did not expect him to live more than a few months or, at most, a couple of years.
Patrick's disabilities were so severe that he was confined to bed most of his life. However, because of the tender, loving care that Patrick received from Jackie, Ed and his siblings, he lived several years longer than predicted by the medical experts.
Patrick's brief life had a huge impact on Ed and Jackie and their family. For Ed, it made him more keenly aware of the sacredness of every human life. Part of Ed's motivation for becoming involved in pro-life efforts was his realization that children like Patrick, because of prenatal genetic testing, had become likely targets of abortion.
Ed realized that he was a better man, a better husband and father, because of Patrick. He also appreciated how Patrick had influenced his other six children, drawing forth from them a greater capacity for love and compassion. I was reminded of Ed's love and gratitude for Patrick's life when I read a recent article by syndicated columnist George Will about his son, Jon, who has Down syndrome. Just as Patrick was for the Macauleys, Jon is a real blessing to the Will family, making his parents and siblings better people.
Ed Macauley became a permanent deacon, placing his exceptional communication skills at the service of the Gospel. Another one of Ed's passions was helping priests become more effective homilists. Ed actually coauthored a book, "Homilies Alive," providing helpful counsel on how to become a better preacher. I think that Ed considered the improvement of my preaching a special project. Even Ed Macauley did not succeed at everything!
I think of Ed frequently when I am preparing homilies, but he was especially on my mind when I prepared last Sunday's homily. In the Gospel, Jesus told his disciples that whoever abides in him "will bear much fruit." As disciples of Jesus, we are called to live lives that are fruitful, not necessarily successful.
What the Gospel means by "fruitful" is very different than what our world means by "success." Worldly success often means making money and gaining recognition from others. What Jesus means by "fruitfulness" involves neither of these human measures. Biblical fruitfulness requires, first of all, being connected to God, the source of all life. It also means losing our lives in following Our Lord. It means dying to ourselves, so that God can use us to bring his love to others.
According to the world's standards, Ed Macauley's life was a success. However, this is not what mattered to Ed. More importantly, Ed's life was fruitful — as a husband, father, friend, deacon, homilist, pro-life leader and advocate for the vulnerable. In part, Ed's life was fruitful because his son Patrick's life was fruitful.
Most of us hope the world will be a better, more loving place because of our lives. The Patrick Macauleys and Jon Wills make our world better because of the impact of their lives upon those around them. They make the world more loving. May all of our lives be so fruitful!