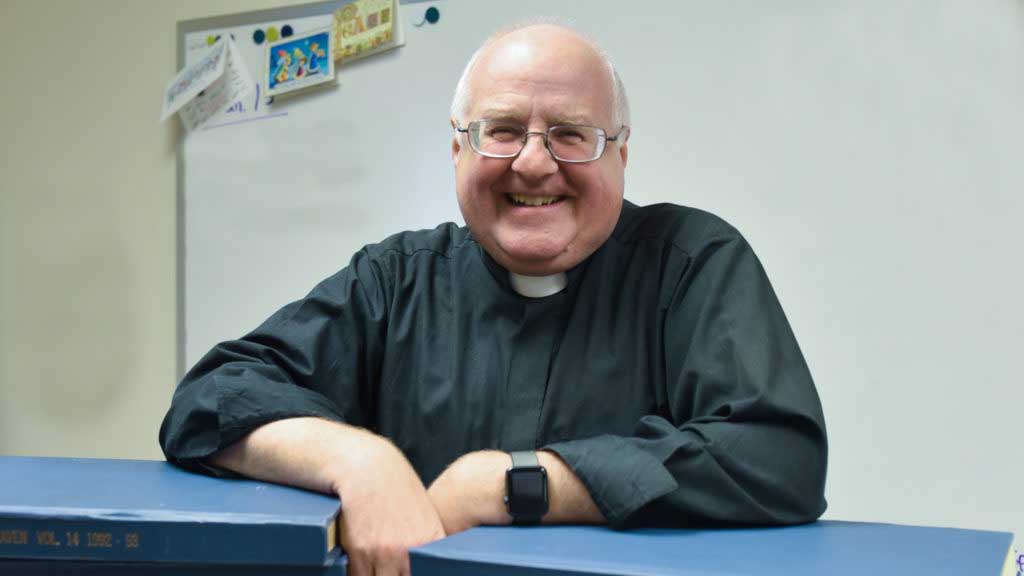 by Father Mark Goldasich
Time flies, and all good things must come to an end.
I'm sad to report that my neighbor is moving away.
Why should you care? Well, it's not someone in Tonganoxie, but my neighbor inside The Leaven: Father Mike Stubbs. You may have noticed his picture on the front page of the May 22 issue of The Leaven. There, you learned that he was retiring from his job as pastor of Holy Cross Parish, Overland Park. But he's also retiring from writing his Scripture column as well!
Selfishly, I want him to keep writing. I'm not sure when he started writing for us, but it's been a very long time I've enjoyed his insights about the Sunday readings over the years.
Father Stubbs always had a practical image to begin his column and I learned so much as he unpacked the deeper meaning of God's word.
In addition, I learned some cool Hebrew and Greek words along the way. He taught me that no matter how many times you hear or read the Scriptures, you can never exhaust all that they have to teach.
However, if we're going to be honest, I've got to admit that Father Stubbs was an embarrassment to me. He put me to shame by having his articles in every week way before his deadline.
He embarrassed me by taking time to write ahead to cover for the times that he'd be on vacation. Heck, he even turned in his columns after having a medical procedure some months ago. Without knowing or intending it, he made me feel like a real sluggard!
Somehow, just saying thanks for the hard work that Father Stubbs put in seems so inadequate. But not taking the time to thank him would be unforgiveable. It reminds me of this story, told by Fulton Oursler, an American editor and writer:
Oursler had an elderly nurse, who was born a slave and who attended the birth of his mother and his own. She taught him the greatest lesson in giving thanks and finding contentment.
"I remember her as she sat at the kitchen table in our house," he said, "the brown hands folded across her starched apron, the glistening eyes and the husky, old, whispering voice saying, 'Much obliged, Lord, for my vittles.'"
"Anna," I asked, "what's a vittle?"
"It's what I've got to eat and drink, that's a vittle," she replied.
"But you'd get your vittles whether you thanked the Lord or not," I said.
With a warm smile, she replied, "Sure, but it makes everything taste better to be thankful." (Adapted from a story "The Salt of Life," found in James S. Hewett's "Illustrations Unlimited.")
So, Father Stubbs, we're grateful for all your "vittles for thought" that enhanced our understanding of the Scriptures and taught us to appreciate them even more. Thanks for inspiring us to delve deeper into the richness of God's word.
Although we don't have a vaccine for COVID-19, this attitude of gratitude can help all of us during this pandemic. The June issue of Reader's Digest had a wonderful article by Gina Hamadey, called "My Thank You Year."
In it, she relates how writing thank you notes "was an act of noticing and honoring my own life." She moved from writing 31 thank you notes, each just two or three sentences long, to people who assisted her on a fundraiser to eventually writing another 334 notes, one for each day of the year — all handwritten and either mailed or delivered in person.
And the more she wrote, the more she began to notice all the kindnesses around her.
Perhaps writing one a day for a year is way too overwhelming, but how about one a week or even just one a month? I'll bet it would make your whole life truly "taste better."
So, "Stubby," I'll sure miss seeing you here on this page but wish you God's continued blessings in a well-deserved retirement.
And, by the way, since this is being "delivered" in the mail to you, I'm counting this as my first official thank you note.
Only 364 more to go!