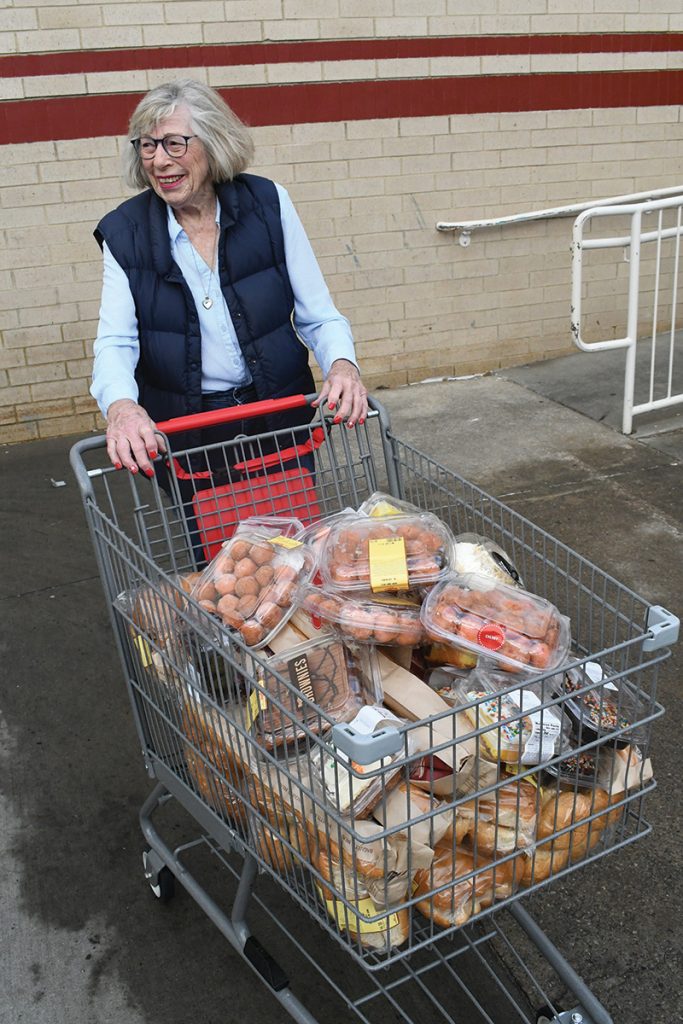 by Moira Cullings
moira.cullings@theleaven.org
KANSAS CITY, Kan. — It's a two-fold motto that Pat Brown has lived by for years: "Don't waste and feed the hungry."
She found a ministry that satisfies both.
Brown, a parishioner at Queen of the Holy Rosary Parish in Overland Park, was shopping at a Hy-Vee supermarket years ago when she noticed people taking carts full of unbagged food items out to the parking lot.
Curious, she asked the man working at the bakery what it was all about.
"That's when I found out they were taking them to charity places," she said.
The men and women Brown witnessed were taking food that would otherwise be thrown away and giving it to people in need. She was inspired.
Brown contacted the Hy-Vee in Mission, requesting to take food that would soon expire and distribute it to the hungry.
Since starting her ministry several years ago, two fellow parishioners have joined in her endeavor, including Linda Porter, the marriage preparation coordinator for Johnson County.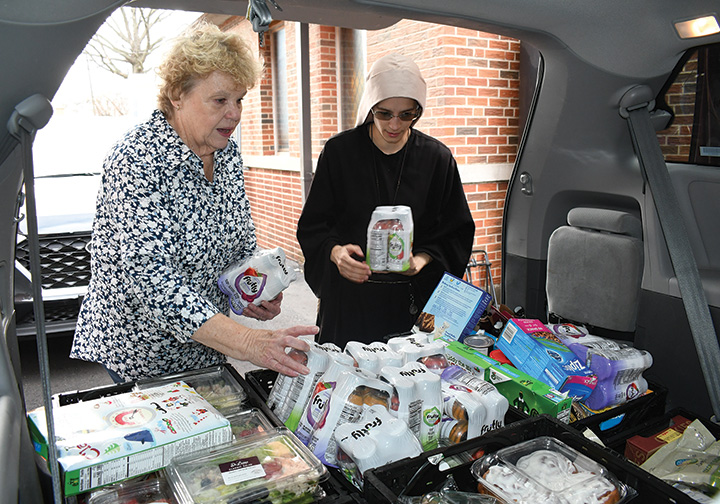 Both women had worked at St. Thomas Aquinas High School in Overland Park for years and came to be friends.
When Porter heard about Brown's efforts to help those experiencing homelessness, she was eager to help.
"I was always brought up that we're all born in the image of God," she said. "These people are human beings.
"They are in this situation sometimes by choice. Sometimes, a lot of them have some mental issues. Some of them have ended up there by situations [out of their control].
"And once you become homeless, it is a struggle to ever get out of it."
The group calls themselves the Bridge Club, named after those they've served who live under bridges.
They meet at Hy-Vee every Wednesday and Saturday to load up their cars with food items compiled by the store.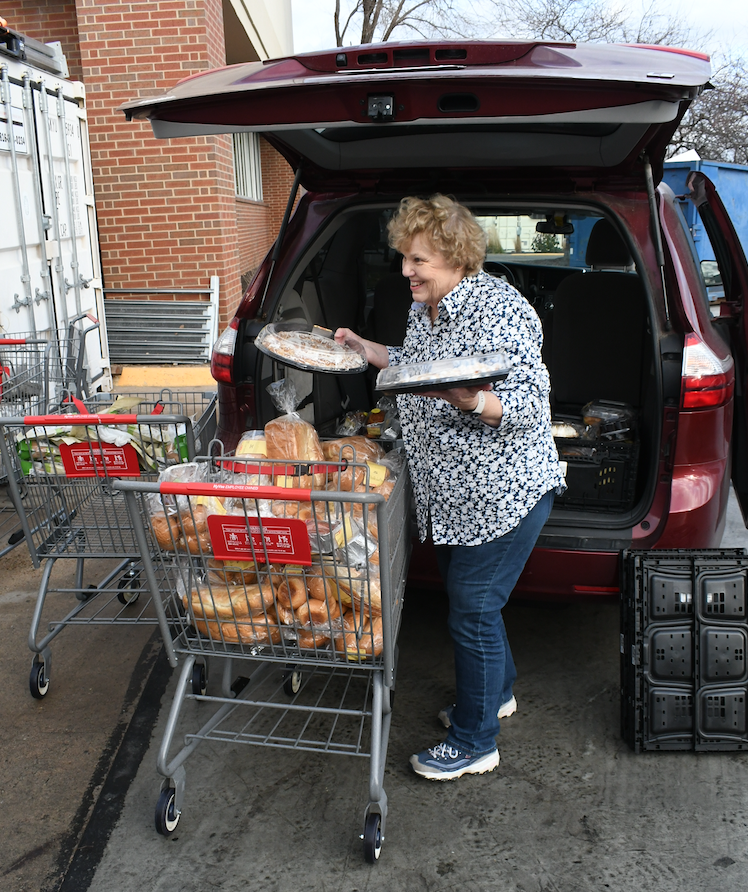 Bakery items like sweets and breads are a staple. Other foods vary but usually include canned goods, fruits and salads.
"We just never know what we're going to get," said Porter.
The items can fill up to three cars, but due to supply chain shortages, have recently required only one or two.
Once the cars are full, off the trio goes.
'Compassionate heart for the poor'
The Bridge Club typically heads directly to a religious order called Fraternity the Poor of Jesus Christ in Kansas City, Kansas.
The Sisters there take what they need — a little for their community but most for the homeless they serve on both sides of the state line.
Welcoming the Bridge Club twice a week, they said, has been exciting.
"They bring us this joy when they come," said Sister Rosemary of Jesus, PJC.
"We've been building a friendship with them," added Sister Miracles of the Little Way, PJC. "Having this ability to build this friendship together is also something very beautiful."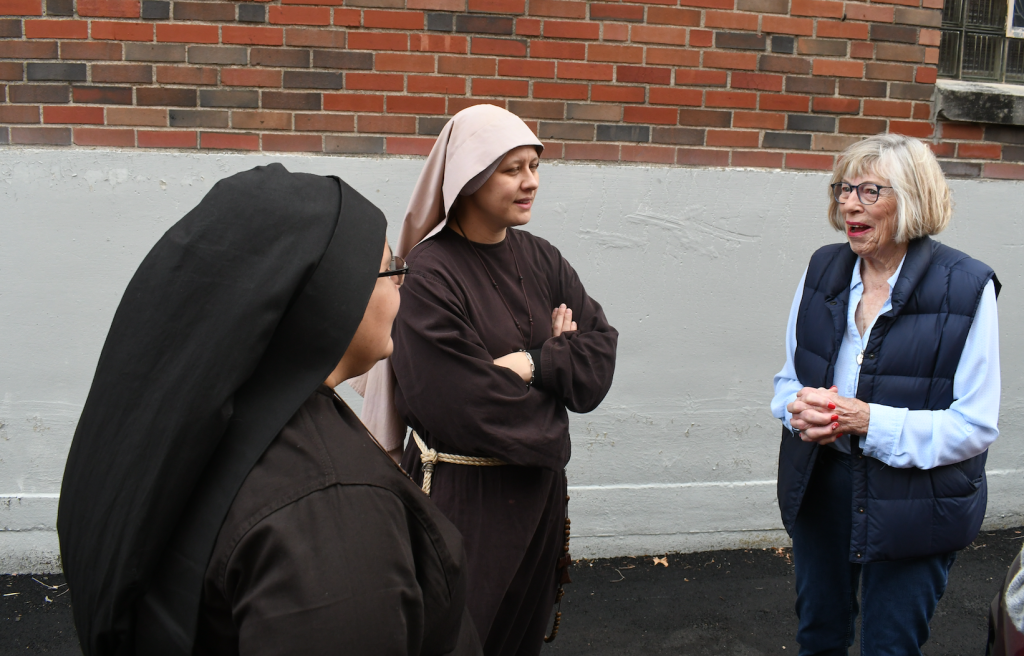 The fraternity feeds around 120 people every Tuesday and Saturday.
The sliced bread they receive from the Bridge Club is particularly helpful since they can use it to prepare sandwiches for the hungry.
The fraternity was also grateful to use the Bridge Club's items for their Christmas party, which they hosted for the homeless on Dec. 18.
The annual event is held for the poor "to give them the opportunity to have a nice Christmas," said Sister Rosemary.
This year's party included a beauty salon, bingo, an opportunity for new clothing and a hot meal.
"It's a way to tell them that they are loved," said Sister Miracles. "For some of them, we are their family."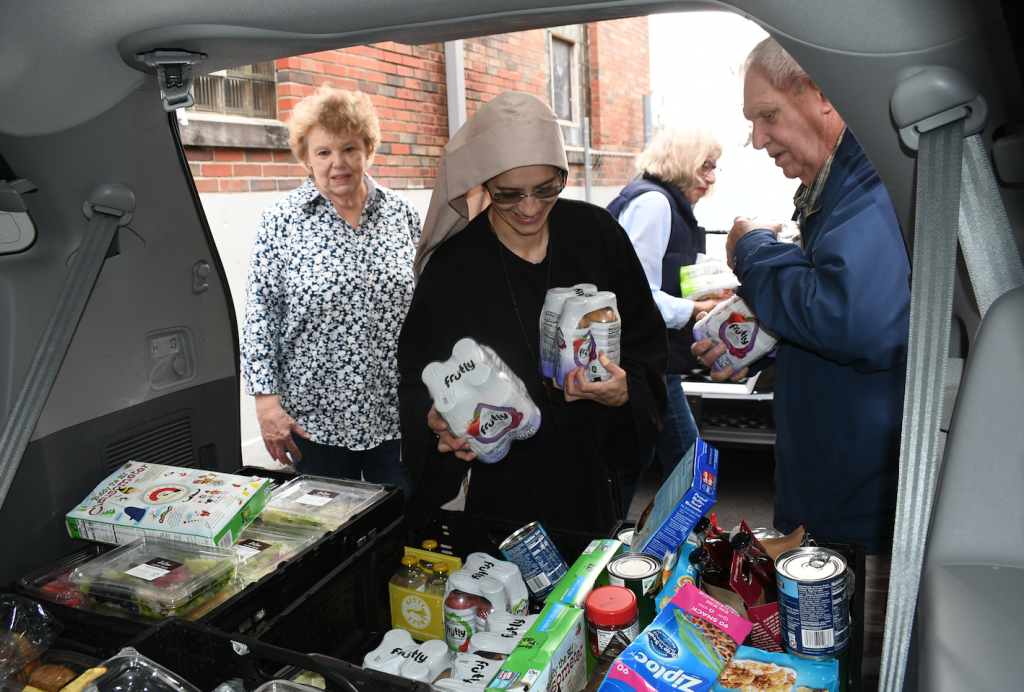 That's particularly true for one man who the community has served for 10 years. Within that time, the man lost his wife and relies on the Sisters for Christmas cheer.
"Every year, he expects us to come pick him up," said Sister Miracles. "It's part of his celebration. It's very meaningful."
In the past year, the Sisters have noticed more homeless camps on the Missouri side of the state line.
The Bridge Club's help enables them to expand their reach.
"We're very thankful for everything that they do and their compassionate heart for the poor," said Sister Miracles.
'It's rewarding — and it's sad'
After the Sisters take the food items they need, the Bridge Club frequently heads to Bridge of Hope Community Church in Kansas City, Kansas.
The church has a food pantry that serves families and individuals in the area — many of them shut-ins.
The Bridge Club is "very, very helpful and instrumental to keeping what we're doing alive," said Veronica, who works at the church.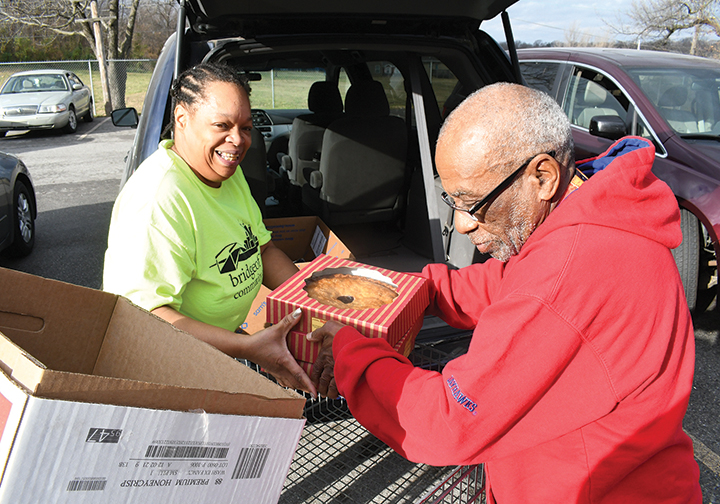 The group has also taken food to various Catholic Charities of Northeast Kansas ministries and the Bishop Sullivan Center in Kansas City, Missouri.
When they have additional food, they trek to bridges near the Country Club Plaza in Kansas City, Missouri, to seek out those in need.
"One time, a woman said, 'Do you have any meat?'" recalled Brown.
The group never had meat available — until this particular instance.
"We had just gotten some from the salad bar," said Brown. "We were so thrilled to give her meat. She was so excited."
"It's rewarding," she reflected, "and it's sad."
Of the people she's served, Brown has noticed they all have one thing in common.
"They don't take more than they will eat," she said. "I've heard them say, 'I don't want to waste.' They take just what they can eat."
Porter, who often takes her grandkids with her on the route for service hours, agreed.
"The . . . homeless live for today," she said. "They have very few possessions. They usually don't have anything else more than what they need and can keep with them safely every day."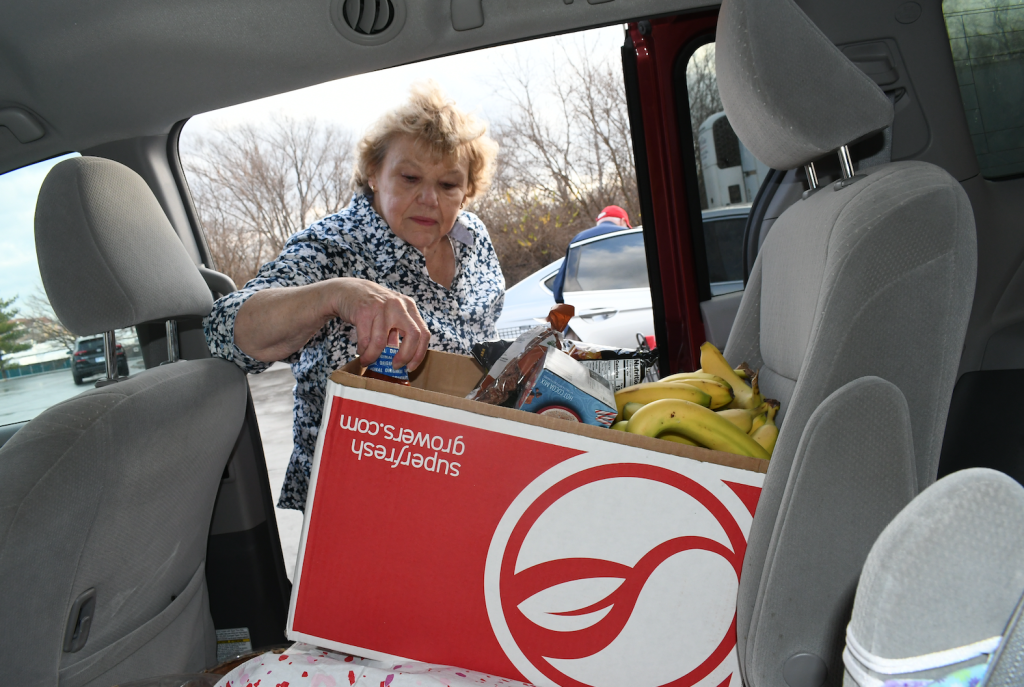 Brown and Porter know many of the people they help by name.
Those they serve even come up with nicknames for them, like "Sister Pat."
"Most of the people have come to know us," said Porter. "They see our car and they come running. They are so excited and so happy to have somebody bring them food."
For the Bridge Club, witnessing the impact of a simple act of kindness has been life-giving.
And the lessons they've learned along the way have shaped their lives.
"These people are human beings," said Porter. "They have wants and needs just like we do.
"They are so grateful. They are humble. They're just ordinary people."