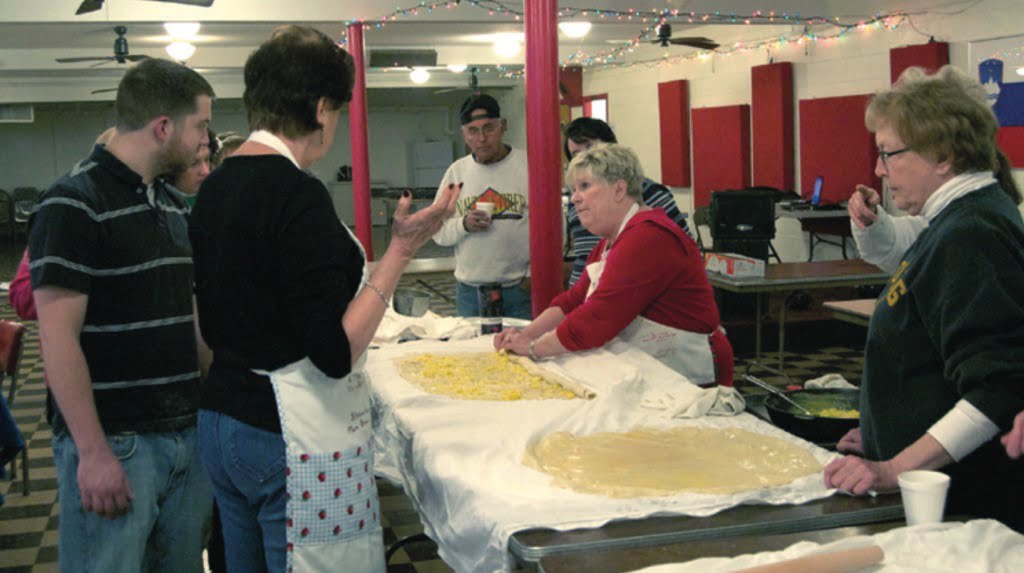 by Jessica Langdon
jessica.langdon@theleaven.org
KANSAS CITY, Kan. — Julia Poje McGeeney mixed, kneaded and rolled — and ended up with more than a delicious meal.
Learning to make struklji — a Slovenian dumpling-like dish — was almost like a trip back to the days she spent cooking with her grandmother.
"It was wonderful to be in the kitchen with her," she said.
McGeeney, a member of Church of the Nativity in Leawood, ate struklji, often filled with sauerkraut or cottage cheese, as a child.
The meatless dish was especially popular during Lent.
McGeeney signed up as soon as she learned the Altar Society of Holy Family Parish in Kansas City, Kan. — her father's home parish — was offering a struklji class in January.
She couldn't wait to learn how to make a dish with ties to her past.
Now she can both serve it up and pass it on to future generations.
Keeping traditions alive
The women of Holy Family's Altar Society have a similar idea for this parish — to preserve its history, while building on it for the future.
"There's so much history around here — and beautiful history," said Altar Society vice president Sandy Cannon.
But like many smaller churches, this parish on Strawberry Hill has a long list of needs, including upgrades to its aging kitchen.
In addition to holding fundraisers and encouraging past parishioners to come for Mass, members thought offering classes like this could build on the parish's rich Slovenian traditions and strengthen community.
Although both Cannon and Altar Society president Marcia Wolf belong to other parishes, they consider Holy Family home.
"Once you're a member here, you're never not a member," said Cannon.
They had requests for these lessons.
"They said, 'Let's have some classes to teach us how to make struklji, strudel and potica,'" Cannon said.
They started with struklji because it's a Lenten dish.
Variations
The "students" on this Saturday in late January first mixed shortening into dry ingredients.
Wolf explained that not every family makes this dish the same way.
Wolf learned this version, filled with scrambled eggs and caraway seeds, from her husband's grandmother, Mary Viscek.
Holy Family parishioner Daria Taylor, on the other hand, is more familiar with a Croatian recipe with oil in the dough, plus a filling of onion, bacon grease and garlic. It was served most often with pork roast — but not during Lent!
Patrick Horton, a member of Holy Family Parish and Viscek's great-grandson, found the first step more an art than a science, however, and had to add water to his dough several times to get the right consistency.
"The hardest part was kneading the dough," he said. "It was quite the exercise."
His great-grandmother had stopped cooking by Horton's childhood, so this was his first time to make — or even taste — struklji.
Sampling and sharing
People came from near and far to learn the techniques.
Theresa Macek-Moody, a member of Divine Mercy Parish in Gardner, signed up with her brother Joe Macek, of Holy Trinity Parish in Paola, and her sister-in-law Lucille Macek of St. Joseph Parish in Shawnee.
Lucille Macek had never heard of struklji before and enjoyed learning, especially alongside several familiar faces.
Macek-Moody and her brother were more familiar with this dish.
"Our mom used to make it," said Macek-Moody, describing a sweet version with cinnamon, eggs and sugar.
"I always wanted to try to make it and never had on my own," said Joe Macek. He planned to try it at home — with a modification.
"I'm going to use the KitchenAid," he said.
'Food of our heritage'
Horton uses several of his grandmother's and great-grandmother's recipes.
"It's really fun just to keep the family traditions alive," he said. "Our generation doesn't cook as much and, when we do, it's not Slovenian recipes."
"I loved it," said Jacqueline Buncic, a member of Our Lady & St. Rose Parish in Kansas City, Kan. Her family made a lot of Slovenian dishes.
"This is a food of our heritage," said Susan Robards, a member of Church of the Nativity. "My mother (St. John the Baptist parishioner Kathy Zunick) was a young girl the last time she remembers her mother making it."
The women attended the class together.
Taylor loved the idea because it's important to carry on traditions in any nationality.
"We need to get our children involved," she said. "If I don't teach my kids and my grandkids, these things are going to die."