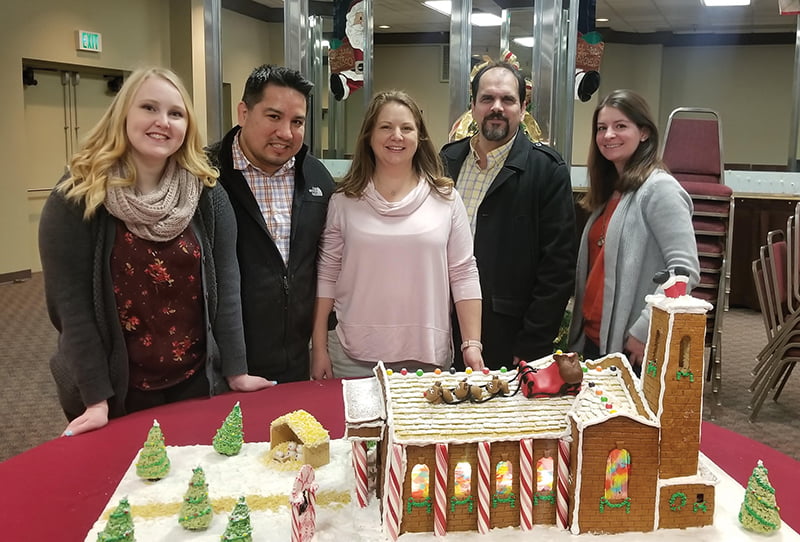 by Carolyn Kaberline
Special to The Leaven
TOPEKA — As an architectural design firm, the Schwerdt Design Group here is used to planning buildings made of a variety of materials.
But this December, the materials they were most likely to be working with were gingerbread, icing and a variety of sweet treats as they participated in TPAC's (Topeka Performing Arts Center) annual Gingerbread Homes for the Holidays.
"The Schwerdt Design Group (SDG) has submitted several gingerbread creations in the past, including Frank Lloyd Wright's Fallingwater House," said Beth Valdivia, AIA associate.
"This year, however, we selected an identifiable Topeka building because it added to the challenge of the design and honored our city in a wonderful way," he continued. "And we thought it would be exciting for the attendees to see a local place rendered in dessert."
Valdivia noted that after the group had created the cantilevered porches and roofs of the Famous Fallingwater House, they were prepared for the intricate work of building this year's house: Mater Dei-Holy Name Church.
"My daughter attends the Mater Dei preschool, and I am a member of their school board," said Valdivia. "Megan Schwerdt-Williams, president of Schwerdt Contract Interiors, was married there.
"Another of our architects, Thomas Carmona, suggested Holy Name because he had made a model of it while attending the University of Kansas School of Architecture. Additionally, Thomas' wife Miranda Carmona was previously on the TPAC board.
"Finally, SDG has donated countless hours of design services to the Holy Name-Mater Dei Parish. Given the beautiful architecture — and the community and SDG connections — Holy Name was an easy selection."
To recreate Holy Name Church accurately, the group obtained copies of the original blueprints. These were then redrawn to scale so that the model was perfectly proportioned.
Valdivia noted that the actual building of the church was a team effort with architects, interior designers and administrative staff working together to create "a beautifully accurate and intricate design.
"We must also thank Andrea and Shawn Hillebert with Holy Name and Mater Dei," she added, "who were extremely helpful in this process.
"The majority of the baking and stained-glass window creation was done by Melina Stewart," Valdivia explained. "The decorative detailing and icing work was done by Helen Phelps, and I created the Rice Krispies base and fondant items. Other SDG employees involved with the assembly and delivery were Melea Stone, Ashley Newman, Thomas Carmona, Kaylee Champagne and Michael Scott. "
A silent auction of the gingerbread houses on display saw "Holy Cane Church," as it was named, receive a final bid of almost $200 — an amount that delighted its creators — with the money going to TPAC's educational programs.
"We hoped that by replicating a local building it would add excitement among the bidders," Valdivia said, adding that supporting local institutions like TPAC is very important to SDG's mission.
"Many SDG employees," she noted, "live and work in the community and are supportive of initiatives that provide a range of opportunities to its citizens."