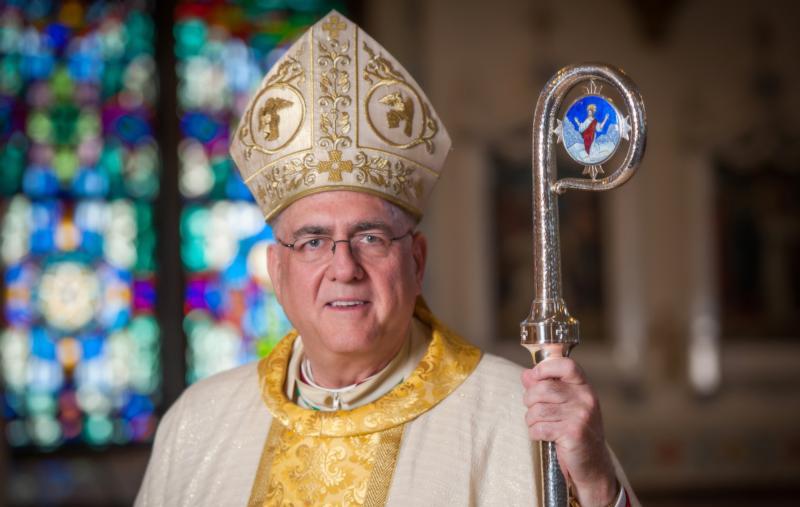 by Archbishop Joseph F. Naumann
Aleteia is an online Catholic news and information website that was founded 10 years ago with the approval of the Pontifical Council for Social Communications and the Pontifical Council for Promoting the New Evangelization.
The word "aleteia" in ancient Greek philosophy meant "truth" or "transparency."
Each week, Aleteia provides summaries of what they consider some of the most interesting "religious" stories of the week. I always find the mix of articles fascinating.
This past week included the inspirational stories of a male quartet singing an a capella rendition of "Ave Maria" in a stairwell, as well as Jordan Baize playing on his damaged grand piano a hymn of praise amid the rubble of his tornado-devastated home in Kentucky.
Aleteia also featured a story about superstar singer Billie Eilish revealing the harm she had experienced from watching pornography as a teenager. I must confess that I had never heard of Billie Eilish before reading this article. She recently turned 20 but has already won seven Grammy awards.
Ironically, the popular singer made this revelation during an interview on the infamous "Howard Stern Show" that is well known for its vulgar and explicit sexual content. Billie Eilish said that she began watching pornography at age 11 and as "a woman, she thought porn was a disgrace." The superstar talked about suffering from nightmares, sleep paralysis and difficulties relating to men because of her porn addiction. She confided: "I think it really destroyed my brain and I feel incredibly devastated that I was exposed to so much porn."
Another Aleteia story that caught my attention was Elon Musk, reputed to be the world's richest man — the CEO of Tesla and SpaceX — stating during an interview at the Wall Street Journal's CEO Council Summit: "I can't emphasize this enough, there are not enough people. . . . One of the biggest risks to civilization is the low birth rate and rapidly declining birth rate."
I did not think that I had much in common with Elon Musk but I agree with his observation. Unfortunately, some radical environmentalists view children as simply "carbon emitters" who are bad for planet Earth. One of the experts quoted in the article noted that children are "also extraordinarily efficient emitters of joy and meaning and hope."
I was pleased that a story about a runaway camel from a live Nativity scene in Bonner Springs was one of Aleteia's top 10 stories for the week. The fleet-footed camel was dubbed "Forest Hump" by some of the Kansans who witnessed the animal's attempted escape.
Sadly, another story described that parishioners from a suburban church in Paris — participating in an annual procession for the solemnity of the Immaculate Conception — were harassed and threatened by a group of Muslim extremists.
Similarly, a story from India featured a government investigation into a home for girls operated by the Missionaries of Charity, the community founded by Mother Teresa of Calcutta. The Missionaries of Charity were accused of attempting to convert the resident girls to Christianity.
The world of 2021 is in many ways very different from Palestine 2,000 years ago. Yet, human nature has not changed over the centuries.
Jesus was born in a Bethlehem cave because that was the only accommodations available to an insignificant, migrant couple who were compelled by the Roman census to register at Joseph's ancestral home. The Holy Family later had to flee from their homeland because of the evil King Herod's mass murdering of young boys in his effort to assassinate Jesus.
Of course, the Christmas narrative also depicts the virtues and incredible goodness of Joseph and Mary as well as the beautiful faith and humility of the shepherds and Magi. In our sin-broken world — 2,000 years ago and today — there are causes for fear as well as for hope.
The solemnity of Christmas celebrates the greatest miracle in human history. Christianity is different than every other world religion. We believe in a God who seeks to reveal himself to us and who desires communion with his creatures.
God's ultimate revelation was to humble himself to be conceived in the womb of Mary, to be born in the stark and impoverished circumstances of the Bethlehem cave, to grow up in the tiny town of Nazareth, to spend most of his adult life as a laborer, and to exercise his ministry of preaching and healing in an obscure and, according to worldly calculations, insignificant part of the world. The Creator of the cosmos allowed himself to undergo the pain and humiliation of torture and to be brutally executed as a criminal in order that we might know the depth of his love and have access to his mercy.
In many ways, the world has not changed in 2,000 years, because it remains inhabited by wounded and sinful human beings who are capable of inflicting evil and harm on each other. What has changed is that God has penetrated the world with his amazing mercy and love. For hearts that are open to the miracle that occurred in Bethlehem 2,000 years ago, we are never alone and never without reason for hope as well as cause for joy.
My favorite Aleteia article this past week was one that suggested the best way that we could honor Jesus and his mother is to find a way to give encouragement to mothers and fathers of young children as they live their important vocation of parents. The article also suggests organizing a baby shower for Mary that will generate practical support for pregnancy resource centers to assist expectant mothers with difficult or untimely pregnancies.
While we cannot change the adversities that Mary and Joseph experienced 2,000 years ago, we can honor them by easing the stress and relieving the burdens of pregnant mothers today.
The challenges of our sin-fractured world remain, but what has changed are hearts that have been touched by the amazing love of God revealed for us by the birth of Jesus — the Word made flesh who dwells among us.